Updates by Stanford Chiwanga, Mgcini Madlela and Fikile Nyathi on Social Media

17:50 – Throngs of Zimbabweans marching against President Mugabe
17:35 – Arthur Mutambara in the streets…
17:10 – Professor Jonathan Moyo arguably the only local politician to have dominated social media more than other politicians, had used Twitter to attack liberation war veterans and former Vice President Mnangagwa. Professor Moyo last tweeted on November 14, 2017.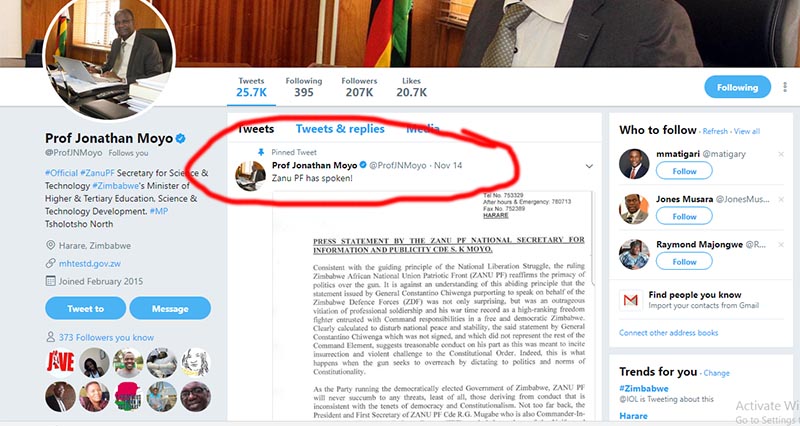 17:00 – Protesters reach Mugabe's famous Blue Roof residence in Borrowdale.
16:46 – and in Johannesburg
16:45 – Scenes from Namibia
16:30 – THE FUNNY SIDE OF THE MARCH: These Zimbabweans want Zuma to take Mugabe and give them Boity
16:10 – Just two weeks back First Lady Dr Grace Mugabe addressed thousands of apostolic sect members at Rufaro Stadium in Harare during a Church Interface rally dubbed Super Sunday where she unequivocally called for the dismissal of Vice President Mnangagwa, branding him the source of Zanu-PF factionalism.
16:00 – Arthur Mutambara with MDC S.G Mwonzora at the Zimbabwe Grounds earlier
15:46 – It is Cde Mnangagwa's dismissal from the party that triggered anger across the country as the VP, popularly known as Ngwena or Crocodile was dismissed from Government in a strategy widely viewed as a way of paving the way for the ascendance of First Lady Dr Grace Mugabe to the position of Vice President.
15:42 – The thousands are marching in solidarity with the ZDF which stepped in to save the situation Zimbabwe was facing under President Mugabe who allowed himself to be swayed by the G40 cabal led by Professor Jonathan Moyo, Saviour Kasukuwere, Patrick Zhuwawo and others whilst these had the backing of the First Lady, Dr Grace Mugabe.
15:40 – Zimbabweans have set off to the Blue Roof, Mugabe private residence
15:30 – Former Warriors player Moses Chunga joining the festivities
15:15 – After the remarks, Zimbabweans have set off to the Blue Roof, Mugabe private residence to deliver the message
15:00 – War veterans leader Victor Matematenda (left) and former Veterans Minister Tshinga Dube, waiting to address crowds at the solidarity march
12:03 – Arsenal supporters making their feelings known
11:54 – And more selfies with the soldiers…
11:50 – Meanwhile in Bulawayo people from all races are marching on.
11:37 – Some of the messages from Zimbabweans are hilarious.
11:24 – The army is not all about guns and bullets, it has a good number of beauties!
11:20 – This man can't contain himself.
11:15 – Scenes in Harare. It's lit!
11:06 – The rallying point in Bulawayo is in the city centre at the statue of the late Vice President Joshua Nkomo and city hall.
11:05 – President Mugabe was also accused of getting counsel from counter revolutionaries and agents of neo-imperialism, condoning and tacitly participating in the denigration of Cde Mnangagwa, the defence forces, senior party leadership and war veterans.
11:01 – The provinces who hailed the move by the Zimbabwe Defence Forces on Wednesday to weed out criminal elements around President Mugabe whom they accused of destabilising the Government, also called for the immediate and unconditional reinstatement of Cde Emmerson Mnangagwa as the party's second secretary and Vice President.
10:57 – The people of Bulawayo are also marching…
10:56 – EIGHT of Zanu-PF's 10 provinces yesterday called on President Mugabe to step down from the party and Government over allegations of, among others, failing to uphold the constitution, fanning factionalism and allowing arbitrary expulsion of members.
Harare, Bulawayo, Manicaland, Masvingo, Midlands, Mashonaland West, Mashonaland East and Mashonaland Central provinces held respective provincial coordinating committee meetings calling for his exit.
Matabeleland North and South provinces are expected to hold meetings today.

PREAMBLE
The Zimbabwe National Liberation War Veterans Association will today hold a rally at Zimbabwe Grounds in Harare to call for the resignation of President Mugabe following the intervention by the military to weed out corrupt elements in Government.
The Zimbabwe Defence Forces intervened on Tuesday to weed out corrupt elements that were causing political and socio-economic challenges confronting the nation.
Addressing a Press conference yesterday, ZNLWVA chairman Cde Chris Mutsvangwa urged the President to leave office immediately.
"We are there to rekindle hope for Zimbabweans.  That is what we are here for and from a very practical angle he makes a decision today to leave, it is upon him to make it and his wife under the terms which he should negotiate with the Generals. Tomorrow is different, we have a rally which we had long in planning.  It is there tomorrow starting in the morning at Zimbabwe Grounds in Highfield.
"We are appealing to the population of Zimbabwe to come to that rally. He used to go around with his insulting rallies which he called interface where his wife was carrying out diatribes one rally after the other, it was an occasion of diatribes and other insults left, right and centre. He thought he had people. Tomorrow  (TODAY) he is going to see who has the people. So we are appealing to all Zimbabweans tomorrow to come to Zimbabwe Grounds," he said.