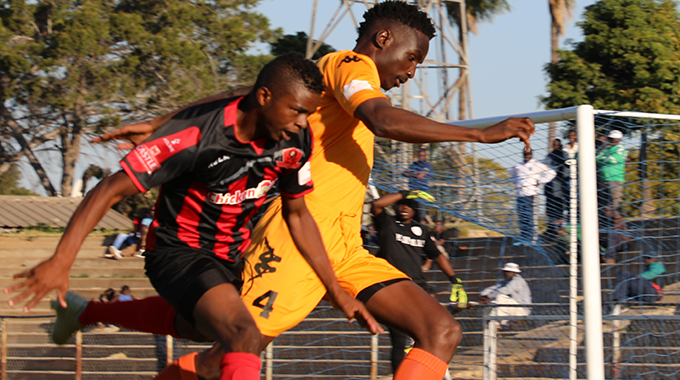 The Sunday News
Fungai Muderere, Senior Sports Reporter
Chicken Inn . . . . . . . . . . . . . . . . . . . . . . . . . 0) 1
Harare City  . . . . . . . . . . . . . . . . . . . . . . . . (2) 2
WHILE the majority of local football enthusiasts and pundits alike tipped Chicken Inn to roll past a 10 men Harare City, Mark Harrison's side had other ideas as they handed the hosts a 1-2 defeat in a Castle Lager Premier Soccer League match played at Luveve Stadium yesterday.
The visitors scored twice in the first half after Ishmael Wadi found the opener the 22nd minute and with Kudakwashe Musharu striking 13 minutes later. Gamecocks got their  the consolation goal courtesy of a Malvin Gaki beautiful curling effort on the hour mark that fully stretched a diving Maxwell Nyamupangedengu who was between the sticks for Harare City.
Consequently, the Sunshine Boys threw spanners into the works of Joey Antipas's charges who have made it known that they are targeting the league championship. However, Gamecocks are still on 22 points and they remain at the apex of the log standings courtesy of a superior goal difference as compared to Caps United who succumbed to their second consecutive defeat at the hands of Herentals yesterday.
"It was a bad day in office. Going 2-1 at home is very disappointing but we will have to lift up ourselves. In the first half, Harare City were fast as compared to us in the first half. In the second half we came out the better side but there are some things that we did not do right to beat our opponents who were one man short," said Antipas.
City head coach, Mark Harrison, who watched in disbelief when their forward Jerry Chipangura was sent for any early shower following a second bookable offence in the 53rd minute, reckoned said the triumph over Chicken Inn could prove to be essential for them.
"It's a big win over against one of the best teams in the league. We have been inconsistent but I told the boys that could be a defining game in our campaign," said Harrison.
Teams
Chicken Inn: B Donovan , J Moses, G Goddard, X Ndlovu, S Ndlovu, P Dube, S Munawa (M Gaki 57th min ) , V Kadonzvo (I Mucheneka 57th min) , C Matawu, C Augusto , B Amidu (O Tarumbwa 64thin)
Harare City: M Nyamupangedengu, M Machazane, C Mujuru, M Nyenye Diro, T Chimwemwe, J Chipangura, M Muchenje, T Tavengwa, K Musharu (M Vengesayi 69th), I Wadi (R Uchena 64th min), T Tumba (T Pio 66th min)