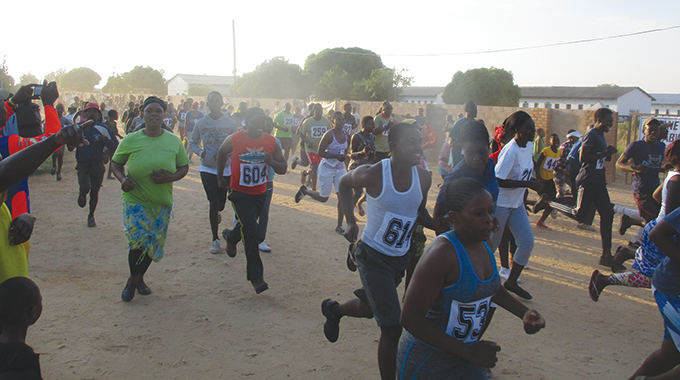 The Sunday News
Leonard Ncube in Dete
THE usually sleepy Dete township came alive yesterday when more than 1 000 amateur athletes took part in the annual Dete 10km Fun Run organised by the African Bush Camps Foundation.
A UK-based Jane Bubear Foundation co-sponsored the event which is in its 11th edition.
Participants competed in four categories namely Under 14 school pupils who ran 2km, youths (15-35 years), open section (36-59) and the veterans aged 60 and above.
They started at Detema Secondary School and made a U-turn at the 5km peg at Elephant Isle Lodge before retracing the same route to the school to complete the 10km race.
Hundreds of Dete residents lined up the streets to cheer on the participants.
A ranger from Zimbabwe Parks and Wildlife Management Authority Stanley Mathe (32) was first to cross the finishing line in 26 minutes and scooped gold.
Time recording was not strictly enforced as a way of maintaining the event as a fun race.
In the youth female category Moreblessing Nyoni of Damba Secondary school scooped gold after romping home first while Detema Form 3 pupil Oswell Tshuma who represented Matabeleland North provincial team in Midlands last week claimed gold in the male category.
Last year's winners in the veterans male and female categories Tsamba Lunga (65) and 64-year old Rebecca Moyo retained the gold medals.
The oldest veteran was Kinghall Joel Dube aged 86 who said: "10km is nothing for me. I'm still fit and will participate again next year."
African Bush Camps Foundation is a project of African Bush Camps, a safari company offering luxury safari experiences in Botswana, Zambia and Zimbabwe. Obert Manyeza from African Bush Camp Foundation Trust said the partnership with the Jane Bubear Foundation is part of the organisation's corporate social responsibility.
"This is our 11nth year and the event seeks to bring community members together to interact and keep healthy. As an organisation we saw it fit to support communities that we operate in and we have even brought in the National Association of Athletics (Naaz) so that while we remain community based, we put an element of professionalism into this.  We value sport tourism and our biggest focus is to make sure our guests see value in coming to interact with communities," he said.
Jane Bubear Foundation trustee Martin Winter who also took part in the event together with wife Hillary Winter, said they also support sport in other countries such as Botswana, Namibia, Kenya, Ethiopia and Zambia.
Top five winners in each category were given medals and trophies while the veterans whose ages ranged between 77 received food hampers. Two lucky runners also won a bicycle each after a raffle draw. — @ncubeleon