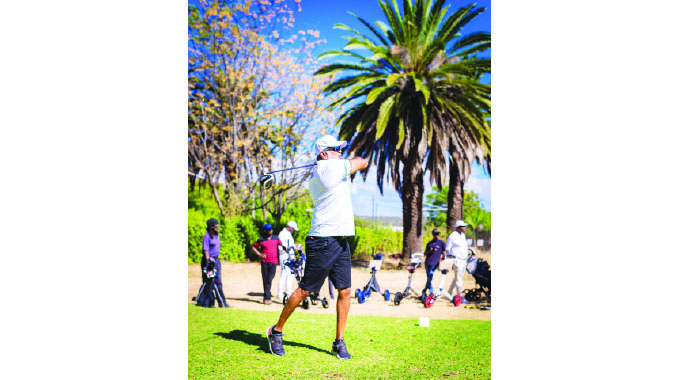 The Sunday News
Brandon Moyo, Sports Reporter
FINANCIAL firm, ZB Bank created a happy atmosphere in the City of Kings and Queens when 120 participants graced their golf tournament that was held at Bulawayo Country Club on Friday.
The tournament was the financial institution's way of engaging with their clients in Bulawayo ahead of yesterday's official opening ceremony of their new service centre. The ceremony was held at their Belmont branch in the city.
The tournament attracted the institution's different clients and major business around the city. They played an individual stableford with anonymous pairing where one player would get his or her total points and while they were playing, the officials would pick partners randomly. Going through a process of rebranding, the golf tournament was a way of appreciating their clients in and around Bulawayo.
"It was a very good field, 120 players, so it was quite good that we got the opportunity to appreciate our clients. It's basically an opportunity for us to appreciate the business that we are getting from our clients and also offer our services out there to say that we are here to stay, we want to make sure that these guys in business keep smiling.
"We are also promoting wellness, so you find with golf we are hoping that we push our clients and staff to interact on the course, keep fit, stay healthy and keep smiling so that is what  we are trying to do. We prioritised Bulawayo golf, this is our first event for the year, because we appreciate Bulawayo, the region is important to us," said ZB golf team captain, Samuel Beta.
Over the past years, such events used to come to Bulawayo later than other areas but Beta said this time they felt that it has to start in Bulawayo so that they show that "we are here for you" and make sure that golfers and business fraternity are happy with the institution. Beta was impressed with the greens at Bulawayo Country Club, stating that everything was in good condition and the weather was also permitting.
"The greens were playing very well and were in good condition. The course generally has been kept well and we really appreciate the Country Club for hosting us today (Friday), everything was on point, we really enjoyed the place, good weather and good company as well, kudos to Club captain, he was very instrumental in the success of this particular day," said Beta.
He added that they are looking at diarising the event to be an annual event and interact with more members of the community. They are also looking at incorporating the Zimbabwe Prisons and Correctional Services (ZPCS) to bring in inmates so that they try to blend them into the community. The flagship tournament was won by the duo of Ngoni Chingono and Chris Magosongwe who finished with a total of 74 points, five ahead of second placed Paul Karanda and Lynne Knight who were on 69 points.
As part of their interaction with customers in the Financial literacy drive, ZB Bank also organised roadshows which were held in Beitbridge and Gwanda before they came to Bulawayo yesterday. The institution is on the drive of making sure that the public knows and understands their new brand thus creating happy customers. – @brandon_malvin