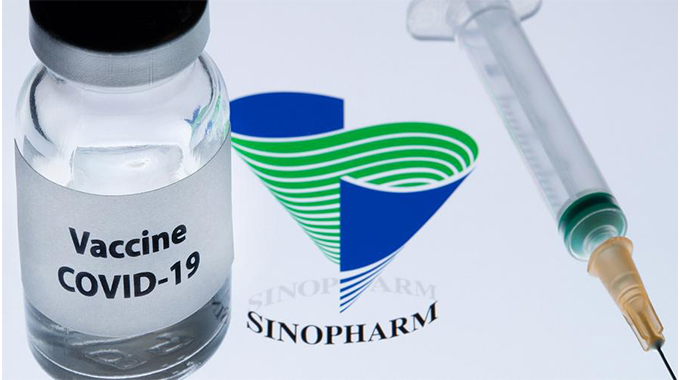 The Sunday News
Vusumuzi Dube, Robin Muchetu and Mthabisi Tshuma, Sunday News Reporters
MORE than 8 000 health workers in Bulawayo have registered to receive the Sinopharm Covid-19 vaccine as the vaccination programme gets under way in the city tomorrow.
In addition, officials have also identified places where the jabs will be administered with Mpilo Central Hospital having registered the highest number of 2 000 employees. The Matabeleland regional Covid-19 vaccination roll out programme is set to be launched at the United Bulawayo Hospitals (UBH) tomorrow after the three provinces received their consignments last week.
Bulawayo province received 13 200 doses, Matabeleland North got 8 610 doses with Matabeleland South receiving 11 000 doses. The vaccination programme is being conducted in a phased manner. The first phase is for the high risk component of the population and is made up of two stages. Under the first stage of the initial phase, Government is targeting frontline workers who are at high risk of Covid-19 and these include health workers, ports of entry personnel, Zimbabwe Revenue Authority, Immigration and village health workers.
Stage two of phase one will target those with chronic illnesses, the elderly aged 60 years and above, inmates and prison population and others in confined settlements including refugee camps. The second phase will cater for lecturers, all schools staff and other staff at medium risk depending on the epidemiological picture of the disease.
The third phase will target those at relatively low risk until everyone is covered countrywide.
Vaccination is free and voluntary.
The country's vaccination programme started in Harare last Thursday with Vice President Dr Constantino Chiwenga, who is also the Minister of Health and Child Care volunteering to take the first jab of the Sinopharm vaccine donated to Zimbabwe by China. Bulawayo City Council director of health services, Dr Edwin Sibanda told Sunday News yesterday that all was in place for the rollout programme and by Friday they had recorded just over 8 000 members of the health sector that had registered to receive the jabs.
He said they will have main teams being centrally based at Mpilo, UBH and Ingutsheni hospitals while other facilities will be serviced by mobile teams.
"So far for this first phase we have figures from the health sector where by Friday we had managed to register just over 8 000 workers to receive the vaccine in the first phase. The figure will obviously go up because we are still receiving figures, especially from the private sector, inclusive of surgeries and pharmacies. What will happen is that we will have teams that will be based at the major hospitals in the city, UBH, Mpilo and Ingutsheni, which have the highest number of staffers, the rest like council clinics, Mater Dei and other facilities will be serviced by mobile teams," said Dr Sibanda.
He said Mpilo and UBH had registered the highest number of people set to get the vaccine, with Mpilo having just over 2 000 employees and UBH had 1 700 workers that had registered.
"In terms of the actual preparations for this rollout I can say all is in place, our teams have been adequately trained and come Monday (tomorrow) we are confident this first phase will go as planned without any hiccups," said Dr Sibanda.
The first phase of the vaccination in Bulawayo is expected to be complete by 3 March. Speaking during the official handover ceremony of the vaccine on Friday, Bulawayo Provincial Affairs Minister Judith Ncube called on members of the public to desist from peddling lies about the vaccines using various social media platforms.
Meanwhile, the public has been called upon to report anyone who will demand payment for the Covid-19 vaccine, with the Government reiterating that the jabs were for free and available to all, as guided by the roll-out programme set by the Ministry of Health and Child Care.
Speaking after receiving the Matabeleland North consignment of the vaccine yesterday, Matabeleland North Minister of State for Provincial Affairs and Devolution Cde Richard Moyo warned unscrupulous people against selling the vaccine as the Government aims at saving lives and preventing Covid-19 infection.
"Vaccination is for free and people must know that once someone says one must pay to get vaccinated, they must quickly alert the police. People must not hesitate to get vaccinated, at the same time it is not a force matter. However, it is better to get vaccinated now than to seek assistance when you have caught the virus, now that it is here and we have the chance to get vaccinated, let's do it," said Cde Moyo.
The province received 8 610 doses which will be distributed as per the seven administrative districts, with distribution having started on Friday. Matabeleland North Provincial Medical Director Dr Munekayi Padingani said the roll out will consider the distribution of Covid-19 cases as they were generally low in rural areas.
"Statistics of Covid-19 in rural provinces are different as compared to other provinces, Matabeleland North is one of the provinces that recorded significantly low cases and deaths despite a big chunk of the population being based in neighbouring South Africa. The figures can be attributed to population movement. Matabeleland North is not regularly visited by people, its only in Tsholotsho, Nkayi and Lupane which receive large volumes of people from South Africa, where most of these people live and they come back home during holidays," he said.
Meanwhile, in Matabeleland South, Beitbridge and Gwanda districts have been named among major Covid-19 hotspots while Insiza district has the least recorded cumulative cases and no deaths recorded. Cumulatively as at Friday, Beitbridge had recorded 1 088, of which 652 were imported cases, while 436 were locally transmitted with 11 deaths and 12 active cases meaning 1 065 people have recovered.
Gwanda District has recorded 330 cumulative cases since March last year when the first case was recorded in the country. Gwanda local transmissions are at 295 while 35 cases were imported with five deaths and seven active cases, meaning 321 people have recovered.
Mangwe which also includes Bulilima has recorded 310 cases of which 168 were imported while 142 were locally transmitted. Eight people have died so far and there are eight active cases with 301 recoveries. Matobo, since the outbreak has recorded 235 cumulative cases of which three were imported while 232 cases were local. Five deaths have been recorded with active cases being three while 227 people have recovered.
Umzingwane has recorded 125 cumulative cases with 31 having been imported while 94 were local transmissions. Three people have died and four cases are active with 118 recoveries. Insiza has least recorded cumulative cases of 55 with 40 being local while 15 were imported. No deaths have been recorded and only two cases are active from 53 recoveries.
Matabeleland South Provincial Medical Director Dr Rudo Chikodzore said the province has generally been able to manage the pandemic.
"Since then, the province has reported a cumulative total of 2 143 cases. Of these cases, 2 085 (97 percent) have recovered and 32 people have unfortunately died (1.5 percent). The province has 34 active cases that are being followed up. Initially the cases of Covid-19 in the province were as a result from importation from South Africa and Botswana but now there is more local transmission of the virus. Analysis shows that the cases of Covid-19 that have occurred in Mat South are due to local transmission (58 percent).
"The majority of the cases in Matabeleland South 1 088 (51 percent) were reported by Beitbridge District. This is because the district was testing all returnees from South Africa and quarantining them. Most local cases of transmission have occurred in Matobo and Gwanda districts from institutions of high congregations such as schools, mines and amongst health workers," she said.