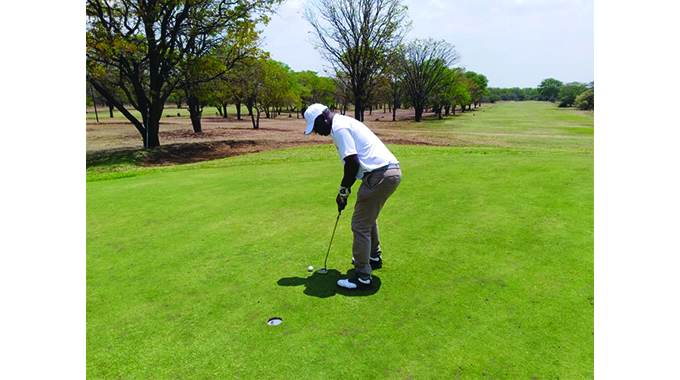 The Sunday News
Mehluli Sibanda in Victoria Falls
VICTORIA Falls based Elvis Mulenga leads the pack in the Championship Division on day one of the Elephant Hills Open Golf tournament played at the Elephant Hills Golf Course yesterday.
A total of 92 golfers are taking part in the Elephant Hills Open Golf event which concludes today and is a stroke play format, where the player who hits the ball less times than everyone else has the overall lead.
The event, making a return after not taking place in 2020 due to the coronavirus pandemic is well sponsored, with African Sun, FBC Bank and Ingwebu Breweries being the main sponsors while several other bank rollers are also funding the tournament.
Mulenga of Elephant Hills Golf Club, in his late 50s showed the younger golfers the way on familiar territory as he had a gross score of 81 and net of 69, followed by Christian Lungu of Hwange Golf Club with a gross score of 83 and net of 80. In third place is Elvis Chiodas also of Hwange Golf Club. Josphat Phiri from Elephant Hills Golf Club is fourth overall while Yu Yiseng of Royal Harare Golf Club, with a gross of 85 and best net of 67 is fifth.
African Sun managing director, Edwin Shangwa, who is also the chairman of the Elephant Hills Golf Club started things off with an early morning tee off to pave way for the amateur golfers. Elephant Hills Golf Club captain, Leonard Furusa described the opening day as a being exceptional, with the course being in pristine condition but difficult to navigate for the golfers.  "Day one was excellent, we started with a ceremony where our chairman, Edwin Shangwa had to clear the way for all the golfers to start. We had one of our sponsors as well from FBC also to clear the way.
The course is playing tough, its actually in its best condition at the moment but I heard some other golfers had good scores,'' Furusa said.
Golfers from Botswana, Bulawayo, Harare, Hwange, Zambia and Victoria are taking part in this year's Elephant Hills Open Golf tournament. – Follow on Twitter @Mdawini_29.