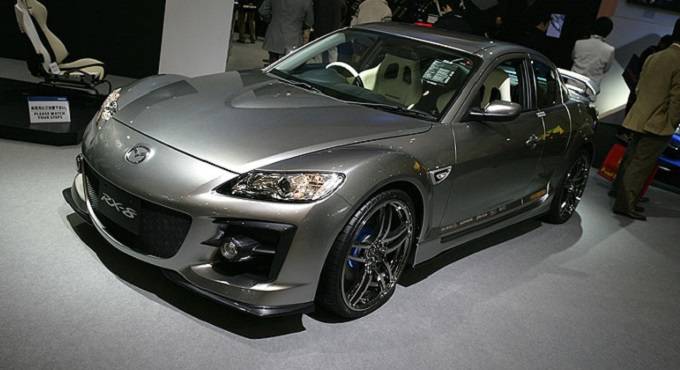 The Sunday News
Lovert Mafukure
Mazda makes some beautiful cars. Their designers work harder than most of the Asian designers because their cars are indeed a sight for sore eyes except of course for that first generation Mazda Demio, that one is unsightly, it doesn't even come close to cute.
Mazda may not make the fastest nor the most durable but beauty is within their design guide, well, for the most part!
So, the Mazda Rx8 will be a riddle that most people will struggle to solve even in years to come. From the onset, it's a confused beautiful design.
It looks like a coupe but then it has 4 doors including the suicide rear doors and now it's somewhat a sexy sedan or an overgrown coupe…noone know exactly what it is but it's quite a looker, quite like a human in teenage years, confused and all over the place with too much energy.
From a distance, it's strikingly beautiful and obviously Mazda with the big badge upfront.
Oversize wheel arches give the idea that it is a fast car and it is, well for a saloon come coupe it isn't too bad.
It is generally a small car with large front doors and small rear suicide doors. I'm not quite sure what purpose the suicide doors serve but if you have a 2 year old child it might save you having to get out of the car to recline the seat for them to embark into the rear section of the car.
There's little space at the back and larger people may find it hard to seat in the back but then again it's a sports car isn't it?
Sometimes I ask myself if I do like this car and I'm always in conflict with myself.
One part likes the cars, the other thinks it's an unfinished design.
The midsection with the suicide doors going right to the back seems like work in progress and the boot is small but then again, it's a sports car.
The rear is obviously Mazda, somewhat looking like a mazda 3 or 6 with the Altezza style taillights taking most of the space housed inside the bulky rear bumper that also houses the twin pipe exhaust system.
Under the bonnet there is the mighty-small 1300cc Wankel rotary 13b engine. I say mighty-small because it is a small engine at first glance with very poor fuel economy and massive power figures.
This is a 1300cc engine that consumes fuel like a 3000cc engine or worse but the good thing is it does not disappoint on power delivery, rarely do you get a 1300cc churning out 200hp but then this is a wankel rotary engine.
The thing with the Wankel engine is that it's a happy engine. It's happy all the way to 9500rpm. It goes all the way without breaking a sweat.
Unlike normal engines with pistons that go up and down. There is a triangular rotor that spins within the crankcase throughout all the strokes. Some rotary engines may have more than one rotor.
What makes this 200hp baby fun is the rear wheel drive train.
The rotary engine is mated with a 6 speed manual gearbox or a 4 speed automatic gearbox power being transferred to the rear wheels so its a front engine car with rear wheel drive. That is the formula for a fun car.
The wankel rotary engine was never popular and that's for a good reason.
The rotary engine is very uneconomical. It uses too much fuel and by design it burns oil and that means you have to pay more for both oil and fuel.
The engine does not completely burn fuel, because it loses compression before power stroke and therefore the emissions from an RX8 are terrible.
Rotary engines aren't popular in Zimbabwe and very few people know their way around them.
The few cars with rotary engines in Zimbabwe die a slow death because few mechanics can even touch them.
They are however good in the sense that they are small light weight power plants that deliver high power. Their biggest weakness is they are wasteful!
Now many people feel differently when an rx8 is mentioned, some say it's ugly some say it's pretty and some just hate the fact that it can't be fixed down here.
I think it's an alien car, it's lovely to look at, drives like a dream and it's a pain to maintain. If you gonna go for this kind of marriage you better brace yourself for that peaceful heartache.
You will enjoy the car but your pocket won't!
@lovert116 – Automart Used Spares Centre – Quality Used Japanese Spares -+263 772 33 99 38 – [email protected]/ Facebook: @automartusc