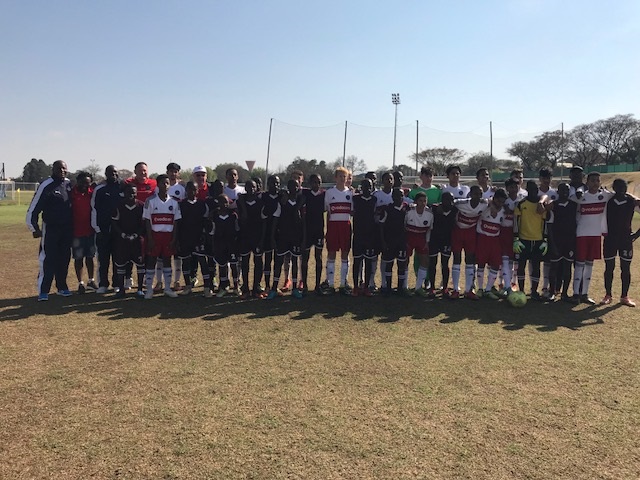 The Sunday News
Mehluli Sibanda, Senior Sports Reporter
ACADEMY 2063, an elite soccer development academy based at Prince Edward School in Harare recently completed their tour of South Africa which has been described as success.
Regis Dzenga, the Academy 2063 founder said the Zimbabwean youngsters got to gain knowledge of playing football against juniors of South African premier league teams. The tour to Gauteng, South Africa was from 26 August to 3 September with the highlight being the matches against Orlando Pirates Under-15s and Under-17s.
"I must say our tour was a great success. Our boys got to learn what it's like to play top junior football against premier South African teams and I must say the acquitted themselves very well,'' Dzenga said.
Academy 2063 took three teams across the Limpopo, their Under-15, Under-17 and Under-19 who posted impressive results during the tour. The Under-17 took on Shumba Academy which is run by former Zimbabwe international and Orlando Pirates right back Engelbert Dinha with the Zimbabwean lads winning both matches
Midstream were the opponents for Academy 2063 Under-15 with the lads from Harare winning 3-1 and 4-2.
Academy 2063 Under-19 took on the Tuks with two of the matches drawn and the Zimbabwean youngsters triumphed 5-3 in the last fixture.
The Under-15 beat their Orlando Pirates counterparts 2-0 while the Under-17s triumphed 3-1 over the Pirates Under-17s.
What impressed Dzenga the most were the wins over Tuks and Pirates, which he feels for an academy in its first year of operation were huge achievements.
"Our wins for U19 (vs Tuks) and U15 (vs Pirates) were the major highlights. For an academy in its first year of operation, we were very encouraged by the results. We believe our boys will improve significantly between now and the end of 2018.
Pathias Mauto took charge of the Academy 2063 Under-15, Norman Taruvinga was the Under-17 mentor while the Under-19s were the guidance of Genesis Mangombe.
— @Mdawini_29