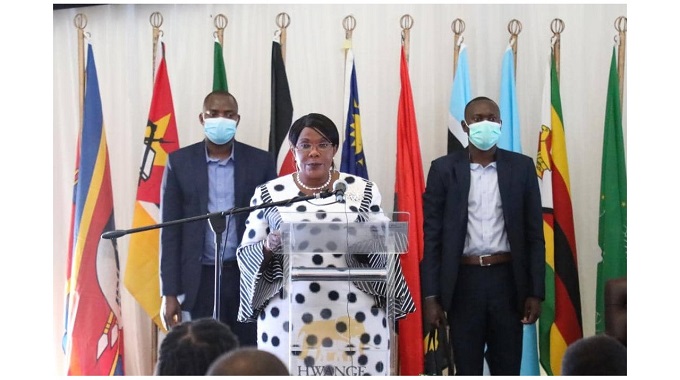 The Sunday News
Robin Muchetu in Hwange
THE First Lady Dr Auxillia Mnangagwa has officially opened the inaugural African Elephant Conference which is being held in the Hwange National Park saying Africa needs to speak with one voice in addressing the international community over their resources.
Ministers of Environment, Climate and Tourism, ministers from other African countries, non-state actors and other players are gathered in the resort town of Hwange where they have been deliberating over resolutions that will table at the Convention on International Trade in Endangered Species (CITES) COP19 summit which is to be held in Panama in October this year.
African countries that are burdened with the growing population of elephants have for the past 40 years been deliberating with the international community over the sale of ivory stock piles, culling and protection of communities where there is human wildlife conflict with little progress.
African countries where this is particularly a challenge are calling for CITES to revert back to its original mandate of promoting international trade and partnerships and step away from domestic issues around elephant trade in Zimbabwe and other African countries.
As a unit acting in common purpose the African Ministers of Environment, Climate and Tourism have resolved that they will take with them to Panama, resolutions that will seek to allow them to trade in live elephants, sell their ivory stock piles that are costing them millions to protect and preserve and also allow for communities to gain value in the wildlife that they are coexisting with.
Dr Mnangagwa who is the Wildlife Ambassador in Zimbabwe said wildlife needs protection and must benefit locals to a greater extent and also called for unity for a common good.
"I am however, saddened by lack of unity we have shown as Africa at various international fora especially the Conference of Parties to the Convention on the International Trade in Endangered Species of Wild Flora and Fauna. Africa's wildlife is part of our natural heritage and we must manage and use it for sustainable national and community development. We have witnessed many global platforms such as the Convention on International Trade in Endangered Species (CITES) fora where African nations have turned against each other. We have also seen an increase in African nations developing proposals that directly attack other fellow African nations, which can be avoided if we put our heads together to develop viable solutions that creates a win-win situation," she said.
The First Lady said Africa will join the rest of the world in advocating for regional and international conservation practices that promote effective, efficient and sustainable protection and utilization of natural resources for the benefit of present and future generations. Dr Mnangagwa said human-wildlife conflicts have escalated because of changes in land use, reduced prey base for carnivores, human settlement in wildlife areas, inadequate barriers to control wildlife movements, and international restrictions on utilisation of some species that are in local abundance.
"Human-Wildlife Conflicts are multifaceted as they directly affect most of the agro-pastoral livelihood assets of the communal people. Some of the conflicts include; destruction of crops and property, people getting killed or maimed by dangerous animals and loss of livestock to predators. The costs that are borne by the communities living on the edge, at interface with wildlife are insurmountable given the fact that such people rely almost entirely on subsistence crop farming and rearing livestock for their livelihoods," she said.
Minister of Environment, Climate Tourism and Hospitality Industry Hon Mangaliso Ndlovu also highlighted lessons learnt so far during the deliberations.
"Our discussions have made us to realise some of the inherent gaps in our conservation initiatives such as the availability of adequate scientific data for informed decision making. We will need to work together as a region to find ways of addressing this important gap. We will not be able to come up with convincing solutions and arguments if we are not sure of the data we are using. Our scientific and management authorities are therefore encouraged to come together and find ways of addressing this challenge," he said. [email protected]