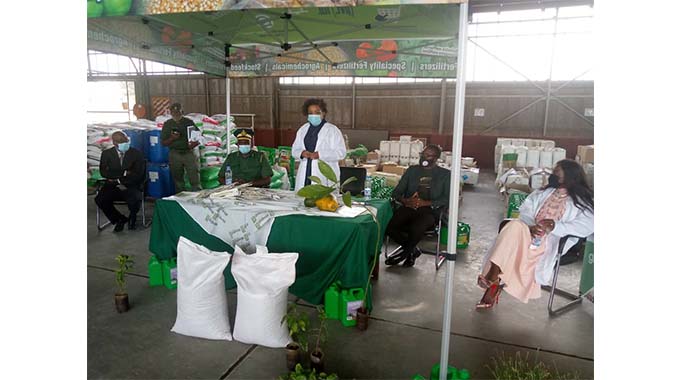 The Sunday News
Mthabisi Tshuma, Sunday News Correspondent
GLOBAL agricultural organisation Africa Grain and Seed (AGS) has partnered with several international and local companies in a US$3,28 million Buy Back Scheme (BBS) agricultural programme.
The programme will see AGS donate agricultural inputs that include seedlings and fruit trees and in turn buy back the produce. The BBS agricultural programme was launched in Harare last Thursday at Windmill Factory in Mt Hampden. At the launch, 50 bags of the 25kg cow peas were donated to the Zimbabwe Prisons and Correctional Services (ZPCS).
The second launch is set to be rolled out in Matabeleland South and North and Bulawayo provinces this week.
Targeted in the roll out of the BBS are vulnerable communities, prisons, schools and agricultural institutions.
The BBS programme will invest in fruit trees that include avocado, papaya (pawpaw), sugar beans, sunflower seeds, citrus fruits and other indigenous farm produce. Seedlings to be donated include cowpeas, spinach, tomatoes and cabbage.
The programme's mantra is to mitigate the current problems faced by Africa's rural communities such as hunger, poverty, and nutrition and over 50 000 vulnerable rural farmers across the country will be identified as beneficiaries.
Some of the companies working in synergy with AGS to enhance agricultural productivity in rural communities through the BBS include KamPay, Humble Smiles, Grow a Tree Foundation Goldstone, Hammersmith, Windmill (Pvt) Ltd, 24 solutions, Mpumalanga Broadcasting Television and Black Excellence Network.
AGS vice-president Mrs Zandile Matiwaza-Denga said the BBS initiative's first phase will run for the next 10 years and will see vulnerable farmers and agricultural institutions accessing farming inputs.
"In the rollout we were empowered by KamPay. We want to identify 50 000 farmers that we can empower in terms of giving them inputs and resources. We will be rolling out inputs in partnership with Windmills and Grow a Tree Foundation, we avail the seeds or seedlings then our other partners will avail other inputs, in this US$3,28 million programme. In the BBS programme we are looking for the vulnerable people, the people who have been hardest hit," said Mrs Matiwaza-Denga.
Mrs Matiwaza-Denga said BBS is guided by the mantra "invest local and buy local" where the programme will target local retailers before it expands to international markets.
ZPCS Officer Commanding Harare Province Senior Assistant Commissioner Alvord Gapare said the programme will benefit inmates and empower them for the life after they have completed serving their sentences.
"As ZPCS we are very grateful for the donation as it will go a long way in empowering inmates to tap more into the agriculture sector. This will empower them for life after prison as they will generate skills in the agriculture sector," said Snr Asst Comm Gapare.
Grow A Tree Foundation chief executive officer Mr Kudakwashe Manyanga said as partners they will embark on a drive of educating farmers on how best to get good yields.
"For vulnerable farmers to benefit from this exercise they will have to register for the programme. However, we are aware that some vulnerable rural communities might not be aware of this programme designated to empower them.
Hence, we will take a holistic approach to the way we will handle the programme by engaging technical extension officers from the Government to assist us with information about vulnerable communities across the country's provinces. When they register under the programme, we will have their profile on our database, where there are, the weather conditions and type of soil," said Mr Manyanga.
AGS chairperson of smart agriculture and climate change adaptation Dr Ruwadzano Matsika said the programme is about building climate-resilient farming communities and directly contributing to strengthening the agriculture sector in Zimbabwe.
"We are working in partnership with vulnerable farmers who will be hardest hit by changing weather patterns to increase their skills, access to information, inputs and resources and we are leveraging existing agricultural extension services to reach rural farmers. We empower them to produce good quality climate-smart crops like cowpeas, sugar beans, fruit trees and other indigenous crops.
"Through our pioneering Buy-Back-Scheme we ensure our farmers access to markets and an income for themselves. And we are making use of the latest digital fintech to link the vulnerable and underserved communities to the digital banking age," said Dr Matsika.
Ms Romay Harding of Humble Smile Foundation said, "Humble Smile Foundation is delighted at the opportunity to partner with Africa Grain and Seed in Zimbabwe. Humble Smile manages and supports oral health outreach projects that promote hygienic and healthy lifestyles.
"Good nutrition is the basis of a healthy lifestyle. Our vision is to see a world in which children live healthy lives with healthy smiles," said Ms Harding.
A successful agriculture expert Denver Fredericks said: "AGS is a well-organised and socially driven group of people, with core competencies that brings interests and solutions to communities of disempowered and neglected people. We have been geared, to empower, to build an independent livelihood, instead of making them dependent on external parties.
"Working with communities in Africa has multiple approaches. However, our endeavours are aimed at bringing about a sustainable transformation in the lives of our rural residents. Where there are populations that are struggling for Maslow's basic needs, their prospects and incomes and chances of getting new livelihood opportunities are very meagre.
"We believe that key aspects for holistic development are inter-dependent and interlinked interventions, health and nutrition, and education and economic development. Therefore, a holistic model of development needs to be at the core of sustainable change in Africa,' said Fredericks. — @mthabisi_mthire