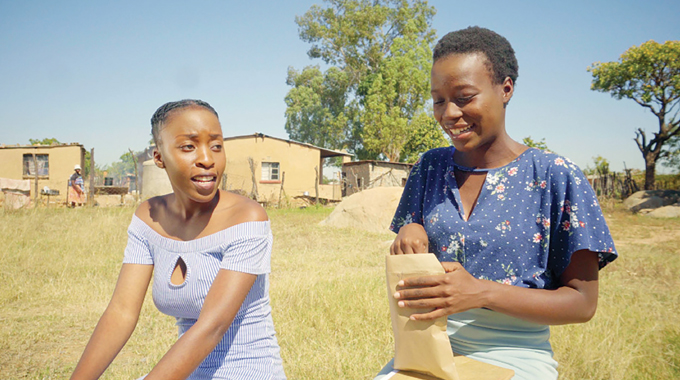 The Sunday News
Simba Jemwa, Sunday Life Correspondent
Twenty million children, mostly the girl child in sub-Saharan Africa do not continue their education past primary school.
This is true for many rural girls in Zimbabwe too! As is the spectre of child marriage, teenage pregnancies, sexual abuse and many other social ills that affect the girl child. Parliament is seized with a variety of issues affecting the African Child especially the girl child. Issues currently topical in the country include the age of consent and the Marriage Act.
Amacala 2 film, produced by Intwasa Festival through its Amplifying Girls Voices Project initiative, the project is funded and supported by Plan Zimbabwe and Plan Finland.
Directed by accomplished writer and filmmaker, Raisdon Baya, Amacala 2 is a short film commemorating the Day of the African Child.
We meet a young girl Luba (Stacy Matarise) who is caught cuddling with a boyfriend by a village woman.
The woman reports her to her parents and consequently Luba is sent to the boyfriend's home to live as husband and wife. The critical question the film poses to viewers is — are the parents right to do this? And are the kids ready for marriage?
Speaking to Sunday Life this week, Baya said: "The vision behind these films is to use art to educate, especially young girls on issues like child marriage, the marriage act, new age of consent and Sexual and Reproductive Health and Rights (SRHR) issues.
We are using digital arts as a vehicle for social change.
"Part 2 is not necessarily different from the first one. It's a sequel set in the same environment, but the issues get deeper and we introduce new information around the Marriage Act. These films were conceptualised by the Amplifying Girls Voices Project while the scripts were written by Nomalisa Ndlovu and Anita Moyo. Intwasa Arts Festival are the Executive Producers and the project is funded by Plan Zimbabwe and Plan Finland," Baya added.
Baya said they are happy with the response the two films have received both from Zimbabweans and neighbours in the region.
"We are happy with the response. Very happy, in fact. Part 1 is racing towards 400 000 views now and it is being watched mostly by the Sadc region which means the message is going far and wide," Baya revealed.
Both films were shot in St Peter's, just after Pumula in Bulawayo and Willian Nyandoro directed Part 1 while Baya directed the sequel. Being low budget films, Baya said it took his crew normally between two or three days to shoot.
The cast members have remained basically the same for both parts of Amacala. The lead actresses, Stacy Matarise. Chelesile Mpofu, Shamma Nicole Ruth Banda and Kimberly Malima are part of the project Amplifying Girls Voices and have been ably assisted and supported by veterans Aleck Zulu, Xenia Dlomo, Cyprian Tazarurwa, Nomviyiso Mabi, Sithandazile Dube and Florence Sithole.
Baya also revealed that they have more films about issues affecting the girl child such as Gender-Based Violence (GBV), SRHR and other girl child rights issues. The crew is currently working on developing new storylines for upcoming productions similar to Amacala. – @RealSimbaJemwa