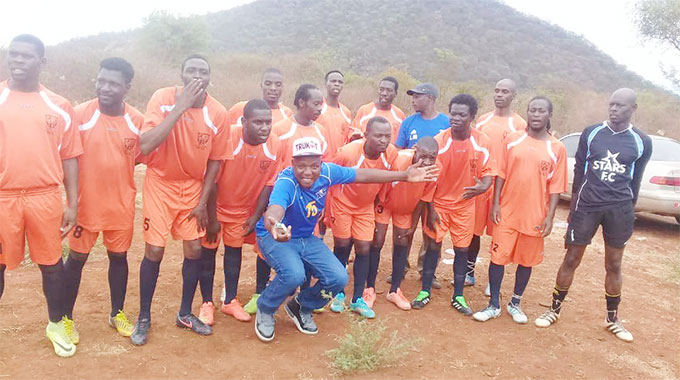 The Sunday News
Mandla Moyo, Sports Reporter
REIGNING Bulawayo Social Soccer champions, FC Stars will be hoping to collect three more points to move one more step towards defending their crown when they travel to rugby ground in Lobengula for a date with FC Pirates. 
Holding other things constant, the reigning champions are expected to land at the match venue firing from all cylinders as a result in no mood to take home any prisoners.
As the top team on the log and the best Bulawayo Social Soccer League (BSSL) side last season, a lot is expected from them hence there is no room for taking their foot off the pedal knowing very well that every point collected will put them in a better position as far as the 2019 soccer season crown is concerned.
In Pool B the log leaders Skippers are away to Siyabangena in Nkulumane Phekiwe Ground, a win for them will keep alive that hopes of making a date with the leaders of Pool A at the end of the season to determine the best BSSL team of the year
However, a lot of tricky games lie ahead of these two log leaders such that any slip up along the way can swing the pendulum in favour of the chasing pack in both leagues.
According to Linda Bhebhe Stars organising secretary, as a team they want to continue from where they left during their last game.
Elsewhere 94 Strivers who registered their first win of the season in an exciting 9 goal thriller which they won 5-4 in a match played at TM Cowdray Park will be hoping to collect their second set of 3 points when they lock horns against Magwegwe West at Mazai ground in Makokoba.
In addition to these action continues in the league in most parts of Bulawayo on this same day that is likely to keep followers of the game on the edge of their seats.
After these games the league will shift focus to cup games lined up for the Easter holiday beginning on 13 April according to the fixtures secretary Aloise Zhwaki Lunga. 
Fixtures 
Pool A
Chiefs v Funda (Marisha), Legends v 70 Combination (Emganwini), Iminyela v Bullets (Ndola), FC Pirates v FC Stars (Rugby), Old Timers v Makweee (Pumula North), PataPata v Mag Stars (Iminyela), Glenkara v Brotherhood (Somhlolo), Masters v Edgars (TM Cowdry), Santos v Creamtata (Isilwane), Mthala v Khami (Bango), Vulu Vale v Congo (Magwegwe West), Tigers v 94 Strivers (Mazai), Man U v Fireworks (Makhandeni).
Pool B: 
Celtics v Crackers ( Emganwini), Siyabangena v Skippers (Phekiwe), Pioneer v Matshobana ( Matshobana), Robert Sinyoka v Mayihlome (Robert Sinyoka), Real Magwegwe v FC Zonke (Magwegwe High), Bombers v Finance ( Esporweni), Pelandaba v Nkulumane (Pelandaba), Lobels v West Com (Matshobana), Shwelele v Zobha (Inyathi), Real Shwelele v Wembley (Inyathi), Njube Crackers v Zinwa (Desert), Gwabalanda v New Jack City (Masina), Happy Valley v Mabuthweni ( Mazai ).