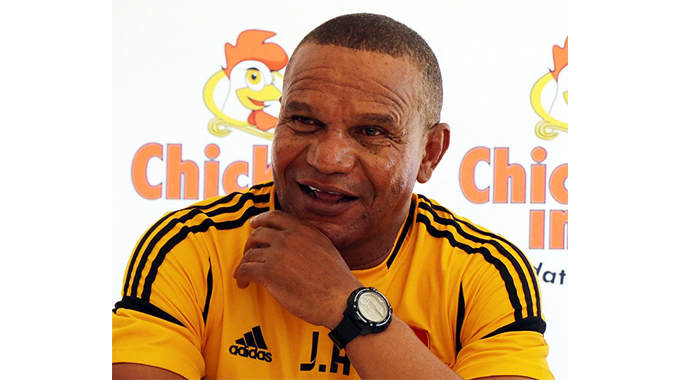 The Sunday News
Fungai Muderere, Senior Sports Reporter
FIVE days after watching his charges break their Vengere Stadium jinx, seasoned Chicken Inn gaffer Joey Antipas is hoping the football gods will smile at them when they engage Black Rhinos in a Chibuku Super Cup quarter-final tie at the same venue this afternoon.
It will be a repeat of the two sides' Week 25 Premier Soccer League fixture that saw the army side post a 2-1 triumph in what was the Gamecocks' sixth defeat of the season. Antipas and his men will once again march into the cauldron of the bumpy and hard Vengere surface after posting a 1-0 victory against
Manica Diamonds at the same facility last Tuesday courtesy of a flashing Munashe Pini header.
In a seven-year trophy drought, the Gamecocks will be looking forward to dehorn Black Rhinos who have been enjoying a rich vein of form under the mentorship of club legend Stanford "Stix" Mutizwa.
"We have no option but go back to Vengere Stadium. It's a cup game, a tricky one and we hope to advance to the next stage. We pray and hope the football gods will smile at us once again," said Antipas.
The 2015 Castle Lager Premier Soccer champions, who have previously fallen to the suspension and injury jinx of their defensive players, will welcome the services of their vice-captain Passmore Bernard and striker Clive Augusto who were absent when they uncovered the Manica Diamonds camp.
In the absence of the veteran duo, the Antipas-led Chicken Inn technical department threw in young Arthur Chinda and Pini who did not put any foot wrong to help Gamecocks dribble into the hearts of the Rusape football followers.
Also likely to be thrown into the fray by Chicken Inn is their captain Moses Jackson who was benched when they took on Manica Diamonds in a match when their stand in skipper Xolani Ndlovu had a five-star performance in the club's rearguard that had Chinda, Neilson Ketala and Itai Mabunu.
With fit again Richard Hachiro back from the treatment room, he is expected to partner club returnee Tafadzwa Kutinyu and evergreen Shepherd Mhlanga in the middle of the park. Mutizwa, who managed to spy on the Gamecocks when they played the Gem Boys, looks forward to a tight contest.
"It's not going to be an easy game. It's a cup match against a very talented side. We hope we will prevail and advance to the next stage," reckoned Mutizwa whose side has never conceded defeat after he took over the Rhinos coaching reigns at the end of July.
Vengere Stadium has previously provided the Gamecocks with a good hunting ground and the biggest question is: Will Gamecocks further exorcise the Vengere Stadium ghost?
Answer: Only time will tell, with results expected after 90 minutes of what is expected to be a bruising encounter all in the quest of a fine Chibuku sip.–@FungaiMuderere