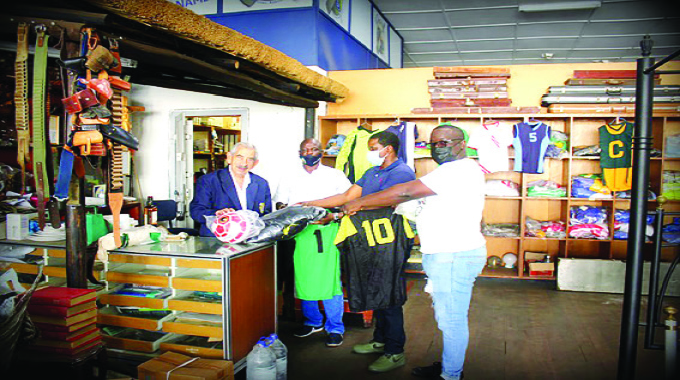 The Sunday News
Simba Jemwa, Sports Correspondent
FOR 36 years, the Leondios family has been part of the Bulawayo football landscape, an all-weather benefactor who's only question to football has always been "how much is needed" or " how can I help".
And the patriarch of the family, Panayiotis (Peter) has declared: "As long as I am alive, my family and I will continue to support football."
Through their sports apparel and equipment business, Townshend and Butcher which Peter bought from Wally Townshend in 1986, the Leondios family has been at the forefront of amateur football development for more than half a century. And at no point has anything other than a natural disaster ever stopped them sponsoring the Bulawayo Amateur Football Association (BAFA).
For the longest time, they have been the face of Townshend and Butcher Trophy which is the league's premier knockout tournament involving all the teams in the league.
The company was founded by Townshend in 1957 and began a long journey of community support which was continued by the Leondios Family with the same fervour.
Past winners include the legendary Matabeleland High City which was for a long time a feeder club for local giants Highlanders.
Over the years, Peter has been charmed by various clubs in the league namely Revolution and Golden Hotspurs both of which have been part of the league for decades.
"I took over the company from Wally Townshend in 1986 and he already had been sponsoring the league for 29 years.
He asked me to continue working with the Bulawayo community through the tournament and I did not hesitate to continue the legacy.
"From the moment I took over Townshend and Butcher, I sponsored the tournament to this very day.
It's something that my family and I do without hesitation or a second thought and it as it has become a family tradition for us" said the Cypriot born businessman whose other interests are in the hotel industry.
"Our vision has been and will always be to help divert our youth from things like drug and alcohol abuse," he added.
He has also donated a football kit to a social soccer team of journalists in Bulawayo, Chronicle FC, whom he said he was thanking  for being resilient in telling the Covid-19 story and supporting sport in general in the city and beyond.
Charles Chunda, a BAFA administrator who has worked with Leondios for decades, described him as the number one soccer fan in Bulawayo.
"His company has been involved with football for more than 50 years.
He has sacrificed a lot to save the game and BAFA and social soccer would not be at this advanced state if he was not supporting it.
He sponsors a tournament every year, and we are grateful for that," he said.