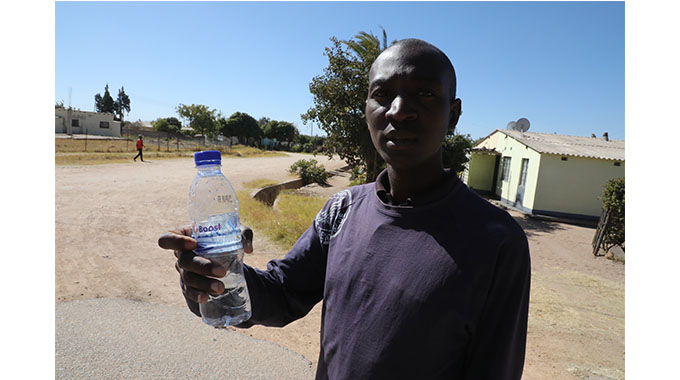 The Sunday News
Vusumuzi Dube, Senior Municipal Reporter
A FORMER senior engineer at the Bulawayo city council has said the Luveve water contamination that resulted in the outbreak of Dysentery and Typhoid was caused by council which flouted a number of its by-laws to accommodate in-fill housing stands.
The former engineer, who spoke on condition of anonymity for fear of victimisation alleged that officials from the engineering department had initially warned the local authority on the pending time bomb but council leadership chose to ignore the advice to accommodate the infills, which were mainly sold to council staffers.
The diseases outbreak in the death of 13 people in the suburb with close to 2000 residents being infected.
"The creation of infill stands has seen open spaces in the form of green belts, parks, sports fields, powerline and major water pipe servitudes disappearing.
Open spaces in Bulawayo's old suburbs are under immense pressure from developers who are working in cahoots with planners and engineers who connive to ignore laid down procedures to approve housing plans and water mains designs which compromise the safety of the natural environment and proper function of existing services for these suburbs which were not designed to accommodate the additional demand exerted by infills.
"Sadly, some of the expansion in and around Luveve has been ad-hoc and therefore haphazard resulting in challenges faced by residents including flash flooding even with minimal rains, potholed roads, inefficient transport movement causing congestion and poor safety, burst sewers and water pipes, contaminated water, overcrowding and the risk of communicable diseases," said the former engineer.
The former engineer said  according to town planning procedures if an area is to be turned into an urbanised residential area, there are procedures that are followed, as well as a proper settlement plan. They said some of the infills were illegally connected to water and sewer without approved designs.
"Bulawayo Sewerage, Drainage and Water by laws (SI 390/1980) stipulate the following inter alia: that council shall supply and install a metre to all premises where it has agreed to supply; the quantity of water so registered shall be paid for by the consumer in accordance with the prescribed tariffs; no person shall construct any building or other structure over a water main or in such a manner as to be likely to interfere with or endanger a water main; no person may divert, re-align, open or take any action which might injure, endanger or destroy a water main.
"It should be noted that the haphazard and unplanned sprouting of infills on land previously set aside as servitudes for major pipelines and other services such as electricity, roads, sewer mains, telecommunications has seen the above by-laws being ignored by greedy and cunning council technocrats working in cahoots with councillors," said the former engineer.
He said in most infills which are normally found in reserved spaces in existing suburbs, basic engineering and planning standards have been totally ignored to the extent that newly constructed manholes, sewer mains extensions, septic tanks and soakaways have been located within 30 metres of potable water pipes exposing consumers in these old suburbs to contaminated water.
"In other cases, such as one example in New Luveve, sewer mains which ordinarily convey raw sewage from houses by gravity have been diverted and re-routed to flow upwards against the natural gradient in order to accommodate an infill stand at all means possible. The net effect of such blatant disregard of engineering and town planning standards is frequent manhole overspills which finds its way into potable and ground water/borehole supply systems.
"In other cases, mischievous and crafty technocrats within council have tried to service infill stands by over designing energy consuming pump stations which are costly to operate given the fact that a significant chunk of the council expenditure budget goes towards pumping costs," said the former engineer.
However, according to a council confidential report, the city's town clerk, Mr Christopher Dube and the chamber secretary, Mrs Sikhangele Zhou  exonerated the local authority from any wrong doing in the water contamination saying council had followed all the necessary safety precautions in the provision of water to the suburb.
"The chamber secretary further explained that tests had been done on the water from the source and at the consumer points and the results were 90 percent complaint against a 95 percent standard required by the World Health Organisation.
"She said the samples taken from the bodies and ill people and causal link between the organisms found in the non-complacent water (three percent) and that found from patients was not clear hence council's position of not admitting to causing the deaths or the illness through contaminated water," reads part of the report.
Last month the Bulawayo Progressive Residents Association filed a class action civil suit with the High Court suing the local authority for failing to provide safe water for consumption as required by the Urban Councils Act of Zimbabwe.
The residents argue that the local authority supplied the plaintiffs and residents of its council areas with water contaminated with feacal matter, coliform bacteria and water that was visibly discoloured, mixed with solids, odoriferous and clearly unfit for human consumption.