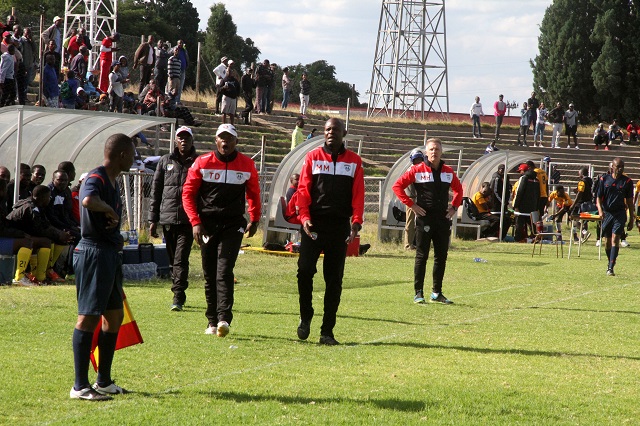 The Sunday News
Ngqwele Dube, Sports Correspondent
Chicken Inn . . . . . . . . . . . . . . . . . . . . . . . . . . . . . . . . .(1) 1
Harare City . . . . . . . . . . . . . . . . . . . . . . . . . . . . . . . . . . (0) 1

AN exciting, fast-paced match between Chicken Inn and Harare City that had all the ingredients of a thriller was turned into a farce by poor officiating with referee Hardly Ndazi struggling to take charge of the Castle Lager Premier Soccer League tie at Luveve Stadium.
Allowing a goal from a seemingly offside position to stand, failing to award a penalty when a Chicken Inn player handled inside the box and giving Harare City a soft penalty are some the poor decisions that had a negative effect on an otherwise entertaining match.
Both coaches, Joey Antipas of Chicken and Harare City gaffer, Mark Harrison expressed disquiet over some of Ndazi's decisions.
Chicken Inn showed their intent to walk away with maximum points in the opening minutes of the game and they scored a hotly contested goal in the third minute through Obriel Chirinda who appeared to be in an offside position after receiving the ball from Obadiah Tarumbwa but the flag stayed down.
The second half saw the visitors take the game to the Gamecocks and the latter's captain, Moses Jackson handled the ball inside the box in the 50th minute following a melee as Chicken Inn tried to repel a Harare City attack. Ndazi waved play on, much to the protestations of the Harare City bench who felt that they deserved a penalty.
Protasho Kabwe won the visitors a penalty when he was brought down inside the box in the 77th minute in a scramble for the ball but it looked like a soft penalty as he was facing away from goal and did not have a clear scoring chance.
Moses Muchenje stepped up to take the penalty and his shot beat Chicken Inn goal keeper, Elvis Chipezeze to ensure the teams share the spoils.
Teams
Chicken Inn: E Chipezeze, P Bernard, G Goddard, O Chirinda (A Banana 82 mins), M Jackson, S Munawa, G Majika, C Matawu (D Nyandoro 87 mins), X Ndlovu, I Mucheneka, O Tarumbwa (W Kamudyariwa 69 mins)
Harare City: R Harrison, R Uchena, T Chimwemwe, B Chayambuka, M Diro-Nyenye, T Samanja, M Muchenje, T Tumba (M Vengesai 71 mins), K Musharu, P Kabwe, M Gaki (W Manondo 90 mins)