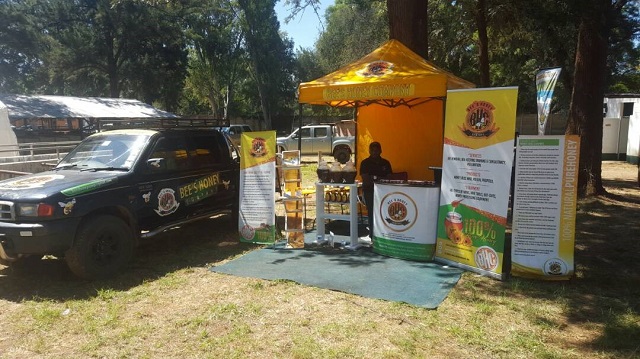 The Sunday News
Dzikamai Dunira
APICULTURE powerhouse — Bee's Honey Company has introduced a new campaign dubbed "Train-the-Beekeeper Programme" to train and equip all prospective beekeepers with the much-needed skills to profitably produce honey for both the local and foreign markets.
The two-day event will be officially launched just four days after the UN-declared World Bee Day.
"There is an acute shortage of honey because of the limited number of honey suppliers in the market; the demand is just overwhelming. Honey is in hot demand both locally and abroad. Honey production is emerging as one of the most lucrative enterprises with vast untapped potential to earn high volumes of foreign currency for the beekeeper. Thus, we cordially invite you to train as a beekeeper at our Train-the-Beekeeper Programme at Hotel Saint Patricks (provisionally) on Thursday 24 May 2018" said Mr William Bhila, the Managing Director at Bee's Honey Company who's also the National Secretary-General of the Zimbabwe Apiculture Platform.
"We invited a German expert and all is set to accommodate everyone. Corporates may also grab this golden opportunity to partner us: we can use their logos and posters, or they can erect their brand infrastructure at this mega event. All who wish to partner us or to be trained may enquire on 0773 282 842 and will be readily assisted" he added.
Bee's Honey Company is a Zimbabwean-based private-owned company that has been producing honey on a massive scale since 2015. It is a member of the Zimbabwe Apiculture Platform and Matabeleland Beekeepers Association.
"We're targeting to train at least 50 000 beekeepers nationwide. We started here in Matabeleland North and have since trained thousands including those in the remote areas such as Binga and Nkayi. We invite especially the youths, widows and single mothers who might be struggling financially because they have no source of consistent income. This is your golden chance to be an exporter of your own products. Prospective beekeepers just need to form groups and contact us: wherever they are, we can safely guarantee we will get there and train them for just $7,00, imagine! Our mission is to improve the bee honey industry and introduce new beekeeping technologies in the sector through information sharing, training, education and innovative interventions to bridge the gap between theory and practice" he added.
The Train-the-Beekeeper programme also seeks to educate the society on the importance of honeybee, environment conservation, health benefits from honey or its by-products and is meant to support households generate their own income however, using sustainable and environment-friendly mechanisms.
"You'll bear witness with us that in the society of this day, an increasing number of consumers now prefer honey to sugars and other refined products because it's healthy. It is this very development that is growing the market for bee honey hence our call to train you all" said Mr. Bhila.
Bees and other pollinators are vital to the global food chain. Not only do they ensure food security, but they also provide an economic service worth up to $577 billion, according to the Inter-Governmental Science Policy Platform on Bio-diversity and Ecosystem Services (IPBES). The insects are a key part of many ecosystems and therefore a good indicator of ecosystem health. It is therefore quite commendable that some private enterprises have taken these value-addition initiatives.