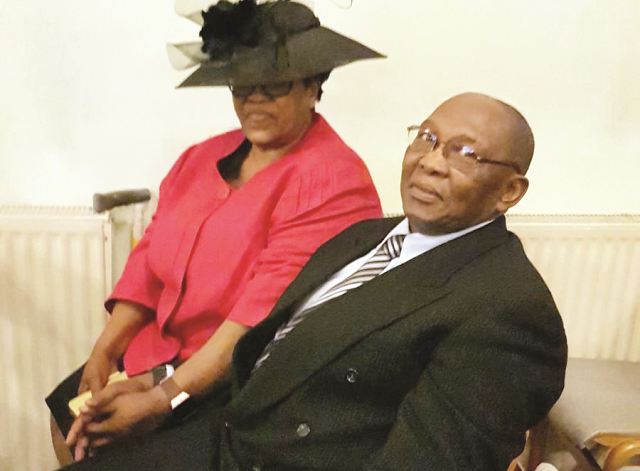 The Sunday News
Danisa Masuku
BeRnard "Ben Bella Malume" Zikhali's soccer life was crafted and sharpened in the Midlands city of Kwekwe. It all started at Chiedza Primary School in Kwekwe.
There were a number of sport disciplines at the school, like every child he tried his hand in tennis, volley ball and soccer.
But he was outstanding in soccer and it became his sport of choice.
"In my maiden game at school I showed some sublime performances and that was the start of great things. Following that, soccer became my favourite sport," he shared with Sunday Life Sport.
Following that match, supporters started to call me Ben Bella Malume. "I think they did so because I was heavily built and looked older than them (age mates). One thing for sure I did not like the nickname because most of my peers used it to poke fun at me," says Zikhali.
His was selected to be part of Kwekwe select side and stayed with side and featured for two years. In 1971 he joined Kwekwe United and spent four seasons before he crossed the floor to Rhodesia Iron Steel Company (Risco) when it was in Division One.
He was part of the squad that helped Risco to gain top flight league ticket in 1976.
"That was a great achievement to most of the players as we endured with the team from Division Three and fought our way up to the Premiership league," he said.
In their maiden dance in PSL, Paul Moyo joined the outfit as the head coach.
Moyo brought some changes as such he was switched from playing in the heart of midfield to right wing popularly known as number 7 at the time.
Zikhali was an instrumental member of the Moyo-coached side that brought joy and pride in the Midlands mining town of Kwekwe in 1978. That year (1978) was his crowning moment of glory as he helped his side clinch a cup.
"We were crowned Castle Cup kings after we beat BAT Ramblers in the Cup final. In the semi-final we had beaten Zimbabwe Saints. At the time Zimbabwe Saints was formidable force that was difficult to beat at its home ground – Luveve Stadium unscathed. But we proved our worth and beat them," he recalls.
For his sterling performance he was voted man of the match. His undoubted moment of glory was when his club crowned him Outstanding Player of the Year (1978).
According to him, his worst match was when his side clashed against Zimbabwe Saints in a PSL match at Luveve Stadium. During that time he was riding on a wave of success in his game.
"At the time I was the man of the moment. Prior the match, former Chronicle Sports reporter David Ncube interviewed me about how l felt about the match and his photographer took some pictures. When everyone thought I was going to play a superb game it turned out to be my worst match. I do not know why? From that time Luveve Stadium became my worst football pitch," he said.
He reveals that the trio of Dynamos stalwarts – Kuda Muchemeyi, Shadreck Ngwenya and Daniel "Dhidhidhi" Ncube gave him a torrid time.
" I faced a terrible time whenever we played against Dynamos because the trio of Kuda Muchemeyi, Shadreck Ngwenya and Daniel Dhidhidhi Ncube were good and always gave me a headache," he said.
A PSL match between his side and Highlanders at Barbourfields Stadium also goes down as a sad match of his life.
"We were leading by a goal to nil against Highlanders at Barbourfields. Highlanders' goalkeeper Peter "Oxo" Nkomo clashed with our striker Geofrey Gotora; he got injured while he was trying to clear the ball. Peter was then rushed to Mpilo Hospital. The match was stopped for about 20 minutes.
Highlanders supporters camped outside the stadium baying for our blood and we had to be escorted by ZRP police who left us near army barraacks),"he reveals.
He reveals that 1978 squad was his best and comprised the following players; Njabulo Zulu,John Madura,Frank Mkanga,Robson Chitambu, Ephraim Dzimbiri, Richard Manda,Tobias Moyo, Ali Saidi, Thomas Mpofu, Clement Sibanda (captain)Ephraim Moloi,Henry Mwase, Isaac Lungu and Frankson Nyembere.
Zikhali reminisces about the good times at Risco, one of the delightful moments was during the eve of the matches at Torwood Stadium when their popular supporter Mashiripiti engozi would wake up at 4am go around the suburbs touting for support for a match that would be played in the afternoon.
"His invitation helped a lot especially when we played our arch-rivals Gweru United which was popularly known as Pisa Pisa. Supporters led by Mashiripiti engozi helped a lot in cheering the team especially when the chips were down. He was eccentric like Zimbabwe Saints popular supporter – Khumalo,"he recalls.
After Zimbabwe gained independence in 1980 Risco was renamed Zisco. Zikhali played for three seasons and hung up his boots.
"I felt I was too old and the coach had introduced a new brand of football and could not fit in the new philosophy. So I had to quit soccer," he reveals.
In 1982 he took over from his mentor, Paul Moyo. He prides himself in shaping the careers of the following former players Saul Chaminuka, Paul Gundani and Ronney Jowa. From 1982 up to 1985 he was head coach of Zisco.
He said: "Fred Mwila was fired after six months and I took the reins. But the team was going through a losing streak as a result it was relegated at the end of the of the season."
He had to go down with it. He proved his worth; remarkably he helped the side bounce back into Premiership. In 1990 he joined Lancashire steel FC after a turbulent relationship with the management.
"I had a heated argument with the management after they meddled in the selection of the first team. My relationship with management got strained as such I had to quit," he reveals.
He left and joined a Division One outfit – Chrome Stars he spent half a season and packed his bags to Botswana. He joined Taffic United and found it in the murky waters of relegation and saved it from the chop.
"When I joined the side it was in red zone and my main mandate was to save it from relegation and I did my best as it survived relegation," he says. He also had coaching stints with two Botswana PSL sides, Gunners and Jwaneng.
In 1998 he came back home and joined a Division One outfit -Chrome Stars. He says they won the PSL ticket but Zifa blocked their promotion. He reveals that they tried to make appeals but all their efforts were fruitless.
"We had won Division One league but somehow Zifa decided to block our promotion and promoted Masvingo United," he shares.
Zikhali and his technical department with the backing of the management went to the drawing board and restrategised. He says eventually they gained
promotion to elite league in 2001.
He cherishes the year 2001.
"I hold that year in high regard as we got promoted into top flight after our initial move was blocked and to me that was an achievement. And I enjoyed my coaching career because there was no interference from the club executive. I had autonomy in team selection," he says.
But his flirtation with Chrome Stars was cut short. "Chrome Stars was owned and sponsored by Zimasco. Sadly Zimasco withdrew its sponsorship and a businessman Themba Musekiwa took over along the way in our fourth match we had a misunderstanding as he wanted to have a hand in the selection of the first team. I refused to take his orders due to that he fired me,"he says.
He left for Britain in 2002 and has been staying at Manchester city up to now.
He reveals that locally he supports Highlanders and believes the new Highlanders head coach Madinda "Khathazile" Ndlovu is on a right course by turning to junior policy.
"Madinda Ndlovu is doing the right thing by giving the youngsters an opportunity to shine and that will go a long way since those players have been imbedded with the culture and ideology of the team. And they know what it means to wear the black and white stripped t- shirt,"he says.