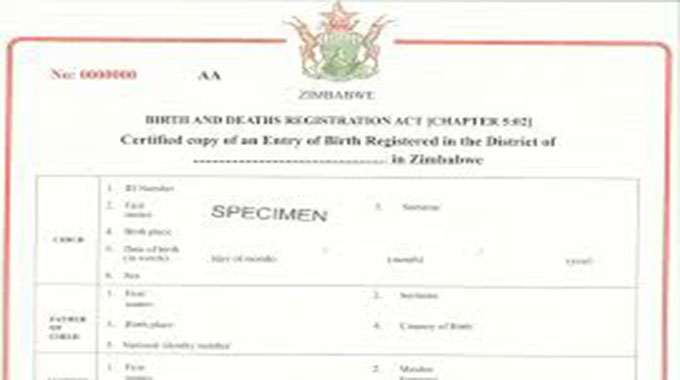 The Sunday News
Walter Mswazie in Masvingo
A NUMBER of children in Masvingo are still facing challenges in acquiring birth certificates because of a number of reasons among them death of parents and problems related to legal issues, an official has said.
Addressing journalists after the completion of a three-day public hearing on the inquiry on access to national documentation last week, Zimbabwe Human Rights Commission (ZHRC) deputy chairperson Dr Ellen Sithole said out of more than 600 submissions the commission received during the inquiry, more than 50 percent were related to failure to access birth certificates.
"We had a total number of 641 submissions from eight districts including Masvingo Urban.
Those who gave oral evidence were first consulted during stakeholders meetings in their respective districts before being asked to appear before the commission to give oral evidence.
They were from Masvingo Urban, Masvingo District, Mwenezi, Chiredzi, Chivi, Zaka, Bikita and Gutu," said Dr Sithole.
"We have gathered that 50,9 percent of the total number of those who made their submissions faced challenges in acquiring birth certificates.
Those who said faced challenges to acquire National IDs (23,6 percent), passports (14,9 percent), death certificates (eight percent) and citizenship (2,5 percent)," she said.
Dr Sithole said from the submissions some parents said they lacked information on how to obtain national identity documents and some did not have the right supporting documents to help their children acquire birth certificates.
"Those who cited death of a parent as the reason of not accessing national documents constituted 22 percent, economic issues 18,7 percent, legal issues 17 percent, registration issues 12,7 percent.
"Some did not know the whereabouts of their parents and they constituted 9,7 percent with those complaining of long distances to the nearest registration office contributing 6,2 percent. Some cited non-co-operation of parents or in-laws and this constituted four percent while those that failed to have witnesses were 3,8 percent," she said.
Dr Sithole said most submissions were made by females as they were the ones who bore the brunt of looking after children.
"The national inquiry is focusing on five national documents, namely; birth certificates, national identity cards, passports, death certificates and citizenship.
In all the submissions, females constituted 54 percent, males 44 percent, persons with disabilities 7,1 percent while those who did not indicate their sex contributed only two percent."
Dr Sithole said lack of documentation was an infringement on people's human rights and this often resulted in generational challenges.
She said in most cases children without birth certificates would be forced to drop out of school and some even barred from participating in extra-curricular activities such as sport.
"They also cannot access food aid provided by the Department of Social Welfare and other organisations.
They cannot also find a legally recognised family or have a legally binding marriage."
The ZHRC which is divided in two teams begun its programme from 1-4 July and will also cover Matabeleland North from 15-19 July.
She said the commission is expected to have compiled the report and presented its findings by February next year.
@walterbmswazie2