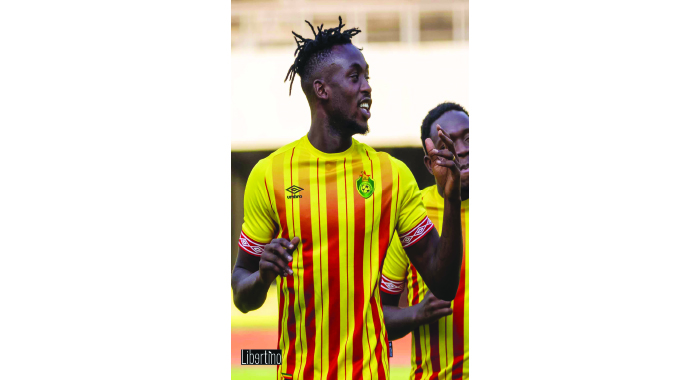 The Sunday News
Blessing Malinganiza
ZIMBABWE national team striker Tino Kadewere is expected to play a more prominent role when the Warriors square up against the Super Eagles of Nigeria in their second World Cup qualifier at Huye Stadium in Butare on Sunday.
The Olympic Lyon forward featured in the last 20 minutes in the nil-all draw against Rwanda in the opening qualifier at the same venue on Wednesday.
Kadewere replaced Prince Dube after 74 minutes and made little impact as the Warriors labored to get a single point from the contest.
The 27-year-old striker has also not been getting game time at French Ligue 1 side Olympic Lyon where he has 151 minutes in five appearances.
However, Kadewere might start in the Warriors' next assignment against the Super Eagles as his skill has impressed national team coach Baltemar Brito.
In fact, the gaffer thinks Kadewere will be an integral part of the national team.
"He didn't play a lot of minutes against Rwanda because we thought he should rest since he had just arrived.
"But he will play against Nigeria," revealed Brito.
The Brazilian coach has been watching a lot Olympic Lyon matches and he says he has been impressed with what he has seen of Kadewere.
The former Le Havre star has had an indifferent start to the 2023 French Ligue 1 following his return from a loan spell at Spanish La Liga side Real Mallorca.
A nagging groin injury has also slowed down his progress in recent seasons.
"I've watched his videos and I know what he is capable of doing," said Brito.
Kadewere can play either as a top man or on the wings and is one of the most experienced players in the current Warriors squad.
"I am happy to be back in action and representing my country after a long time," Kadewere told Zimpapers Sports.
Kadewere was part of the Warriors squad at the 2022 Africa Cup of Nations finals in Cameroon.
But the Warriors were suspended from international games following a FIFA embargo on the national association.
Their first competitive match after that suspension was Wednesday's draw against Rwanda.
"The game against Rwanda was a positive looking at the preparations that we had. Almost half of the team arrived a day before the game," noted Kadewere.
"It's been almost one and half years without us playing together and this was our first competitive match, so taking a point away from home in a difficult situation was something that was positive.
"Overall, the guys did well, we fought a good fight. It was a game that we could have easily won also. We had some few good chances but they had support from their home crowd."
Kadewere thinks the point gained against Rwanda will be key as the qualifiers unfold and says his teammates are now focusing on Nigeria.
"Nigeria have very good players. Of course they have a few missing like Victor Osimhen but they still have a very good squad.
"We don't have to think about those that are missing, we need to focus on those who are there and try to put our mind into the game. We need to make sure we take it as a final, we just need to try take the game to them.
"Of course it will not be easy but we will put in 120 per cent effort."
The Lyon striker thinks Zimbabwe were a "fair" qualifiers draw.
The Warriors are in Group C alongside Nigeria, Rwanda, South Africa, Benin and Lesotho.
"I think we have a fair group, it's good we started with a point away from home. Yes, they are some really tough teams in our group but we are really trying to make sure we make the nation proud."
Kadewere also paid tribute to the late former Warriors keeper George Chigova.
"To be honest it (Chigova's death) came as a shocker. Just a few days ago I actually spoke to George and he told me he was actually getting better.
"Receiving this kind of news a few days later was something difficult and the news came in about one and half hours before the game against Rwanda.
"We tried to cope with it and we said to ourselves we wanted to play this game for him and also for coach Rahman Gumbo who passed away last week," said Kadewere.