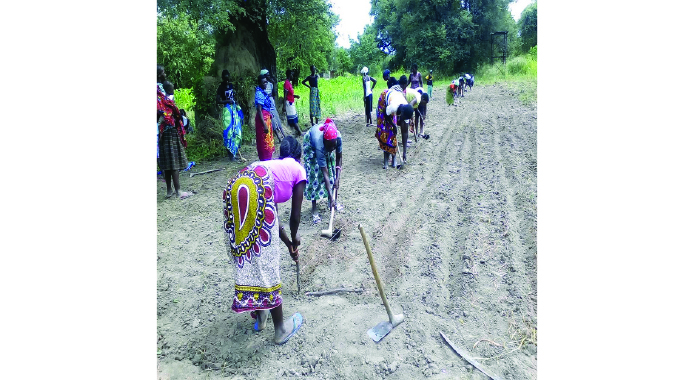 The Sunday News
Hazel Marimbiza
Esther Ncube, a farmer based in the drought-prone Binga district in Matabeleland North, believes she has finally struck the right chord by venturing into growing the amaranth vegetable.
Amaranth is a traditional leaf vegetable which is rich in protein, vitamins, and minerals. Over the years, Ncube tried growing maize, sugar cane and tobacco but all that failed to give her the desired results due to unfavourable climatic conditions in the province.
Due to the dry spells affecting most of her crops, Ncube resorted to growing amaranth after it was introduced to her and other farmers by Ntengwe for Community Development in partnership with Christian Aid Zimbabwe, Tugwi Mukosi Multidisciplinary Research Institute of the Midlands State University (TMMRI-MSU), Department of Nutrition from Ministry of Health and Childcare (MoHCC) and the Agricultural Extension Department of the Government of Zimbabwe (Agritex) with the funding support from the New Zealand High Commission Fund in Pretoria.
This multi-sectoral partnership project was implemented between January 2020 and December 2020 in Sikalenge (ward 6) and Manjolo (ward 7) in Binga District of Matabeleland North province, Zimbabwe.
Speaking to Sunday News, Ntengwe for Community Development programs coordinator, Innocent Isaac, said at inception they managed to train 47 farmers (three males and 44 females) from the two wards on the planting requirements, weeding and harvesting of the amaranth crop and its use both as vegetable and grain.
"Adoption rate for the project was low but it improved by December 2020 as evidenced by having 52 farmers (six males and 46 females) owning demonstration plots of amaranth for domestic use and for creating income to sustain their families as they now respond to climate change effects. The additional five farmers not included in the programme at inception voluntarily joined in after witnessing the benefits to other farmers," he said.
"Four demonstration plots were initiated and are being worked on by 39 farmers (four males and 35 females) while 13 farmers (two males and 11 females) are working as individuals at their family plots," he added.
The project has greatly benefited Ncube together with many farmers in Binga as they have now improved their livelihoods by growing vegetable amaranth.
"Amaranth is easy to grow, it is heat and drought-tolerant, and resistant to many diseases," said Ncube.
According to Isaac, the adoption of grain and vegetable amaranth in Binga is crucial in order to alleviate hunger.
"The programme is meant to enhance a sustainable food production and improve communities and vulnerable groups' nutrition and living standards. In the district of Binga, more than 80% of the rural population lives below the poverty line. Food insecurity threatens the everyday life of the whole community: it is not only about limited or non-existent to access to food, but a complex context in which malnutrition feeds a vicious cycle made of poor diet, lack of incomes to diversify the diet, need to find immediate solutions to feed the family and consequent involvement in activities, often negative, to supplement the income," said Isaac.
While the short-term objective of the intervention was to introduce grain and vegetable amaranth to lessen hunger in Binga, the medium and long-term objectives are to build community resilience through multi-stakeholder participation aimed at improving especially women farmers' capacity to positively respond, absorb and adapt to potential shocks emanating from climatic and other environmental shocks.
"Climate change in Binga plays a significant role in the lives of rural women and girls. In many contexts, these women farmers are more exposed to climate risks compared to men, as they depend more on agriculture and natural resources for their livelihood. Experience shows that from Manjolo and Sikalenge areas female farmers possess more knowledge than men about different plant varieties. But these farmers have unreliable seed sources for maize and sorghum and they depend heavily on handouts from Government and Non-Governmental Organisations (NGOs), so this project has the ability to transform negative gender roles and contribute in the empowerment of rural women and girls as they remain a very small part of rural and agricultural development aid," said Isaac.
"Additionally we observed that 90 percent of the participants interested in the adoption of agro-ecological farming were women, so it became essential for us to empower a lot of women so that they could be equipped to make decisions on the changes to adapt to the diversity of crops which build nutritional resilience," said Isaac.
According to Ntengwe for Community Development growing the amaranth crop has come with many advantages for women farmers in Binga.
"The intervention improved knowledge and skills of managing the amaranth plant. A lot of participants exhibited increased self-esteem and shared their knowledge and skills with their community to plant amaranth which can improve household consumption and make a living in rural areas.
"Growing amaranth, in Sikalenge and Manjolo, has also improved consumption at household level and has increased household income enhancement, as more women ground grains from amaranth to flour to bake bread for sale.
Furthermore, there is an increase in the adoption rate of amaranth production in the wards as evidenced by new farmers volunteering to grow the crop," said Isaac.