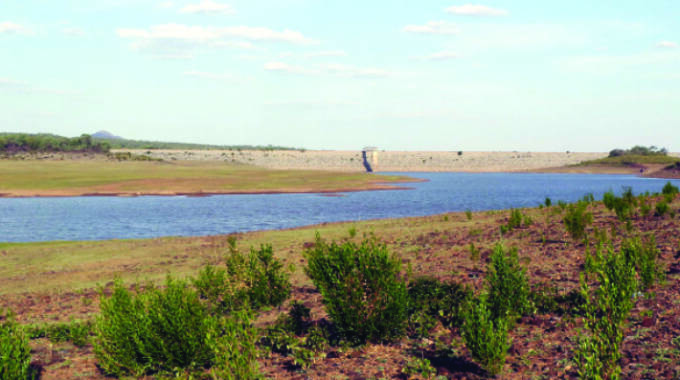 The Sunday News
Rutendo Nyeve and Judith Phiri, Sunday News Reporters
THE City of Bulawayo has said it will continue to maintain the 72-hour water shedding programme as the city's supply dam levels are dwindling to critically low levels, with indications that the city is left with just six months' supply of water.
In light of the situation, the city administration has recognised the urgent need for continued water conservation efforts to sustain the community's water supply, with the aim of mitigating the impact of water shortages and ensure the preservation of the vital resource until the city receives good rains.
This comes at a time when the Government has also intervened in trying to mitigate the crisis through the appointment of a 20-member Bulawayo Water Technical Committee to oversee the rapid improvement of water and sanitation services in the city over a 100-day period.
Speaking at the unveiling of the committee last Friday, Lands, Agriculture, Fisheries, Water and Rural Development Minister, Dr Anxious Masuka acknowledged that while one of the city's long-term solutions, Lake Gwayi-Shangani construction was behind schedule, the Government was moving full throttle to ensure that it is completed in the new year.
"Lake Gwayi-Shangani is now slightly behind schedule but we do hope to complete this project in the new year, the contracts for the pipeline have now been awarded, the contracts for the pumps for the various stations have also been awarded and as you know that this project entails the supply of water to Bulawayo, irrigation development in the seven districts to assure communities there of water supply. Additionally, we will have a 10 megawatt hydro power station and the construction of that is already happening, we will also have drinking water for about 17 service centres in and around Hwange and Binga. That is how, 250 kilometres away — we are building, for Bulawayo, a long-term supply system for water," said Dr Masuka.
Meanwhile, Bulawayo councillors last Friday toured some of the city supply dams to get an appreciation of the prevailing water situation. The councillors toured Inyankuni, Umzingwane as well as Lower and Upper Ncema dams. 
Speaking during the tour, the local authority's acting principal engineer — water supplies, Engineer Dhumani Gwetu, revealed that while they had not decommissioned any dams thus far, Umzingwane Dam was scheduled to be decommissioned next month, if no inflows were received.
"The water situation in Bulawayo is very delicate in the sense that we are in a dry region, and secondly when water is not available we have to do a lot of balancing. In most of our dams we use gravity to allow the water to flow and only in a few dams where we pump. So when that dam where we pump (Umzingwane) is no longer available or decommissioned it affects the amount of water reaching the city.
"In the short term we need an NVA transformer to increase our pumping capacity at Umzingwane, a pump at Inyankuni as                                 well as duplication of pipes to increase capacity as well. 
"There is also a need for Telenet and Viasat communication which will enable us to operate remotely as there will be no need to be moving around to come and switch on or off the station. We are also looking at working with Zimbabwe National Water Authority (Zinwa) to see how best we can maximise the Nyamandlovu Aquifer," said Eng Gwetu.
The local authority's spokesperson, Mrs Nesisa Mpofu, said the low water levels meant that the local authority will continue with the 72-hour water shedding schedule.
"As we speak our dams are 45,19 percent full which means we are way below half and it is a critical time largely because we are in the hot season where consumption is bound to increase, so we are also calling on stakeholders to continuously conserve water. From what                                                                     we have seen, unfortunately we have to maintain the water shedding because our dam levels are low. 
"We also have to be mindful that occasionally we do have electricity outages and when those occur, they affect our water provision services and as such you realise that water shedding schedules are affected meaning that other areas can go for more than the current schedule without water.
"We also have challenges of pipe bursts, if we have a burst pipe within an area we have to shut down the whole system for the whole area until we resolve the problem," said Mrs Mpofu.
She further called on residents to pay their bills noting that council needed the money to buy key infrastructure components, without which it would mean the local authority will take long to be responsive to the bursts on the ground. 
"Even for the sewer problems that we have, they are adversely affected by the resources that we have but the city is very much concerned and working to ensure that minimum inconveniences and interruption are felt in the water system as well as the efficiencies of the sewer systems," said Mrs Mpofu.
Chairperson of the Future Water Supplies and Water Action committee, Clr Edwin Ndlovu said there was a danger that in the next two months most of the dams will be decommissioned.
"The situation is very bad, so we need short-term, medium-term and long-term plans to solve the problem. We have proposed as council to have another dam which can complement these other dams and there is a proposal of Glass Block Dam in Insiza which could provide about 70 percent of our water requirements as a city. 
"Government has expressed that it is already committed to the Lake Gwayi-Shangani project and as such cannot divert funds but we are saying we can bring in private players such as banks who are ready to do so and help construct the Glass Block Dam," said Clr Ndlovu.
As of Friday Insiza was at 60,07 percent, Inyankuni 32,93 percent, Lower Ncema 31,72 percent, Umzingwane 4,13 percent, Upper Ncema 22,35 percent and Mtshabezi 74,51 percent.