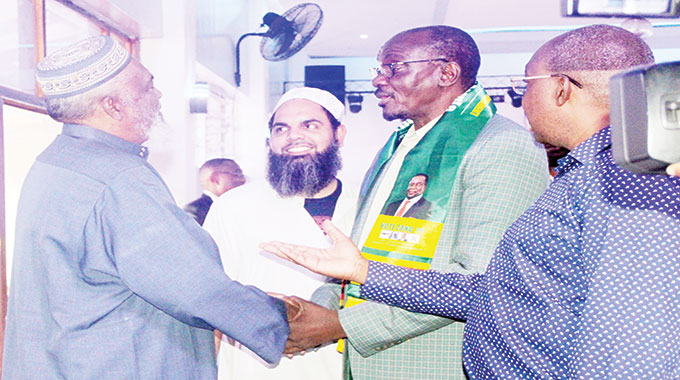 The Sunday News
Peter Matika, Senior Reporter
VICE-PRESIDENT Kembo Mohadi yesterday
where he urged them to embrace the spirit of unity, despite having political, business and social differences.
Addressing  delegates at Bulawayo Athletic Club, VP Mohadi said Bulawayo and the country at large had the capacity to re-write the country's economic blueprint, despite having encountered hindrances in the form of sanctions.
"Despite the country facing challenges in seeking lines of credit, which resulted in industry shrinking almost to the brink of extinction we will redevelop our country. Bulawayo was known as kontuthu ziyathunqa and that status will be regained.
"Through working together and putting our differences aside, we as Zimbabwe and not as people of a different creed or race, can turn this country's fortunes around. We can and we will be one of the first African countries to gain economic freedom and lead by example. We have natural resources that we can harness to gain economic freedom," said VP Mohadi.
He said Zimbabwe was not the first African country to be placed under sanctions.
"We will not let sanctions hinder us from development nor from attaining prosperity. We are a well educated people, in Africa we are one of the most educated countries and in the world we have our kinsmen representing us. We are assisting some countries in technological advancements and other advancements. Zimbabwe is ours and we fought for our freedom, let us be proud, unite and work towards turning it into a middle-class economy by 2030. For us to develop we need to have a conducive environment and that begins with us having to reconcile with each other. If there is no unity, that will never happen. Let us be a proud nation," said VP Mohadi.
He called for peace and reconciliation to move the country forward.
"It is not a new phenomenon to Africa. It is something we have done for centuries. Africans have the ability to forgive but we don't forget. Therefore we should not forget who we are as Zimbabweans," said VP Mohadi.
He added that captains of industry in Bulawayo were doing a splendid job in resuscitating the economy and urged them to work with the ruling party, Zanu-PF.