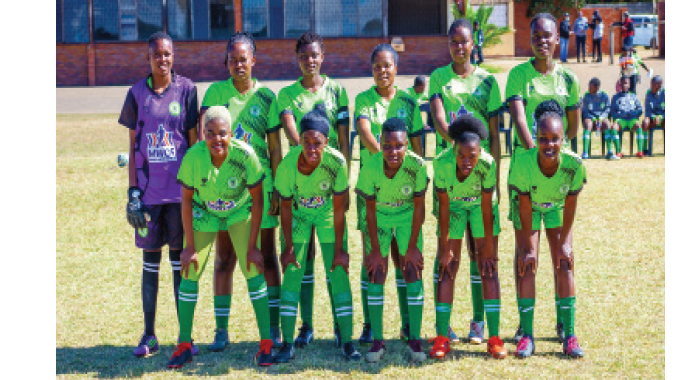 The Sunday News
Sikhumbuzo Moyo, Senior Sports Reporter
AT the turn of the millennium, Bulawayo was the hub of women's football, producing an array of players who went on to represent the senior Mighty Warriors squad where they would produce top-class performances in front of nearly packed stadia.
The Mighty Warriors line-up was almost predictable in those old days and justifiably so as the City of Kings and Queens kept producing stars of repute, all through a common good for the game. The likes of Nomsa "Boyz" Moyo, Precious "Gringo" Mpala, Pretty Phiri, Ruth Banda, Sithethelelwe "Kwinji 15" Sibanda, Rosemary Mugadza are still household names up to this day. Fast forward a little bit, and you will have the likes of Rudo Neshamba, Nobuhle Majika, Nokuthula "Maroe" Ndlovu and Sicelo Dube, among others.
A combination of financial challenges and a little bit of poor administration saw a considerable number of players packing their bags to join well-run and funded teams in other cities, especially Harare and Gweru where they joined mainly security services sides. That exodus left a huge gap in Bulawayo teams which saw successive national teams not having a single player from Bulawayo, despite the coaches being Bulawayo daughters and sons. The reasons were all clear to see. One would say, like the death of a close one, it was a tragic reality.
Before the outbreak of the deadly Covid-19 pandemic, there had been commendable efforts by an ardent women football lover and club owner Lee Mangena who runs Street Set to start a league, Ladies Amateur Football Association (Lafa) in 2019, and before that, in 2018 the region had clinched a memorandum of understanding  with a charitable organisation, Thembalethu Foundation, who were also given naming rights by the leadership. It suddenly looked promising for Bulawayo with one or two junior players making it into junior national teams, then Covid-19 struck, paralysing everything.
For more than two years there was no women's football in the City as all the teams except Burrow Jets play in the regional Division One league while Burrow Jets are in the Super League which resumed earlier compared to lower leagues. The initial plan was to get the league rolling by March but some teams faced struggles with Covid-19 Standard Operating Procedures resulting in a few teams being compliant.
"We have five teams that are so far compliant namely, Street Set, Amakhosikazi (Byo Chiefs), ZRP Bulawayo, Sobukhazi High School, and Ubuntu," Zifa Southern Region women's league board member responsible for fixtures told our sister publication Chronicle in March.
However, as time moved on, teams, with the assistance of the regional leadership, organised themselves and became compliant setting the stage for the start of league games in early June.
There was excitement, anxiety, and uncertainty in some circles as the city once more welcomed women's football after more than two years.
New kids on the block, Bulawayo Chiefs came in big time, adding some flair and a bit of flamboyance in their way of doing things. As expected, there were and still is, some grumblings in some teams with claims that the cash-rich Byo Chiefs used their financial muscle to get the best players from other teams.
To date, after three rounds of matches, the Evans Netha-coached girls, who have former Mighty Warriors defender and skipper Majika as a player-assistant coach, have scored an incredible 19 goals while conceding none.
What must be comforting for the Takundwa Chimundiya-led Southern Region women's football leadership is that all the 18 league games played so far have had no major incidences except the opening Highlanders Royals versus Black Boots Queens where the referee shocked everyone by answering a phone call while in the middle of a game.
"The teams and their players are all happy now that things are shaping up, those with issues of players being allegedly poached are handling them with clubs concerned but generally I think we are moving in the right direction so far now," said board member fixtures Sibekiwe Ndlovu who also runs one of the teams, Lobengula City Queens.
She said they were confident of reclaiming their status as the home of women's football in Zimbabwe and crucially having regular national team players from the league.
Ndlovu hinted, with enough support from the corporate world, of having a provincial select squad that will be training every Sunday and Monday where they will even invite a member of the national team technical bench to attend the sessions.
"I think if we can have a select squad for this side that will train together on Sundays and Mondays. We may achieve our goal of having the players selected. It is us this side who must do something for our players to be recognised,  it must not be left for teams only to handle that, but if as a region we can stand together and pull together I think we can have a number of players representing our country," said Ndlovu.
Southern region women's teams
Bulawayo Chiefs, ZRP Bulawayo, Bulawayo Queens, Blackboots Queens, Ubuntu Queens, Lobengula City Queens, Western Rangers, Las Palmas, New Orleans, Street Sets, Entumbane Queens and Highlanders Royals.