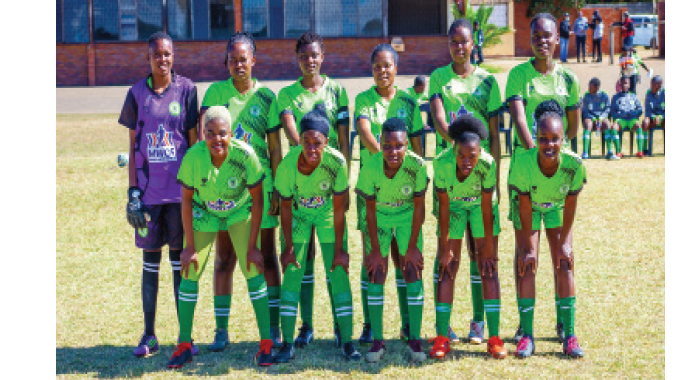 The Sunday News
Simba Jemwa, Online Correspondent
Coach Evans Netha said Bulawayo Chiefs must "believe that everything is possible" after his team ensured they stay top of the Southern Region Women's Soccer League, with a 4-0 defeat of Blackboots at Fairbridge last Saturday.
Chiefs got their win after Leona Arimon opened the scoring in the 14th minute before Lauryn Mupasi's strike on the stroke of halftime ensured their side went to half time with a two-goa; lead. Two second-half goals from the influential forward Patience Ndlovu closed off the encounter and moved Amakhosikazi two points clear of nearest rival, Entumbane Queens who edged Godwin Moyo's Western Rangers 2-0 at Emarolini in Pumula South.
Ndlovu netted her brace in fine fashion in the 66th and 73rd minutes to see off what was beginning to be a very stubborn Blackboots. After the match, the home side celebrated their 'containment' of a Chiefs side and, to most, appeared to have won the match themselves.
Netha said of his players after the game: "Our players are drawn from around Bulawayo and our major catchment has been schools such Mpopoma High School. The girls are doing fantastic at training and I think it has become easy for them to apply all that we practice into a match."
Third-placed New Orleans stayed within touching distance of the leaders with an emphatic 3-0 home victory over Bulawayo Queens.
Week 4 southern Region Women Soccer results
Western Rangers 0 Entumbane 2; New Orleans 3 Byo Queens 0; ZRP Byo 3 Las Palmas 1; Lobengula City Queens 2 Highlanders Royals 1; Blackboots 0 Byo Chiefs 4; Street Set 0 Ubuntu Queens 8
SOUTHERN REGION W.S.L. LOG STANDINGS
TEAM                                     P          W        D         L          GF       GA      GD      PTS
BYO CHIEFS                        4          4          0          0          23        0          +23      12
ENTUMBANE QUEENS      4          3          1          0          8          1          +7        10
NEW ORLEANS                   4          2          1          1          10        3          +7        7
LOBENGULA CITY QUEENS3      2          1          0          5          1          +4        7
UBUNTU QUEENS              4          2          0          2          16        9          +7        6
ZRP BYO                               3          2          0          1          6          8          -2         6
LAS PALMAS                       4          1          2          1          2          4          -2         5
STREET SET                         4          1          1          2          4          18        -14       4
WSTERN RANGERS           4          1          0          3          7          6          +1        3
BLACKBOOTS                     4          0          2          2          0          7          -7         2
BULAWAYO QUEENS       4          0          1          3          2          13        -11       1
HIGHLANDERS ROYALS  4          0          1          3          1          15        -14       1
@RealSimbaJemwa