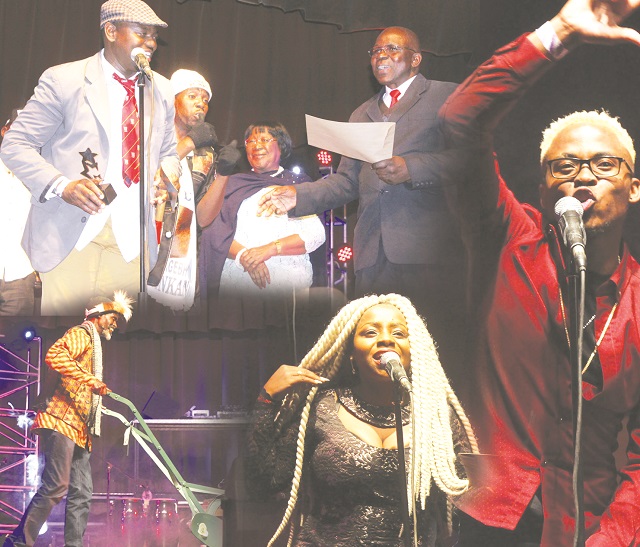 The Sunday News
Raisedon Baya
BULAWAYO is a multi-cultural and cosmopolitan crucible. For decades the city is known for birthing, nurturing and even exporting serious artistic talent to different parts of the world. The ultimate vision of Bulawayo Arts Awards is to position Bulawayo as a creative nexus, the entertainment industrial complex, as no other city has ingrained in it the kind of imaginative and multi-ethnic DNA the city possesses. The awards are a calendar event that follows a process of recognising and celebrating local talent in the arts sector, with the obvious spin offs being to galvanise the creative, hospitality and leisure sectors.
OBJECTIVES
BAA has the following objectives:
1. To cement Bulawayo's status as a cultural hub and Zimbabwe's cultural capital.
2. To encourage the development of standards and adoption of best practices in the creative sector.
3. To promote and celebrate outstanding effort and artistic excellence in different arts genres.
4. To unify Bulawayo's arts sector and celebrate archievers.
5. To celebrate Bulawayo's cultural diversity, inclusiveness and vibrancy.
6. To audit Bulawayo's arts sector and create professional development opportunities for creatives.
7. To create a celebrity calendar event and to curate Bulawayo's biggest dress up event promoting fashion and local designers.
EVENTS
NOMINEES LUNCHEON
A luncheon for nominees to be hosted by the Mayor of Bulawayo, Resident Minister and captains of industry. This will be an informal luncheon for networking, developing friendships as nominees prepare for Red Carpet and Awards Ceremony later on.
RED CARPET
Nominees mingle with guests, friends, and general audiences on the red carpet. This is a dress up event mainly for fashion and pictures.
AWARDS CEREMONY
The highlight of the day is the awards ceremony. During the ceremony outstanding artistes receive their awards. The awards ceremony features high quality entertainment by both nominees and selected artists from Bulawayo.
ELIGIBILITY
Any artiste born in Bulawayo and practicing his/her art anywhere in the world or any artiste born anywhere and practicing his/her art in Bulawayo is eligible. The awards also covers Matabeleland South and North. For 2018 only works done between 4 June 2017 and 2 March 2018 are eligible.
IMPORTANT DATES
-31 March — Nominees reveal.
-1 April — public voting begins
-20 April — public voting ends
-27 April — short code voting ends
-28 April — awards ceremony
WHAT THEY SAID ABOUT #BAAzw 2017
"They promised a red carpet, it was there, they promised picture perfect moments and yes, they were there. They said they would be glitz and glamour and yes, it was there." — SundayNews
"The choreography was perfect. The opening act got the crowd straight to your number 10." — Rumbidzai Mbewe (arts journalist)
"The VIPs and VVIPs were treated like royalty, snacks were available throughout the night and drinks were flowing" — AshleyMorgan (MissTourism)
"The bar was set pretty high and its heartwarming how not one, not two, but hundreds of people went out of their way to look their best for the red carpet and black tie event" — Yoliswa Dube (leading fashion blogger)
"From the red carpet to the main stage, the presenters were flawless" — Loveness Mbiba (audience member)
"The awards have rekindled my love for the hip-hop game genre" — Cal_Vin (musician)
"The Bulawayo Arts Awards sealed the city's place as the creative nexus of Zimbabwe." — Admire Kudita (The Zimbabwe Independent & Culture Beat Africa Multimedia founder)
"A glittering event." — Newsday
"The event caused a disruption. 35 000 people watched the show live on Facebook. The show had 130 000 hits, over 5000 comments. The awards trended for over three weeks on social media." — The Chronicle
"I was really humbled to be remembered by people that I consider students of mine. To be honoured at home really feels great and that's something that we've always been lacking." — Cont Mhlanga (Lifetime Achievement Winner)
"It was the biggest night in the arts. The biggest red carpet event in Bulawayo." — RaisedonBaya (Intwasa Arts Festival koBulawayo)
"Lingayengani guys #BAAzw was the event of the year" — TKP (SkyzMetro)
#BAAzw made history, an event worthy to be in Bulawayo's Genius Books of Records. City of Kings' pride and joy restored!" — @Fi-esta1
Ngizwe ngiziqhenya ukuba ngowako Bulawayo izolo. Thank you #BAAzw" — DonSkhosana (audiencemember)
Categories (47) Outstanding Male Dancer (Primary), Outstanding Female Dancer (Primary), Outstanding Actor (High Schools), Outstanding Actress (High Schools), Outstanding Arts Educator (Primary & High Schools), Outstanding School Arts Effort ( Primary & High Schools), Outstanding Visual Artist (Two Dimensional), Outstanding Visual Artist (Three Dimensional), Outstanding Imbube Group/Act, Outstanding Music Video, Outstanding Online Media, Outstanding Arts Photographer, Outstanding Comedian, Outstanding Poet, Outstanding Fiction Work, Outstanding Non-Fiction Work, Outstanding Arts Journalist, Outstanding Media House, Outstanding Contemporary Dance Ensemble, Outstanding Traditional Dance Ensemble, Outstanding Female Dancer, Outstanding Male Dancer, Outstanding Female Model, Outstanding Male Model, Outstanding Fashion