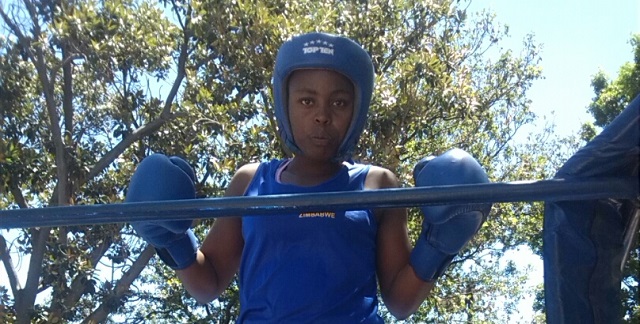 The Sunday News
Sisa Sihwa, Sports Reporter
UNHERALDED middleweight champion Caroline Dube says she is confident of bringing home a gold medal from the Zone 4 boxing tourney to be held in Mozambique this month.
The regional event is scheduled for 20 to 26 February in Maputo.
Dube (24) will be competing with other female boxers from southern African countries including Zambia, Malawi, Botswana Namibia, South Africa, Mauritius, Seychelles, Swaziland Angola and Mozambique.
She began her career in boxing at the age of 21 in August 2016 and had her first match three months later.
"I began frequenting the gym to keep fit and I would see other boxers training, one day I decided to join them and they encourage me to pursue the sport seeing that I had great potential. I found the first few months of the training very tough, but keep on going they kept saying and that is when joined Lobengula boxing club," she revealed.
She began training at the Lobengula Boxing Club under the guidance of Anderson Sibanda.
Dube was then selected to be part of the Zimbabwean team that partook in the Zone 4 regional boxing tournament which was held in Angola last year, after winning at a national Open boxing tournament held in Victoria falls in June last year.
Last year she won a gold medal in Angola at the Zone 4 boxing games after shrugging stiff competition from Angola and South African pugilists in her first international matches during the major event.
"It was an amazing feeling to be the middleweight champion in the region since it was my first fight on an international stage because it was very tough.
I had to compete against well trained and seasoned boxers," she said.
The fighter has not recorded a loss in her career so far, as she has won all her seven fights. Dube was selected with other female pugilists to represent the Charles Manyuchi Academy founded by former World Boxing Council silver champion Charles Manyuchi which was launched last year in December.
Dube said she is highly confident that she will successfully defend her title and bring a gold medal from Mozambique.
"I strongly believe I will win in this year's tournament because of the techniques and skills I have been Iearning during training, which I did not possess going into the previous tournaments. The experience I have gained from matches will also come in handy," she said.
"I think I am physically and mentally prepared for the games because I have been training twice day. At the club I am the only female boxer, so I have been training with boys ever since which has assisted me a lot in preparing for the competition," Dube added. — @J_Sihwa