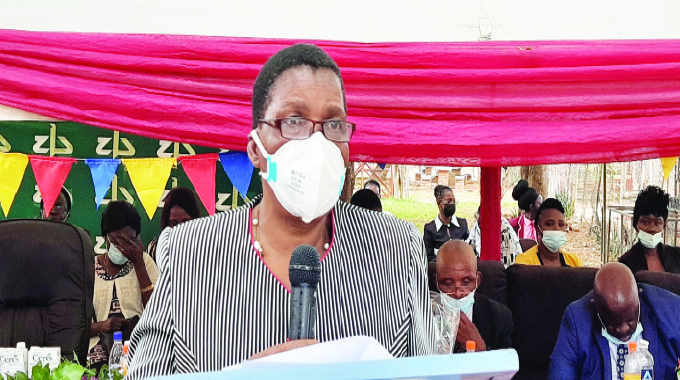 The Sunday News
Bruce Ndlovu, Sunday Life Reporter
THE Continuous Assessment Learning Activities (CALAs) are meant to provide a great boon for arts.
Permanent Secretary in the Ministry of Primary and Secondary Education, Tumisang Thabela said while the old curriculum did not consider talent in the arts worth nurturing as a future source of productive employment, the tables have since turned with arts being given space in schools.
She said this during a ceremony to award Gloag High School with the Secretary's Bell award for 2018.
"Gone are the days when the Unokas of this world would get laughed at. Those who read Things Fall Apart would remember that Okonkwo was ashamed of his father because he was not a warrior or a wrestler but he was a musician, there was no room for that in the community.
He wasn't regarded as a man. So, his life was miserable and he was happy during festivals when he would be able to play his instruments. So, we are saying no, our communities should develop every aspect of human capital. So, we want to come up with children with relevant knowledge.
We don't want you to learn about Bismarck then wonder why you learnt about Bismarck. Knowledge will still be there of course but it will be relevant knowledge," she said.
Mrs Thabela said the new curriculum would not suppress artistic talent but would instead nurture it, recognising that it could enhance and grow the country's human capital base. "One artistic child said I was reading about Archimedes and how he discovered how to calculate volume.
Normally we just look at the formula, how the volume of an object is equal to whatever it would have displaced. The child said what fascinated me was imagining old Archimedes getting into an overfilled tub, water spilling and later on realising the truth that his body is equal to the water that would have spilled out.
Most interestingly he runs out screaming Eureka, but what time did he put on his clothes before going to scream in people's faces? So, as you can see the artiste is seeing something different which no one else had seen. So those are the little things we are looking at, to say children are different.
Some will cram the formula, some will look at Archimedes and laugh and another will be drawing him and all of them should live from either the formula, the drawing or the comedy. All of them should find their space in the school," she said.
The identification of talent, she said, would begin at a very early age.
"You don't start developing children at college. You start at ECD because that is where they show you what they are all about. That's where a teacher will tell you this child has a flair for music and every time, he or she gets to class the first corner he goes to is where there are drums.
" . . . When I was in Mat South one parent came to me and said Ms Thabela I am sad because although I love education, the only evidence that I have had a relationship with it is that my kraal has now been closed. She said I keep selling my cattle to send my children to school, they don't bring me anything tangible to show they have learnt something at school.
That's what drove me to say we have to move away from the content-based curriculum and start pushing competencies and skills as per the framework that we were given after the commission of enquiry into education and training," she said.