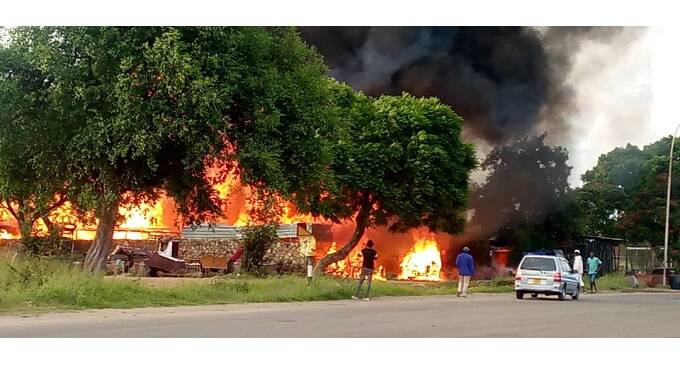 The Sunday News
Rutendo Nyeve, Sunday New Reporter
THE Bulawayo Fire Brigade has revealed that preliminary investigations indicate that the Mpopoma Outspan factory fire that burnt down property valued at millions of dollars was caused by carelessly discarded lit material.
The factory, popularly known as Esiprampekini, burnt down on Wednesday morning, rendering over 700 people jobless.
According to the preliminary report, carelessly discarded lit material was identified as the suspected cause of the fire with the estimated value of property lost pegged at $175 million.
"The entire premises were well alight with large volumes of smoke issuing out. Flames could be seen from a distance and producing serious crackling sounds.
"Brigade observed that the entire club was involved and that the materials mainly involved were timber, foam rubbers, and other accessories all used towards the manufacture and repair of sofas and beds. The suspected cause of the fire was carelessly discarded lit material," reads the report.
Property at the factory is estimated to be valued at $350 million with the total loss to the inferno pegged at $175 million, which include large quantities of timber, sofas, bed material and tools.
Last year it was established that the factory produced around 400 high-quality lounge suites per month, 300 wardrobes and 250 kitchen units.
So enterprising was the factory that Mpopoma Outspan Association had perfected its operations to a level where both big and small buyers from different parts of the country flocked into the humble factory to place their orders.