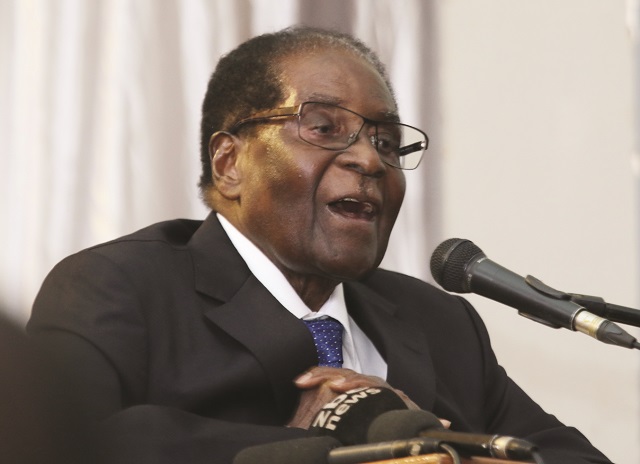 The Sunday News
Harare Bureau
ZIMBABWE'S immediate-past President, Cde Robert Mugabe, is yet to receive his retirement package as the Civil Service Commission is determining the sum.
Secretary for Information, Media and Broadcasting Services Mr George Charamba told our Harare Bureau that the process involved multiple stages, including Cabinet approval. Last week, the Zimbabwe Independent newspaper claimed Cde Mugabe got US$10 million plus other retirement benefits as a precondition for his resignation.
The false claim followed Cde Mugabe's resignation on 21 November on the back of the military's "Operation Restore Legacy" — a popular political and socio-economic stabilisation initiative targeting a gang of criminals that had surrounded the former President. Mr Charamba, a negotiator during transition talks between Cde Mugabe and Zimbabwe Defence Forces commanders, said no such package had been discussed.
"There is a false story that has been flying on false wings and that has to do with an alleged package which was purportedly agreed between the former President and the military. This is a blatant lie. It's a media creation.
"Speaking as part of the negotiating team, I confirm before my good Lord that there was never an issue, either on the part of the President, or on the part of the negotiators let alone the generals who remained generals throughout the process."
Mr Charamba said it was unnecessary to discuss the former President's retirement package as all his benefits are provided for in the Constitution.
"The military were not a substitute for civilian authority. They never intended to overthrow Constitutional authority. So, you cannot then suggest that they were cutting deals with the outgone President without implying that they were now the new Constitutional authority of the land, but, more importantly, without also implying that they had overthrown the Constitution, which is a matter of fact, stipulates the entitlement of a sitting President when he retires.
"The package of the former President will be in terms of the laws of the land and will be worked out by the Civil Service Commission, not by generals, not by negotiators, not by the previous Head of State. After all, we are not in a unique position by way of having a retired Statesman or President. We had that experience towards the end of the 1980s when President Banana retired. A package was done for him in terms of the law."
Mr Charamba also said: "Looking around the region, we have experiences to draw from: Zambia, Mozambique, Botswana and so forth. So, really, this idea of trying to interpose processes which are so straightforward at law, through some fictitious organs, stems from ignorance on a good day and a sinister intention on a bad day.
"As we speak right now, that issue has not been dealt with because it can't be dealt with before the Cabinet is in place. Whichever way it's going to be handled, the package will take into account the role that the former President played in the making of this nation. We must acknowledge that role."