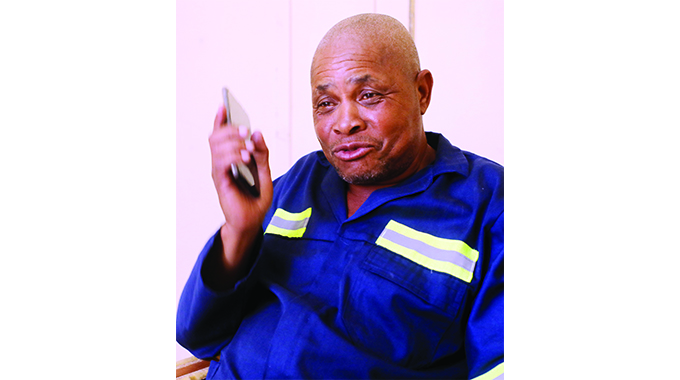 The Sunday News
WE continue our interview with former guerilla Cde Elphas Tshuma who operated under pseudonyms Mashoko Nyika and Friday Masimini. Cde Tshuma, now a member of the ruling Zanu-PF Politburo as Deputy Secretary for Mines and Energy was a member of the ZPRA reconnaissance unit. Last week Cde Tshuma spoke about how he left the country to join the armed struggle in Zambia via Botswana after dropping out of school while in Form Two at Mpopoma High School in Bulawayo.  Cde Tshuma said he was forced to leave the country and join the armed struggle after witnessing Rhodesian police officers whipping his mother at the family's rural home in Silobela, Midlands Province in 1975.  Today Cde Tshuma continues his account of the armed struggle by telling our Assistant Editor Mkhululi Sibanda (MS) about his training at Camp Guerilla Training (CGT) where the current commander of the Zimbabwe Defence Forces, General Philip Valerio Sibanda pseudonym Cde Ananias Gwenzi was the camp commander. Below are the excerpts from the interview. Read on…..  
MS: Last time Cde Tshuma you were talking about your arrival at Nampundwe in Zambia. May we resume our conversation from there.
Cde Tshuma: Like I said at Nampundwe I saw disaster. The situation was unbearable for one coming from civilian life. The instructors there were very rough. The exercises that we were introduced to were very challenging. While arriving there you could not recognise people whom you knew very well. People were very dirty as they were being made to roll on wet surfaces and there was no time for proper bathing. It was at Nampundwe that I came across guys who were from Magwegwe and had left earlier than me for the war. Those were Jabulani, Samson, brothers John and Kenny Matare. 
The Matare brothers were cousins of current Zanu-PF Senator, Cde Molly Mpofu.  It was during our time there that the recruits were moved to training camps. Some were sent to Angola while myself and others of course were taken to CGT (Camp Guerilla Training). Other recruits were sent to Mlungushi. It was at CGT that we found the current commander of ZDF, General PV Sibanda who during the war was called Ananias being the camp commander. Working under him as instructors were Freddy Bhebhe, Godfrey Jubane, Mabhuku, Busobenyoka and others. We were trained in guerilla warfare for six months where we covered all aspects of the military.
MS: Take us through your training, that is the training manual.
Cde Tshuma: The training was tough but we soldiered on. Besides weapon handling where we were taught the use of different weapons we also covered individual combat tactics. In individual combat tactics we covered things like  ground and terrain usage, individual camouflage, target identification, distance estimation and individual stalking. We also did orders and models, battle drills, raids and withdrawals.  We also did topography in which we were supposed to master map reading, sketching and use of the compass. We were also drilled in mine warfare, obstacle crossing such as water bodies like rivers. There was also the construction of obstacles and mine fields. We were also taught sabotage techniques. 
MS: After CGT where were you deployed?
Cde Tshuma: After completing our six months training where I think our number was around 2 000 I was part of a group of 50 cadres that was chosen to go for further training, this time to specialise in reconnaissance. It was another six months exercise and it was at Chinyunyu also in Zambia. We were mixed with Umkhonto WeSizwe (ANC, South Africa) guerillas. However, I am not sure of the MK number. The instructors were drawn from both ZPRA and MK. From the ZPRA side we had Bornwell, Dry Phetsheya and others. Among the comrades I trained with were Madlozi, the younger brother of Molly Mpofu, Philemon Dada and Zenzo Ndiweni. MS: What did your training involve?
Cde Tshuma: Reconnaissance is intelligence gathering of the enemy's strengths and weaknesses. So we were being drilled in how to study the enemy movements, proper use of the compass to maneuver in field operations, sketching of the enemy's installations such as a camp, routes, positioning, deployment and the type of weapons at its disposal. In other words reconnaissance is a military survey on the enemy. After six months we were then deployed to various operational areas.
MS: On your part where were you sent?
Cde Tshuma: It was at the beginning of 1978 when I was given 12 other guerillas with whom I had trained at Chinyunyu, we were a special reconnaissance unit and sent to BL One near Kariba. We were 13 and I was given command of that unit which included cadres like Madlozi that is Julius Ndlovu, Power, Ngulube and Kingstone. Cde Power came from Mashonaland Central Province. In fact our unit was sort of tribally balanced because from the 13 of us, seven were Shona speakers while six spoke SiNdebele. That was strategic because we were being sent to a Shona-speaking region and as people tasked with intelligence gathering that was a very strategic move.  We then arrived at the BL One front base which we found under the command of Cde Durani.
MS: Were you given a special mission when you left the rear?
Cde Tshuma: Our mission was to gather information on Kariba Town and also the activities of a white man whose name I cannot recall who was said to be an enabler of the Rhodesian government. On the white man we were told that Zapu leader and Commander-in-Chief of the ZPRA forces, Dr Joshua Mqabuko Nkomo himself was very much interested in him. 
Although the commanders did not give much on the white man, they emphasised that he was very wanted. There was a need to capture him. So guys from the forward base under Cde Durani showed us the crossing points and that was between Kariba Town and Chirundu. After crossing we split into two groups, mine was made up of six comrades including myself while the other seven were under Cde Power. The seven went to gather on the security situation in Kariba while we went to a place called Sharara where there was a banana plantation. That is where the white man was.  This man was in charge of Kariba as a whole, some superintendent or so. We spoke to the workers and they gave us valuable information on him. They told us that the Rhodesian forces paid regular visits to him and gave us finer details of the general set-up of the place. 
We would meet with the other group that was focusing on Kariba. After about a week we were satisfied with what we had got and crossed back into Zambia. While carrying out our mission we were in civilian attire but armed with AK-47s with folded butts. We were also armed with grenades. We also had binoculars and compasses. We got back to Durani and waited for a signal from Lusaka after sending our reports to the rear. We, however, continued making incursions into Rhodesia as we wanted to familiarise ourselves with the terrain. We wanted to find out the safe routes. Our mission was centred around the fact that ZPRA was evolving from a guerilla army into a conventional force and that meant the movement of large troops, big quantities of arms and ammunition. Later on we got a signal that we should move further inland and that is how we were deployed to Hurungwe in Mashonaland West Province. We moved there and we had an encounter with a special reconnaissance unit that was monitoring the air space. Those comrades were three and they are the ones that gave intelligence about the presence of General Peter Walls, the commander of the Rhodesian forces, a development that triggered the shooting down of the Viscount.
MS: Did you operate with those three?
Cde Tshuma: We stayed with them briefly as ourselves we had our own mission. We discovered that since war had intensified in Mashonaland West, a number of farmers were no longer staying on their properties. It was only workers who were looking after the farms. You should be aware that ZPRA kept on pouring large groups of guerillas into Mashonaland West  because of its economic value to the country. 
There has always been a lot of farming there, making that province the bread basket of the country. It was while we were on the ground that we met one of the sectoral commanders in Hurungwe, Cde Mahopolo. He then said he wanted to test our capabilities on the battlefield. In his own words he said he wanted to find out whether we were really soldiers. He was a trigger happy fellow. So for three to four days we were looking for Rhodesian soldiers. You know in the Hurungwe area and some other operational areas it was no longer the Rhodesian forces hunting down the comrades, even the comrades were now looking for them. This was because of the proper armament at the disposal of the guerillas. The comrades were also moving in bigger units. Lathi ke sawadinga sibili amakhiwa and on the fifth day zakhala.
MS: Take us through the situation leading to that battle.
 Cde Tshuma: We were still that unit of 13 and we were blended with a section that was escorting Mahapolo. Mahopolo used to move with seven guerillas. Among the seven was a comrade from Binga, who was a bit elderly and he said to us he had been told that CGT was producing fine soldiers, well trained so he wanted to see that in battle.  That comrade had trained at Morogoro, so he was a veteran, someone who had seen battle for some time.  What happened was that after crossing a road passing through some homesteads we heard the sound of trucks and Mahopolo told us that those were Rhodesian soldiers. We got to a village where the villagers told us that they had seen the Rhodesian soldiers who had asked them about the whereabouts of the "terrorists" as we were called by the regime. Now we were on the lookout. 
We were then told where they had based and at around 5pm we raided them. We found them preparing food and zahle zakhala khonapho.  That contact could have lasted 30 minutes. It was a fierce battle and it was Mahopolo who called for a withdrawal. I am glad to say we did not suffer any casualties. Mahopolo told us that the damage we had caused on the Rhodesians we will get it from the villagers. After that contact Mahopolo said he was impressed with the way we had fought in that battle. From there we went back across to Zambia to send reports and waited for further instructions.
To be continued next week with Cde Tshuma narrating how they dealt with the white man from Kariba.