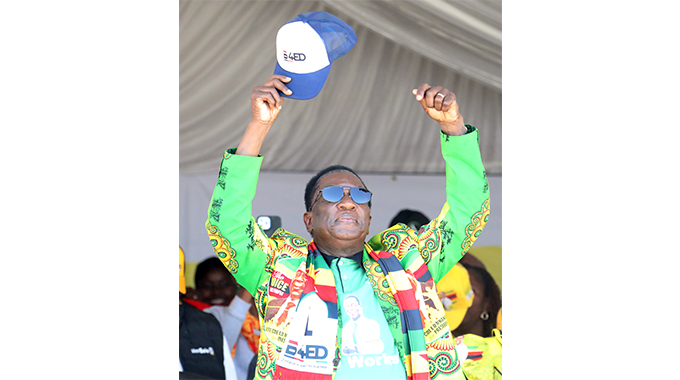 The Sunday News
Vusumuzi Dube, Zimpapers Elections Desk
ON Friday the nation joined President Mnangagwa and the First Family in celebrating his birthday as he turned 81 years old. 
The birthday celebrations were a momentous occasion that coincided with his successful re-election for a second term in office. Born on 15 September 1942 in Shabani (81 years old now Zvishavane), President Mnangagwa is the son of Mafidhi and Mhurai Mnangagwa who were politically active farmers.
Throughout his life, the President has sacrificed and dedicated his life towards the prosperity of the nation. As the leader of the Second Republic, he has been on a mission to implement his vision for the country's future and implement policies to uplift the lives of Zimbabweans and transform the economy into an upper middle-class status by 2030.
President Mnangagwa's recent triumph in the harmonised elections signifies the trust and confidence placed in his leadership by the people of Zimbabwe. This birthday celebration, therefore, serves as a reminder of the nation's endorsement of his mandate to continue guiding the country towards progress, prosperity, and stability.
The election victory was a befitting early birthday present which the nation gave the President, as it showed the confidence it had in his policies, visions, and plans for a prosperous Zimbabwe.
 Vision for a better future
Under President Mnangagwa's leadership, Zimbabwe aspires to achieve upper middle-class status by 2030. This ambitious vision indicates the government's resolve to uplift the lives of its citizens through sustainable economic growth, job creation, and improved living standards. 
The President's birthday provides an opportune moment to reflect on the steps taken to realise this vision and reaffirm the collective commitment to its attainment.
The main objective of Vision 2030 is to transform Zimbabwe into an upper-middle-income country by the year 2030. This ambitious goal entails achieving sustainable economic growth, reducing poverty, and improving the overall quality of life for all citizens.
It is based on four key pillars, namely, economic growth, social development, governance, and international re-engagement. These pillars form the foundation for the various strategies and policies that are being implemented to drive Zimbabwe's development agenda.
The celebration of President Mnangagwa's birthday serves as a reminder of the commitment and dedication required to achieve these visionary goals. It is a time to acknowledge the achievements made thus far, the policies implemented, and the milestones reached on the journey towards a prosperous and inclusive Zimbabwe. 
This celebration is not only about acknowledging the President's birthday but also a reminder of the shared responsibility we have in working towards a brighter future for all Zimbabweans. 
As we reflect on Vision 2030 and celebrate President Mnangagwa's birthday, let us renew our commitment to the goals set forth. 
Together, we can overcome challenges, implement effective policies, and create an environment that nurtures innovation, empowers the people, and uplifts the nation as a whole. May this celebration inspire us to redouble our efforts in realizing the vision of a prosperous, inclusive, and transformed Zimbabwe by 2030.
Transformative Policies
Zimbabweans celebrate President Mnangagwa not only for his birthday but also for the transformative policies implemented under his leadership. President Mnangagwa's administration has introduced key policies aimed at laying the foundation for economic transformation. 
From the implementation of the National Development Strategy 1 to initiatives such as the Ease of Doing Business reforms and the Agriculture Recovery Plan, these efforts have the potential to rebuild the economy, attract investment, and create a favorable business environment.
These policies focus on areas such as economic revitalisation, infrastructure development, social welfare, and entrepreneurship. They have positively impacted the lives of many Zimbabweans, creating opportunities for economic empowerment and improving living standards.
President Mnangagwa's policies prioritise economic empowerment and job creation, providing opportunities for Zimbabweans to improve their livelihoods. The celebration of President Mnangagwa's birthday serves as an opportunity for Zimbabweans to express their appreciation for his commitment to national development and progress.
The President's birthday celebration serves as a reminder of his dedication to uplifting the lives of Zimbabweans. Through various social programs, such as the Pfumvudza/Intwasa and Command Agriculture, the government is empowering farmers and promoting food security. 
In addition, initiatives like the Youth Empowerment Program and the establishment of Special Economic Zones aim to create opportunities for employment and entrepreneurship, particularly for the youth.
Through initiatives like the Ease of Doing Business reforms, investment in agriculture, and support for small and medium-sized enterprises, Zimbabweans celebrate the opportunities generated for entrepreneurship and employment.
 Reforms and Economic Progress
As we celebrate President Mnangagwa's birthday, it is essential to note that he has prioritised economic reforms since assuming office, aiming to revitalize the nation's economy and attract foreign investment. 
Notable achievements include the re-engagement efforts with international partners, which have led to the relaxation of trade restrictions and renewed investments in key sectors. This progress provides hope for a sustainable future and is a testament to the president's commitment to fostering economic growth for the nation.
Recognising the importance of modern infrastructure for socio-economic development, President Mnangagwa has implemented ambitious infrastructure projects across the country. 
These investments in roads, railways, and energy systems aim to improve connectivity, promote trade, and enhance the overall living standards for Zimbabweans. Such infrastructure developments are vital for attracting business investments, boosting employment opportunities, and improving the well-being of citizens.
 Unity, stability and social development
President Mnangagwa's leadership seeks to foster unity and stability in the nation. By promoting national healing, inclusive governance, and dialogue with various stakeholders, the President aims to build a cohesive society that works together towards a shared vision of progress and development. 
The celebration of his birthday serves as a reminder of the importance of unity in tackling the challenges that lie ahead. President Mnangagwa's commitment to national unity and reconciliation is applauded by Zimbabweans. Calls for inclusivity, dialogue, and healing have provided a platform for positive engagement and collective efforts towards a harmonious and united Zimbabwe. This promotion of unity resonates with citizens who yearn for a cohesive and peaceful society.
Under President Mnangagwa's leadership, considerable efforts have been made to improve social development and expand access to quality education for all Zimbabwean citizens. 
Initiatives such as the provision of free primary education, investment in vocational training programs, and scholarships for higher education have empowered younger generations and contributed to the nation's human capital development. These efforts are crucial for building a skilled workforce and driving future economic growth.
 Happy Birthday Garwe!
As Zimbabwe celebrates President Mnangagwa's birthday, it is a time to reflect on the achievements of his leadership and the aspirations for a better future. With the recent electoral victory and the dedication to transformative policies, the President's commitment to uplifting the lives of Zimbabweans and propelling the economy towards upper middle-class status is affirmed. Let us use this occasion to rally behind the President's vision and work together to build a prosperous nation that benefits all its citizens. Happy Birthday, President Mnangagwa!