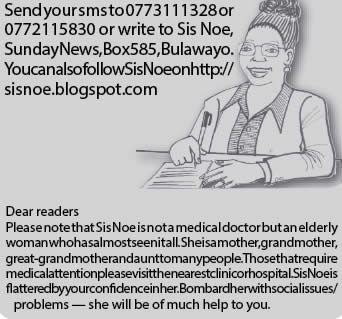 The Sunday News Hi Sis Noe
I HAVE a girlfriend but I am falling in love with another girl. My girlfriend is everything that I can possibly want in a woman but I am not feeling her any more. Sometimes I want to tell her I want out and at times I think I should give our relationship a chance. — Help.
Reply
Think about what you would lose and what you would gain by leaving and by staying. What kind of relationship do you have together? What plans do you and your girlfriend have for the future? What do you want right now and in the future? Your answers to these questions may help you understand what you are feeling at the moment. Sometimes, we look for the path of least resistance out of a relationship. Could it be that this new girl is your ticket out of a relationship you no longer want to be in? Perhaps, you want your current relationship to become more open to the idea of seeing other people (if your girlfriend also welcomes this opportunity)? Or, maybe you need "alone time" — not to be in any relationship so that you can decide what is best for you at this time? Then again, there is the possibility that you are attracted to this other girl. And, it may have nothing to do with your girlfriend. If you act on this attraction, something will happen. But, a few weeks or months down the road, you might realise that what happened (say, a breakup with your current girlfriend) was not what you really wanted. Try to decide what you want, and then act on that. One last thought . . . the grass is not always greener on the other side (but sometimes, it is). You have to decide if you want to take the risk to find out.
Hi Sis Noe
I broke up with my boyfriend a month ago and I was wondering if it is too early to move on? Is it ok for me to date someone when I am not yet over my ex? I didn't get closure when my ex dumped me, should I ask him for closure? Is it possible for me to ignore my feelings of being abused emotionally? — Abused.
Reply
After a significant relationship has ended in a non-mutually manner, the partner who has been dumped often wonders about similar issues to yours. Dealing with these issues and feelings are the next step that need to be taken. Through some personal exploration, you will learn the best choices to help you move on. You were with your boyfriend for two-and-a-half years, which allowed you to develop and foster a relationship in which you got to know and care for him. It's natural for you not to be over him right now, as it's been only about one month since the break-up. Not enough time may have passed for you to get over him . . . yet. You are grieving the loss of your relationship and may still need more time to mourn. Wouldn't it be great if there were quick cures to the break-up blues? Unfortunately, there are no simple remedies, and at times, uncomfortable feelings also come along for the ride. Regardless, some people may put a lot of blind faith into certain defined break-up rules in the hopes that they will feel better and move on soon. Moving on itself has no clear-cut rules, and can often be a difficult process.
It appears that you still have some unresolved feelings (your feelings of being used and abused emotionally) regarding your ex and the break-up. Although you may not get an explanation or apology from him, what is important is that you take as much time as you need to explore your own feelings of loss, sadness, anger, hurt, confusion, depression, or anything else that you may be feeling. Hounding him for an answer may not be the best thing to do, as he may not give you the answer you are looking for, or it could cause more fighting or angst. You ask, can I just move on? Absolutely, continue doing the things that you enjoy. Chances are that eventually you'll meet others with whom you share similar interests. Some of these new interactions could lead to potential dates, too.
Hi Sis Noe
I am 22 and engaged to a man who is in the UK and he is promising to marry me next year. The problem is that I am having a fling with one of my superiors at work. He is married and has two children and is 44 years old. He tells me things I like to hear and treats me right more than my man does. Should I end the fling and devote myself to my boyfriend even though I have a lot in common with the man? — Worried.
Reply
There is a whole lot of stuff here that says end the fling. Right off the bat, you should not be marrying your boyfriend. If you are saying things like "he tells me things I like to hear and treats me right more than my man does" then you are not ready to be a wife. Let's get real here, you are not even married and already both of you sound like you have fallen off the horse. As for that fool at work — this is a case of in the right place at the right time. Look at the scenario, he is 44 and you are 22, he is a father of two and is married. Are these not signs that he is not into this as much as you think, or if he is, then he is a sick bastard? It's so obvious that he probably is not happy with the home life factor, and at 44, a 22-year-old coming along and showing an interest is a perfect outlet away from that whole ball and chain marriage scene for him. It's very easy for a married man who is not happy with his wife to sit and spill their heart out to a 22-year-old. It is also very easy for him to tell you the exact words you are looking for to get that warm fuzzy feeling, because trust me, he has been there and done that years ago.
He knows exactly what to say to get your little ticker going. If his current marriage was not on the rocks he probably would not even give you a passing thought. Let's pretend it all goes your way and this fool wants to get serious with you, leaves his family behind to embrace you for eternal undeniable love. WHAT THE HELL ARE YOU GOING TO TALK ABOUT? You will die from boredom in no time. Wake up from this dream and love your man, your boss is using you.
Hi Sis Noe
I love my girlfriend so much and I would love to marry her but I can't accept the fact that she was not a virgin when I met her. I am a Muslim and virginity means a lot in my religion. Although I love her and our sex life is great I can't erase the picture that some other man took her virginity. Are my feelings justified or should I try and forget the past? I wonder if I will ever be able to forgive her and not hurt any more. What should I do? — Worried.
Reply
Religion and culture must have such a powerful effect on your feelings in a situation like this. You have to decide whether the love she is giving you now, or the things she has done in the past are more important. Can you honestly say if a woman has been banged before you got to her, that you will put that person in your bad books? The reality of that is you will be adding a lot of women to that book. Many women and men are having sex before marriage knowing quite well they will not be marrying, or even dating the person for that matter. I won't say its right or wrong, but that's how things are. You need to decide if this is an action of your partner that you can accept or not. You have to remember in your case, it's in the past. What is done is done. She is still a good person, is in love with YOU right NOW and you love her. If I were you, I would set these feelings aside and enjoy being with her. However, that may be easy for someone not from your religion to say. So look at it as to how it affects your beliefs, how it affects your view of her character, then decide if it is really affecting you now. I think you will find she is the same person whether she has or has not had sex before you.