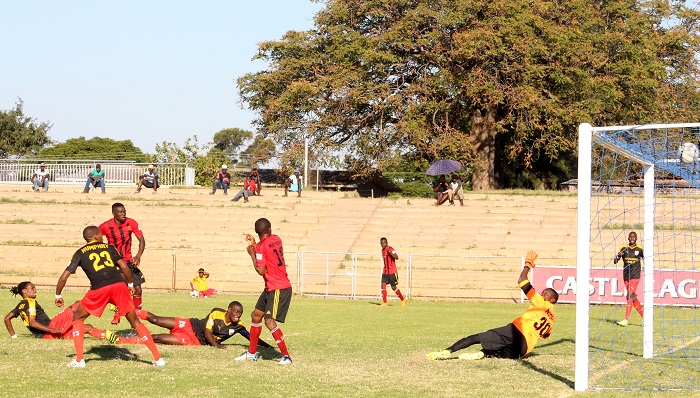 The Sunday News
Ngqwele Dube, Sport Correspondent
Chicken Inn . . . . . . . . . . . . . . . . . . . . . . . . . . . . . . . . .(1) 2
Bulawayo City . . . . . . . . . . . . . . . . . . . . . . . . . . . . . . . (0) 1
FORMER champions Chicken Inn's resurgence in the league continued yesterday when they posted a second victory in a row by beating Bulawayo City in an exciting Castle Lager Premier Soccer League derby played at Luveve Stadium.
Goals from speedy winger, George Majika and striker, Obadiah Tarumbwa ensured the Game Cocks collected maximum points while Bulawayo City got their consolation from Nhlanhla Ndlovu.
Bulawayo City came into the match having posted a 3-0 victory over Nichrut following a spate of unfavourable results while Chicken Inn had also gone through a bad patch but recovered with a win over Caps United in their previous game.
Chicken Inn were quick off the blocks and took the game to Amakhosi in the first half and were duly rewarded in the 22nd minutes when Divine Lunga dispossessed Ishmael Wadi sending the ball through to Majika who carried the ball before unleashing a shot on the edge off the box to beat Takudzwa Ndoro who was in between the posts for Bulawayo City.
The second half saw the two sides looking for goals but it was Chicken Inn who got their second four minutes from the break when Tarumbwa capitalised on a goal mouth melee that ensued after City failed to clear a corner and sent the ball into the roof of the nets.
Amakhosi were not deterred by trailing the Game Cocks, laying siege on the home side's goal area and were duly awarded with a consolation when substitute Ndlovu beat Elvis Chipezeze in the 80th minute from close range after being set up by another sub, Toto Banda.
Despite gaining dominance in the final stages of the match and cracking up chances, City could not find the equaliser.
Chicken Inn coach, Joey Antipas was pleased with collecting his second set of maximum points on the trot.
"Fatigue crept in later but on the positive side winning a derby was great. We welcome the win after playing some good football but we could have won by a wider margin had we been more accurate in front of goal," he said.
City's coach, Bekithemba "Super" Ndlovu blamed a sluggish start to the first half which handed Chicken Inn an advantage as they had the upper hand in the opening stanza with little resistance from his charges.
"They (Chicken Inn) controlled the game from the first half and we were chasing shadows and did not press them allowing them to enjoy their game. In the second half we changed a little bit and using our speed upfront, it worked and we got that goal, on the whole we were better in the second half," he said.
Ndlovu was, however, optimistc things would improve saying their players were putting in a lot of effort and showing hunger and motivation to fight for the team.
Teams
Chicken Inn: E Chipezeze, P Bernard, D Lunga, G Goddard, M Jackson, I Mucheneka, S Munawa, C Matawu (W Kamudyariwa, 59th), O Chirinda (K Nasama, 78th), G Majika (X Ndlovu, 72nd) O Tarumbwa
Bulawayo City: T Ndoro, C Ncube, Z Sibanda, I Wadi (N Ndlovu, 73rd), E Mudzingwa, T Tavengwa, H Ncube, R Pavari, J Kaunda (C Rupiya, 47th), T January, M Sibanda (T Banda, 46th)