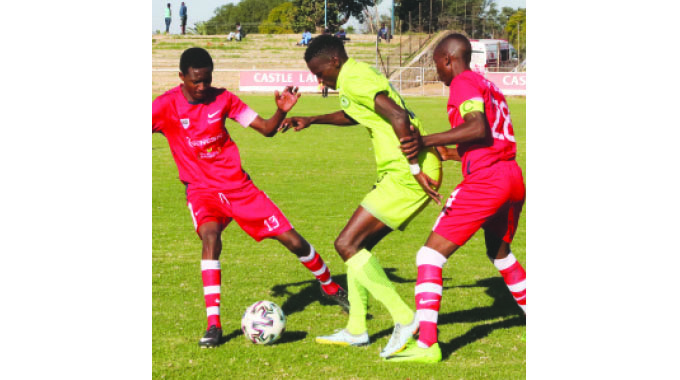 The Sunday News
Innocent Kurira at Luveve Stadium
Bulawayo Chiefs FC . . . . . . . . . . . . . . . . . . . . . . 1
Cranborne Bullets . . . . . . . . . . . . . . . . . . . . . . .  1
CRANBORNE Bullets coach Nesbert Saruchera was forced to walk onto the pitch to uplift his troops who had been left dejected and aggrieved by referee Busani Siwawa's decision to let a 75th minute Bulawayo Chiefs equaliser by Obriel Chirinda stand. 
The visitors broke the deadlock in the first-half after 33 minutes through a well taken free-kick by Agrippa Manokore. Chirinda would level matters late in the second-half with a goal Bullets players felt should have been disallowed.
Bullets players felt goalkeeper Victor Jabangwe had been infringed upon by Chirinda before he shot home from close range, off a Mthokozisi Msebe corner kick. Noting his players' protest was never going to change anything, Saruchera took it upon himself to get his lads back into the game.
"I have never seen anywhere where a referee changes his decision. So, I had to talk to the boys and make sure they calm down, keep playing. For us this is a point gained away from home. Bulawayo Chiefs have been playing well. So, we are happy with a point," said Saruchera.
Chiefs coach Lizwe Sweswe felt a draw was a fair result.
"The boys did not push in the first-half. We had our talk at half-time, brought in some guys and we improved in the second-half. What is important for us is not to lose because we are fighting to survive relegation," said Sweswe.
Cranborne Bullets were, without doubt, the better side, dominating possession and comfortably knocking the ball around. It was Chiefs, however, who had the first real chance with Billy Verumu connecting with a header from a Msebe corner kick, only for his effort to go wide. Marlven Madzuka came close for Cranborne Bullets after 38 minutes. He missed the target from inside the box after he had been neatly set up by Sylvastar Munhira.
Minutes later Khulekani Dube made a crucial block to deny Vincent Mhandu. With a minute left to full time Mhandu turned Chiefs defender Malvin Mkolo inside out before unleashing a shot that went over the bar from the edge of the box. The visitors could have gone home with maximum points, in the last stroke of the game.
Teams
Bulawayo Chiefs: Khulekani Dube, Mthokozisi Msebe, William Stima, Malvin Mkolo, Nkosilathi Ncube (Obriel Chirinda 62), Brian Rusinga, Danny Phiri, Mandlenkosi Gasela (Ayanda Ncube 45mins), Billy Vheremu, Felix Moyo (Kuda Musharu 72 mins), Farau Matare.
Cranborne Bullets: Victor Jabangwe, Xavier Janatana, Prince Mutasa, Moreblessing Mushangwe, Christopher Charakupa, Eric Manokere, Malvern Madzuku, Kingsley Mureremba, Sylyvastar Munhira (Emmanuel Zinyama 53 mins), Vincent Mhandu, Brian Muzondiwa (Adams Ngwena 53 mins)
— @innocentskizoe