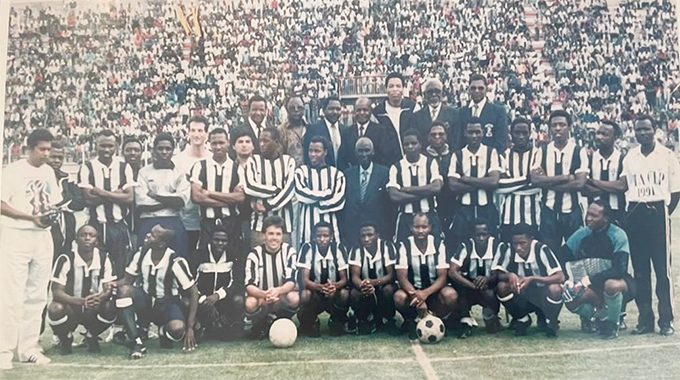 The Sunday News
RAHMAN Gumbo coached Highlanders FC at one of its most exciting and successful eras between 1998 and 2000.
As a player, he was also there in a very colourful and result-laden era of 1988 to his last medal as a player the 1993 PSL Championship.
A dark cloud hung over the country on 11 November when news of his death in Botswana were confirmed after hours of social media dangling.
At the age of 59, a week short of his 60th birthday Gumbo breathed his last throwing nations into mourning.
As a coach, he won league championships in Zimbabwe, Botswana and Malawi. So good was he that he was appointed assistant national team coach and presided at Zimbabwe's first-ever appearance at the Africa Cup of Nations finals held in Tunisia in 2004.
A charmer, joker, the charismatic Gumbo was yesterday laid to rest at Lady Stanley Cemetery where other football greats are buried.
This week Sunday Leisure was able to reach out to a number of players who starred during his spell at Highlanders FC and they spoke from their hearts of the influence he had in their lives and football.
Methembe Ndlovu who played briefly with Gumbo in the 1990s and was his player in 1998 when good times started rolling over at the club, said Gumbo's death was a loss on and off the field for the nation.
"I admired Rush when I was a junior player at Highlanders. He was a very popular first-team player such that many junior players, myself included, would model their game after him. We would also nickname ourselves after first-team players and he was a popular choice because he was not only well-liked but could also play many positions, so we could imagine playing like him. We even copied his "Afro hairstyle" at the time.
"I really got to know him as a person when I graduated into the senior team under Roy Barreto. Rush had just returned from Europe and we were in awe of him but he was very humble and approachable.
He was a big personality and always dressed immaculately. When we were in camp he made a point to encourage the younger players and give us confidence before big matches. He was also one of the characters that kept everyone entertained," said Ndlovu.
Ndlovu said when Gumbo became his coach he realised that he would motivate juniors and seniors differently and emphasised fitness among his players.
He said the mood in the camp was always jovial.
"I left towards the end of the year (1998) to take up a professional contract in the US and he could not have been more supportive of my move, he was entertaining everyone with jokes at my farewell gathering. When I became a coach he was one of the guys alongside other legends like Madinda Ndlovu that I could always count on for advice," said Ndlovu.
The former Highlanders player and coach who is based in the US said Gumbo had left an amazing legacy on and off the field.
Mubariki Chisoni was christened Mamba by Gumbo who could not enunciate the left-wing magician's name.
From his US base Chisoni said: "It is really sad to hear about his passing on. He was a really good man. I remember him when I arrived at Highlanders in 1998. He asked me what my name was and he could not pronounce my name and he just came up with Mamba that day at White City Stadium and it stuck up to now.
"I was young when I arrived and playing for a big club like Bosso was not easy and being from a different part of the country. He and the late Benjamin Moyo guided me through and I will never forget the role they played in my career at Bosso. He was a players' coach and just someone who will motivate," said Chisoni.
Chisoni said Gumbo would be remembered as one of the Bosso legends, an honour no one can take away from him.
Siza Khoza said: "I had time to watch him as a player. One of his highlights was the goal against South Africa at the National Sports Stadium. It said a lot about the man as a player. As a coach, he played a very pivotal role for me to get me to where I am. He was a humble coach who would not shout at you.
He would talk to you like a father. I celebrate his life, I will continue to celebrate him, he made me who I am today. The Lord said he has done his part and took him, so what we can do is celebrate his life. He would joke with us and motivate us ahead of matches. We enjoyed our football and would allow you to play to your strength. He would say I have pace and should dribble, what the team wanted were crosses and goals. Rest in Peace my mentor."
Khoza was a fiery winger who played for Bosso and Caps United and was a star player under Gumbo and contributed significantly to the trophies won by the team that has come to be known as the Class of 1998.
It is spoken highly like the Destruction Machine of the early 1970s under Silas Ndlovu and the mid-1980s to 1993 which featured great names like Mercedes Sibanda, Willard Khumalo, Madinda Ndlovu, Boy Ndlovu, Alexander Maseko, Gift Lunga (Snr), Thabani Moyo, Wayne Albertyn, Peter Ndlovu, Adam Ndlovu, Tito Paketh, Titus Majola, Tanny Banda, Dumisani Nyoni, Benjamin Nkonjera, Benjamin Mpofu, Cleopas Dlodlo, Makheyi Nyathi and Gumbo.
Another celebrated former Highlanders player who returned to coach the club, Zambian Kelvin Kaindu said: "Yes,I worked under him. He was assistant to Madinda then in 1998 he was head coach. I remember him so well how he tried to help me with my knee injury but things could not work out as I left for Zambia."
Dazzy Kapenya, identified by Madinda Ndlovu from Corrugated FC in the Zifa Southern Region Division One League, blossomed under Gumbo and at one stage was voted Zimbabwe's Player of the Year.
Getting to be in Gumbo's dressing room as a player was like a dream come true from Kapenya who Gumbo entrusted to the centre-back position at Highlanders despite his small frame and height deficiency, Kapenya rose to play for the senior national team.
"I grew up supporting Highlanders and the late Rahman Gumbo, Mercedes Sibanda, Willard Khumalo, Tobias Mudyambanje and Tanny Banda were some of my soccer idols. I never imagined myself in the same dressing room with these guys.
"Rahman was also one of my favourite players in the star-studded Dream Team. It was such an honour when him and Madinda gave me the opportunity to try my luck in the elite PSL in 1997. I will always remember him for the trust he had in me because I was just coming from a Division One team and was joining one of the biggest teams in the league and country," said Kapenya.
That team went on to be the best in the land.
Kapenya said Gumbo was a friend, brother, and a fatherly figure to the players.
Another Class of 1998 player, Malvern Moyo who was at number three in the packing order behind Amon Chimbalanga and Pope Moyo in the goal-keeping department, said Gumbo, Madinda and Peter Nkomo had played a big role in his career as they promoted him from the juniors in 1997.
Also in the side were Johannes Tshuma and Abedi Mugadza.
Malvern said it was unity cultivated by Gumbo in the team that saw the team sweep silverware like the Cosmos Cellular Cup in 1998 and many more that would follow with Ernest Sibanda as manager through the terms of Roger Muhlwa and James Mangwana-Tshuma. Malvern who is now the Black Rhinos' women's team goalkeepers coach said he was grateful to Gumbo for his encouragement for him to train as a coach.
"It was never a dull moment with Rush around. He is the one who encouraged me to do coaching lessons and I am the     Rhinos Queens goalkeepers' coach. I am devastated by the loss of a true gentleman of the game," said Malvern.
Johannes Ngodzo said back then he was a small boy and the Premiership had big boys.
He said Gumbo gave him his dance with professional football when the gifted midfielder had given up playing for Bosso and deserted the Under-17s to  play for Njube Sundowns.
"I had run away to play for Njube Sundowns and he got wind of that. There was an Under-23 with Blessing Makunike, Richard Choruma one of the best in Zimbabwe. Ernest Sibanda picked me up from school and I was thrown into the practice match and I impressed. There was so much competition and Rah was serious with his job, after hours very sociable. His tag team with Maphepha was one of the best for Highlanders. Outside football he would joke with you and even buy you a beer but on Tuesday, he would be a different man. Even in the national team he was very encouraging, he was a father figure. We have lost a good man. Rahman gave me a chance, he created Tshisa, he was the best," said Ngodzo.
Dumaza Dube who was at Highlanders in 1997 and 1998 said he owed his venturing into coaching to Gumbo's instigation.
"When Rush made Benjamin Moyo his assistant coach, he talked to me about that. I was not a fast thinker then I only realised later when I started coaching juniors. He was an evergreen character who would always remind me that I joined Bosso as a spent force. He always said he saw someone who could be a coach in me," said Dumaza who has coached some of the best talents in Bulawayo and Zimbabwe.
Dube said he was devastated that Gumbo died before he could call to motivate him.
"The week before his passing on we had spoken about his team not doing well with Norman Gumbo. I had promised to phone him but it wasn't to be," said Dube from Namibia.
Gift Lunga (Jnr) said: "Very sad, gone too early. He made us unite as a team, we played for each other and for him too. He was always laughing. For me, he changed me from a midfielder to left-back, a position I ended up enjoying. Bosso should have given him another dance with all due respect to Brito and Madinda, he would have done something better."
Noel Kaseke one of Gumbo's youngest protégés in 1998 said the news of his coach's death had come as a shock.
"When I first heard the news early on Saturday morning around 1am I was left speechless, gazing into the last conversation I had with him at Barbourfields watching Bosso alongside Madinda. My story as a footballer and the journey would never be complete without mentioning The Boss Rush. I will forever be grateful to him for nurturing me from a boy into a man as he used to say. I will forever be grateful to him. Forever will be cherished," said Kaseke from the United Arab Emirates.
Joel Luphahla, the Highlanders assistant coach said the pain of losing Gumbo has been a piercing one. Gumbo brought him to Highlanders and within months recommended him to Paphos alongside goals merchant Zenzo Moyo.
"The loss is a big gap that has been created. Recently we lost uMaphepha and now Dr Rush, we are now orphans and we need to rise up and learn a lot on our own. He gave me a break at Bosso, national team and we worked together at TelOne. He recommended me to Cyprus," said Luphahla.
Thulani "Biya" Ncube one of the biggest hits of Gumbo's formative years in the coaching job said: "Eish! Our coach is gone just like that. He was like a father to me. He is one of the people in my life who made me to be the man I am today. We have a Whatsapp Group of 1998/99 Team, he was the one who was always checking on everyone, making sure we were okay."
Gumbo was a loved personality on and off the field.