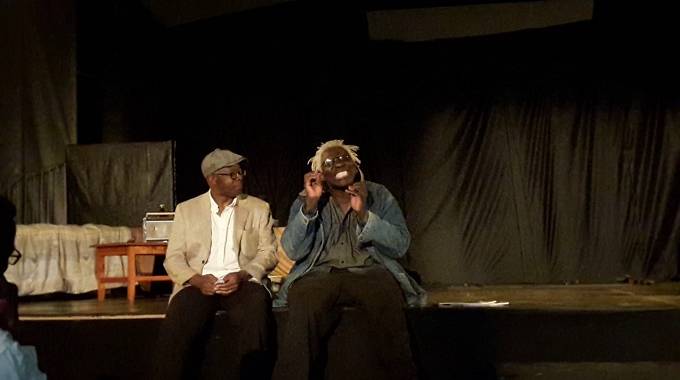 The Sunday News
Charles Dube
IN the last episode we were introduced to a new character, Muchaneta, a neighbour to the Tichafa family, comprising Clopas and his wife Shamiso. The sound of the name Muchaneta takes us back towards the beginning of the play where Benjamin had an argument with his mother and spoke derisively about his father Clopas, he called himself Mr Clopas Wandai J Tichafa, Deacon of the Church of the Holy Spirit.
Benjamin's words shock his mother as he goes on: "Don't tell me he ran off with that blasted rar Ian Smith soldier's wife from next door, what's her name, Mucha-, Muchaneta?" The suspense is over now as we meet Muchaneta coming to congratulate the Tichafas on the birth of their first child, Benjamin. All the surprise that Clopas ran away with a neighbour's wife vanishes as we are told that Muchaneta is "a young and sexy wife, who comes in a provocative night dress".
This is the woman Clopas ran away with. Clopas was a church member of the Church of the Holy Spirit and he falls into sin when he elopes with the soldier's wife. This is infidelity when he betrays his wife, Shamiso's trust and runs away with his neighbour's wife. This infuriated his son Benjamin when he came back from the war front. Shamiso was really devastated by what her husband Clopas did, to fall in love with her friend Muchaneta.
We got a glimpse of some traditional practice from Muchaneta. Shamiso asked her to inform her husband Clopas that from then onwards the bedroom was out of bounds for six months. Shamiso had given birth and in a traditional set up the husband should sleep in another room as soon as the wife gives birth. Could it be some form of birth control? Tradition had its own ways of controlling birth and maintain health standards.
Shamiso showers Muchaneta with praises when she leaves for her home. She tells Clopas that Muchaneta is a nice girl who came and swept, cooked and did all her laundry in the morning, emphasising on her kindness. Clopas dreamily responds: "Yeah, a free spirit. A very free spirit!" But, is Clopas so repentant such that he views all things from a spiritual point of view? Is he not a hyena in sheep's clothing? Time will tell.
Learners who were closely following the reading of this play will realise that we started with the present. We now go to the past in the days of the liberation struggle. Those were the days of Rhodesia ruled by Ian Smith. Black people were looking forward to black majority rule after toppling the racist government of Ian Smith. They uttered political slogans like "Power!" One Man One Vote!" "Black Majority Rule Now!"
Clopas hears those voices and asks, "Who is it?" He hears voices telling everybody to come out because there is a strike. They are marching into the city because they killed somebody last night at the street corner. That was a cruel death as they slit the throat of the victim and dumped him at the rubbish heaps. The story goes that the other party sold him out to the police. The other voice is direct as it tells Mr Tichafa to come out.
Clopas tells them that they cannot join their strike because they are church people and children of God. The second voice calls them sell-outs.
Clopas explains to them: "We don't do politics. We are children of God. We fight the devil, not people in political parties. God will change things in this country when He wants, in His own time." This is the stance taken by the church whenever there is a conflict in a country.
People believe the church should always be neutral or impartial in a conflict.
But there is a voice which is unprepared to listen to what Clopas is saying. It goes: "Pu! Pu! You are children of God, you say! Muri vana vevhu, you hear. Everybody is a child of the soil. Children of Dzimbahwe. Come out now". Clopas is reminded that they are children of the soil, in other words they are revolutionaries. They are children of the revolution. This suggests some conflict between God and the revolution.
Revolutionaries seem to deny that they are the children of God first before they become children of struggle or children of the soil, bana bevhu, abantwana benhlabathi. Liberation fighters were known as "abantwana benhlabathi" a term which united or brought them close to each other. They were fighting for one thing — land. They were all the children of Dzimbabwe (Zimbabwe). Everybody was in a militant stance as they shouted, "Sell outs! Vatengesi!"
Everybody reluctant to join the strike was labelled a sell-out, that is the reason we hear all these shouts because people like Clopas are resisting to join the march. The situation is tense and uncertain. Clopas orders children to be locked up in the house as it is unsafe for them to go to church that day. However, Clopas and his wife Shamiso are defiant and are going to church regardless of the invitation to join the march. They have said their God will change things in their country when He wants, in His own time.
Book review: Harvest of Thorns Classic: A play by Shimmer Chinodya.
For views link with [email protected] or sms to 0772113207.