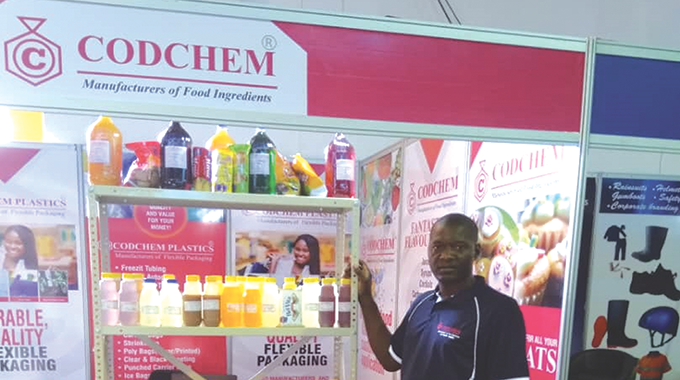 The Sunday News
Thobekile Khumalo, Sunday News Reporter
CODCHEM, a company that specialises in manufacturing food flavourings and colourings is set to open a branch in Botswana as it seeks to expand its operations in the region.
The branch will be opened in August. The company is head-quartered in Harare and in Bulawayo it is situated at corner Fife Street and 4th Street MFZ complex.
The company started operating in 1993 and has over the years grown to become a leading manufacturer of food flavours and food colouring blends in the country.
Codchem manufactures a variety of products including food flavourings, food colouring blends, primary dyes, beverage emulsions, cloudifiers, stabilisers and sweetener blends used by food and beverage industries.
In an interview Codchem Bulawayo regional manager for Mr Misheck Nyawo said that company also has a number of branches across the country.
"In its early years, the company grew rapidly despite intense competition and we now have six branches in Zimbabwe and proud to be having a new branch opening in Botswana this August," he said.
He added: "In 2017 the company managed to venture into a new business unit that is the flexible plastic packaging manufacturing division. It produces shrink wraps, planting pockets, carrier bags, ice bags, refuse bags, liners, printed auto pack, baler bags and black sheeting."
Mr Nyawo said that the company has done so well through maintaining good relations with customers and delivering quality products.
"Codchem believes in listening to the voice of the customer, to meet and surpass the customer's expectations in order to continuously improve our products and processes." 
He said the company is working towards being re-certified by Standards Association of Zimbabwe (SAZ).
"Codchem's commitment to quality is evidenced by the fact that the company was first certified under the international quality standard: ISO 9001 in 2008 and now is working towards being re-certified by the SAZ under the new revised standard: ISO 9001 2015 this summer," said Mr Nyawo.
He said the original objective of the business was to create import substitution in the food industry through local manufacturing.
On food colourings, the company has more than 125 different colour blends that can be used to blend food during processing.
All the colours are water soluble and are used in the food, beverage, baking, confectionery, dairy, pharmaceuticals and cosmetic industries.
On flavours, the company has more than 500 different flavours which are uniquely organoleptically related to the African palate. 
The flavours are offered in different forms such as liquid, paste, emulsions and powder form for use in a variety of markets.