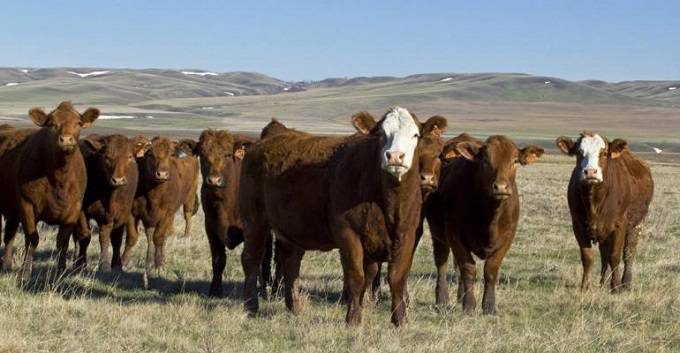 The Sunday News
Dumisani Nsingo, Senior Farming Reporter 
MOST of the heifers distributed under Government's Special Livestock, Fisheries and Wildlife Programme in Matabeleland region have calved heralding the success of the initiative aimed at improving the country's cattle herd and quality.
Matabeleland South Department of Crop and Livestock provincial officer Mrs Simangaliphi Ngwabi said about 50 percent of the heifers, which were distributed under the livestock programme commonly referred to as Command Livestock have calved.
"As of mid-March 735 of the heifers had calved down though the number might be slightly more than that so far and I am also glad to say most of the cattle are in a very good state although there's a threat due to the imminent water shortage as most sources in the various places in the province are on the verge of drying up," she said.
A total of 437 farmers were allocated three to five heifers each in Matabeleland South with the province having received 1 737 heifers last year. 
Matabeleland North Department of Crop and Livestock's livestock specialist Mr Admore Chikowa also acknowledged that a significant number of the heifers distributed in his area of jurisdiction had calved but could not readily avail figures by the time of going to Press.
"Most of the cattle are in good condition with a significant number having calved down," he said.
Mr Chikowa, however, said a considerable number of cattle in the province had succumbed to plant poisoning and predators.
"Late last year we lost a number of cattle to plant poisoning, notably in Tsholotsho, Lupane, Hwange, and some parts of Umguza and Nkayi. We have over the years engaged researchers to seek ways of eradicating this poisonous plant better known as umkhawuzane. There was also an issue of predation by lions and leopards for those that are near wildlife conservancies. It's worth noting that these animals succumbed to these calamities largely due to the fact that they are unfamiliar with their new surroundings. The cattle distributed in the province were brought from commercial farmers in Bulawayo, Umguza and Matabeleland South," he said.
Mr Chikowa also said the prolonged dry spell had negatively affected pastures and water sources leaving livestock susceptible to poverty deaths. 
"Grazing is fast becoming a challenge especially in communal areas where most of these cattle were distributed and we are urging farmers to supplement their animals. The province also has a perennial challenge of water with most of our dams' water capacity being low around this time of the year," he said.
@DNsingo