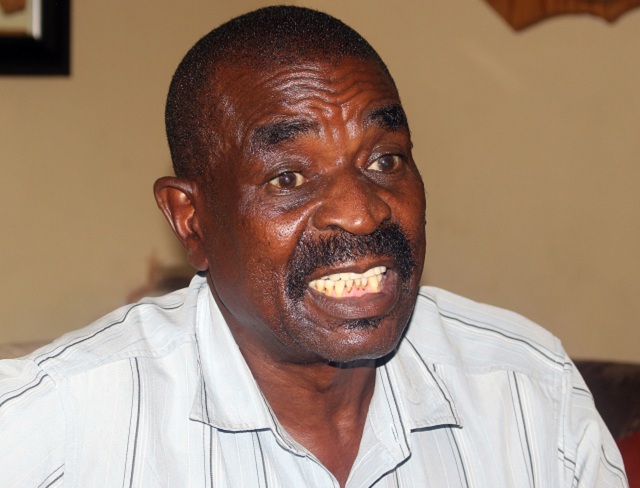 The Sunday News
In our Lest We Forget Column this week we continue our interview with former Zipra regional commander for Northern Front 1 (NF1) Retired Colonel Watson Tshipa commonly known by his pseudo name Cde John Nyamupingidza. In our first instalment of the interview we left when Rtd Col Tshipa was speaking about his recall to the rear en-route to Morogoro in Tanzania for full military training. Today in his interview with our Assistant Editor Mkhululi Sibanda (MS) Rtd Col Tshipa begins with his arrival at Chakwenga Camp in Zambia.
MS: So take us through your arrival at the rear after your unit was disbanded.
Rtd Col Tshipa: That was now 1974 when I got to Chakwenga which was later on called Mwembeshi where there were comrades like Enock Sebele, Busobenyoka, Billy Mzamo who was the camp commander, Mpondo Khumalo (medic).
Also there and already having completed military training was the current Minister of State for National Security Cde Kembo Mohadi, Retired Brigadier-General Abel Mazinyane, Maposa and Kanti. I think some of them were awaiting deployment. Then in December 1974 we were taken to Morogoro in Tanzania and what a miserable journey. The truck which we used, a Bedford was old and it was raining, so our journey was a torturous one. The driver of the truck was Cde Bhubhudla Khumalo while Mazinyane was the commander during our movement to Tanzania.
We started our training in December 1974 and completed it in December 1975. Our instructors were Sam Fakazi (camp commander), Jack Mpofu, Ben Mathe (Retired Brigadier-General Tshile Nleya) who was the chief of staff, Stanley Doko Gagisa (medic), Gedi, (the late Rtd Col Richard Dube), James, Rtd Colonel Eddie Sigoge and Rodwell Nyika (Retired Brig-Gen Collin Moyo). We had other instructors seconded by the then Organisation of African Union (OAU), Major Dacko and Captain Bedern who were all from Ghana. Our group found the one that had Ananias Gwenzi (the current army commander Lt-Gen Philip Valerio Sibanda) just completing their training.
MS: Who else were in Lt-Gen Sibanda's group?
Rtd Col Tshipa: Others in that group included comrades who later on distinguished themselves in the battlefield like Richard Mataure (Rtd Col Richard Ngwenya), Carlos Mudzingwa, Simangaliso, Mbeya (former Midlands provincial medical director Dr Milton Chemhuru), Beans, Vasco, Scorpion, Assaf who later died in combat and former deputy commander of One Brigade, Brave Matavire. After our training we stayed in Tanzania and it was during that time when the nationalists were trying to forge a united front. In fact during that time the political leadership that included Dr Joshua Nkomo, James Chikerema, Ndabaningi Sithole and Abel Muzorewa visited the liberation forces military camps and addressed fighters. They visited our camp as well. Then in December 1975 we were told of the formation of Zipa and made aware that we were to move to Mozambique.
MS: As the Zipra contingent when did you leave and how many were you?
Rtd Col Tshipa: We left on that December of 1975 and in that first group there were 30 of us with Ben Dubhu Mathe (Rtd Brig-Gen Tshile Nleya) our commander. I was the platoon commander, Cde Dandi my deputy while Cde Fanyana was the commissar. We arrived in Tete where we were introduced to the command element which later addressed us.
Among the commanders were the late General Solomon Mujuru, Alfred Nikita Mangena, John Dube (JD), current Vice-President Report (Phelekezela Mphoko), Pferepfere, Mpunzamira, Mhanda, Joshua (late Governor of Matabeleland South Mark Dube). We were then taken to Tembwe and if I am not mistaken it was February 1976. We were later deployed to the front with our operational area being the Gaza Province where the regional commander was a Zanla colleague, Cde Ndakura Makasha and the commissar who was effectively the deputy commander was from the Zipra side, Senzangakhona Tshuma. We were armed by Report Mphoko who was Zipa's chief of logistics and the Frelimo forces. Our group, dubbed the Nyaru Nyaru then moved in to open the Gaza operational province. We moved into Masvingo Province's Mpapa area where we operated from until problems emerged in the Zipa ranks and we then started going our separate ways. I left the Mpapa area for Botswana and I was in the company of Cde Sibuko who was later captured by the Rhodesian forces and it is believed they hanged him.
MS: So after leaving Zipa what did you do exactly?
Rtd Col Tshipa: We moved to Botswana and when we got there we had contact with Cde Dumiso Dabengwa and we started carrying out sabotage missions especially in areas around the Plumtree area. Sibuko also worked in areas such as Mangwe and Kezi doing the same. What happened was that Dabengwa used to bring me explosives from Zambia concealed in false bottoms of suitcases and I would use those explosives for sabotage missions hitting the Rhodesian infrastructure such as the Plumtree rail system. I also used that time to go on a massive recruitment drive with Sibuko where we will guide the people that we had identified into Botswana to join the armed struggle. I did that until April 1976 when I was redeployed to Zambia where I went to Detente Camp.
I was later on to be deployed to the front again by JD and Matshinini and that was in July 1976. When I was redeployed there were two sections of seven each, I commanded one while the other was under the command of Solomon Chirau. Some of the comrades that I was deployed with were Kidson Ndebele, Davison Kahiya, Cleopas Siphilanzima, Ngwenya, Kocks who was the commissar and Moses who was the youngest among us. Kocks was later captured in Victoria Falls. We operated around the Victoria Falls/Hwange areas until we were running out of ammunition and it was at that point that I remembered a cache that I had made when I was still making my forays from Botswana and that cache was in Bulilima.
MS: So what did you do?
Rtd Col Tshipa: We went for it through the Robins Camp area. It was during that period that we captured a white man, Gunter Guthrie and his workers who were working on a project, constructing Silwane Lodges. When we got to the lodges at first we didn't find him as he had gone to collect money to pay his workers. He arrived the following day and found us there having spent the night at the site.
We were taken aback when he did not show any resentment towards us and he even went further by saying he was happy to see us as he was a staunch supporter of Dr Joshua Nkomo. At that time we thought he was taking us for a ride but it was proven when the Rhodesian soldiers arrived at his place and wanted to make a follow-up on us. We were told that Gunter refused to co-operate as he told them that he did not see the direction that we had taken and even scared them by saying we were carrying dangerous weapons. This was despite the fact that we had taken his Land Rover and FN rifle and drove to Manzamnyama in Bulilima. We later abandoned the Land Rover at Manzamnyama. However, when we left the truck we had it booby trapped. It was later taken by the Rhodesians who managed to detonate the bombs.
MS: How was the situation in that area?
Rtd Col Tshipa: After abandoning that vehicle we went to Emlageni (cattle grazing area) where the villagers gave us a resounding welcome. They treated us very well and even slaughtered a goat for us. However, we were spotted by a sell-out named Ndaba who went and reported our presence to the enemy. The Rhodesian forces then came to the area and beat up the villagers. While that was happening we decided to ambush the enemy forces on their way back to their camp. Indeed they came and we carried out a very successful mission. Those soldiers were in three vehicles and from that contact there was only one survivor while on our side we lost a dedicated cadre, Cde Ngwenya. That Rhodesian soldier who survived but was wounded was seen in the villages asking for directions to Ndolwane Service Centre while blaming Ndaba who also died in that contact. We were told that he was saying: "Yiphi loNdolwane, yena Ndaba yenzile maningi ndaba."
After that we went to Diba Dip Tank and then areas around Plumtree and later redeployed to Livingstone. We were to come back together with Siphilanzima but now under the command of Cde Todd Mpisi who was later to become the regional commander for NF1. Interestingly I later succeeded him as the regional commander.
MS: What kind of a commander was Cde Mpisi?
Rtd Col Tshipa: He was a strategist of high quality but with a very short fuse. You had to be on your feet when working with Cde Mpisi, now a businessman in his home area of Silobela in the Midlands Province. While working with Cde Mpisi I used to guide comrades who were crossing into the operational areas as I knew the terrain very well. One day I told the comrades at Kataitai near the Zambezi River that I will build my homestead after we had dealt with the Rhodesians and very few believed me then. After Independence I did exactly that and my homestead is there and that is near the Deka Drum.
MS: Did the coming in of Cde Mpisi change the situation in the operational areas?
Rtd Col Tshipa: Yes, because the situation was no longer the same as the Rhodesians found themselves under attack, we were no longer waiting for them to look for us but we were taking the war to them. Tsholotsho, Hwange and Bulilima changed completely. What worked for us was that at that time we had larger groups being trained and redeployed to the front. At times we will receive three detachments which Mpisi made me to deploy in sections spread over the vast areas inland. Those guys were to remain in their operational area, receive supplies from the rear and cache arms and ammunition.
They were to keep the Rhodies on their toes. What should be noted is that when deploying the troops in sections we will make sure that they go through Victoria Falls town so that even those who were not at ease would find that their only way through when necessary was to shoot at the Rhodies. They would then be guided by them through to Lupane or Tsholotsho. However, towards the end of 1977 I was withdrawn from the front and ordered to report to Freedom Camp. However, before that I was part of the unit that attacked Spray Hotel in Victoria Falls Town, a favourite drinking place for the Rhodesian security forces then. I was also part of the comrades that dealt with a notorious Rhodesian farmers Cummings and Mazenge. The locals were very happy when we got rid of them. I remember when we killed Mazenge I was in the company of comrades like George Mlala.
MS: Any reasons for your withdrawal?
Rtd Col Tshipa: I was chosen by the commander, Nikita Mangena to attend an officer's course at the Zambian Military Academy at Kohima. Mangena wanted those with the field experience to also have knowledge of conventional warfare, he was now building all-round commanders. Like any officer's course around the world it took us 18 months and it was very tough as some failed to make it.
MS: Who were some of the comrades that you trained with for the officer's course and was it composed of Zimbabweans only?
Rtd Col Tshipa: Besides us from Zipra there were those from the Botswana Defence Forces, Tanzanian and Zambian.
Among the Tswanas there was Ramulicho who went on to become commander of the area bordering Zimbabwe, Botswana and Zambia. He was later to assist us in allowing our troops to use his area of command while crossing to the operational areas as you know Botswana didn't allow us to be in their area while armed. But when Ramulicho took over the command of that area he just turned a blind eye as we had trained together.
MS: From the Zipra side who were some of the comrades that you attended that course with?
Rtd Col Tshipa: There was Cde Carlos, Khulekani Sibanda, Todd Mpala, SB (Major-General Sibusiso Moyo) and Emmanuel (Brigadier-General Emmanuel Matatu). I should mention that those boys, Maj-Gen Moyo and Brig-Gen Matatu were very intelligent. They were very outstanding and it is not surprising that they have risen up to the top echelons of the army. However, it was very unfortunate that after completing the course Nikita Mangena died.
MS: From there where did you go?
Rtd Col Tshipa: I was chosen to the be in the planning team of commanders and that team included Rodwell Nyika, Mike Reynolds (late Brigadier-General Charles Grey) and Richard Mataure. Our task was to plan operations and we started by demarcating the operational boundaries. We are the ones who came up with the two fronts, northern and southern each with three regions. Before that the operational areas were named after the crossing points. Besides the operational boundaries we changed the way of operations and the command structure. We introduced ranks such as staff officers and deputies.
MS: Who came in as commanders of those new operational areas?
Rtd Col Tshipa: When the High Command sat down to make appointments; Rodwell Nyika came in as the commander for the northern front that stretched from Kazungula to Feira. Inside Zimbabwe his area of command started from Bulilima right up to Mashonaland Central and his deputy was Cde Gilbert Khumalo (Nicholas Nkomo), the commissar was Kennie Mlambo who unfortunately died in combat and then others came in. Then the southern front stretched from Mangwe and up to Manicaland but by the time of the ceasefire the only regions that were operational in the southern front were SF1 that covered Matabeleland South and SF2 that covered Midlands and a bit of Masvingo.
Some of the commanders in southern front were comrades like Carlos Dhlula, Brian Mashila, Barbaton and George Chavunduka.
MS: Then tell us about your time as the commander of the NF1 region .
Rtd Col Tshipa: I took over from Cde Todd Mpisi and I returned to the front as a new soldier, someone who had done both guerilla and conventional training and that laid a strong foundation for my career in the army after our Independence. In my region our fighting strategies also changed and as I made sure that we laid siege on the Rhodesians especially in Tsholotsho District where by the time of the ceasefire it was a semi-liberated zone as we had destroyed all the Rhodesian camps dotted around the district. We were only left with Tsholotsho Centre and were even planning of re-opening schools so that children continued with their education.
We had made those plans known at the party headquarters in Zambia that they should deploy those with the teaching background to teach the children. Of particular interest was that in Tsholotsho I had a battalion that was dug in at an area called 24 BH and had all the equipment to defend our positions. It was under the command of Cde Middle (the late Retired Colonel Smile Madubeko) and they were complete with all the support arms any military unit could need. Madubeko crossed with 1 000 guerillas and I received him at the border in the company of Makandiwa.
MS: Who were the commanders serving under you in the region?
Rtd Col Tshipa: The Jambezi sector was under the command of Cde Musunte Ndlovu and under him there were comrades like Embassy, Tsambani, Douglas Mkhwebu and Victor Ncube who was in charge of communications while in Tsholotsho there was Paul Ngozi, Todd Mlolo. As for Bulilima the commander was Bruce deputised by Zenzo Moyo.
As for the whole region I worked closely with Cde Makandiwa (Patrick Dube) who was the regional chief of staff and mainly operated from Tsholotsho while the current commander of Four Brigade, Brigadier- General Exsebios Tshuma was in charge of reconnaissance in my region. As a way of speeding up the crossing of the guerillas into my operational area I established what we later termed a navy platoon. From the High Command I requested for 30 dingies and made Cde Muchina the commander of this platoon which had about 24 comrades and his deputy was Cde Maphunyuka. Whenever they were comrades coming from the rear going to the operational areas it was the responsibility of this platoon to escort them across the Zambezi River which was a very big obstacle in our operational activities.
MS: So in other words you had created a military corridor along the Zambezi?
Rtd Col Tshipa: That's true. However, that was also made possible by the cooperation that we were receiving from other quarters. I should give special thanks to Coly Hall Haulage trucks for their invaluable support.
MS: Coly Hall a Rhodesian company. How did they support you guys?
Rtd Col Tshipa: Yes Coly Hall they played a very big role in supporting us and they also extended that gesture to MK fighters of South Africa. Coly Hall after getting into contact with them through other means gave us permission to us their trucks from Katima Mulilo which were ferrying cement from Zimbabwe to Namibia. As for the MK fighters they were put into those trucks going to Francistown and get into another and be dropped right inside South Africa.
However, my colleague at the military academy Colonel Ramilicho also allowed us to have a post at Kasane in Botswana and I also used my friendship with Captain Mwale whom I had met Kohima as well and was based at Kazungula to give us support in the movement of our troops. That is why the Madubeko battalion was able to cross without being detected. Without that support it was going to be difficult to have about 1 000 troops cross into Rhodesia without any detection. At that time as the regional commander made me work closely with MK commanders such as Chris Hani in the deployment of our troops. I used to meet Cde Hani in Livingstone and plan our operational activities.
MS: In conclusion Cde Tshipa at the time of the ceasefire where did you go?
Rtd Col Tshipa: Most of my troops including the Madubeko battalion went to Lima Assembly Point in Bulilima where I became the camp commander but some of my troops especially from the Jambezi sector moved to St Paul Assembly Point in Lupane. Then we were moved from Lima to Zezani Assembly Point in Beitbridge which housed both Zipra and Zanla forces . I was then attested into the Zimbabwe National Army as a Major based at 4:3 in Masvingo. I then left to join the Para Regiment and later on moved to the Special Air Services (SAS) which I later on became its commander. Without sounding pompous I was a very good sky diver having successfully completed 3 000 falls in my career. At the moment I am running a safari business in the Gwayi Conservancy area.