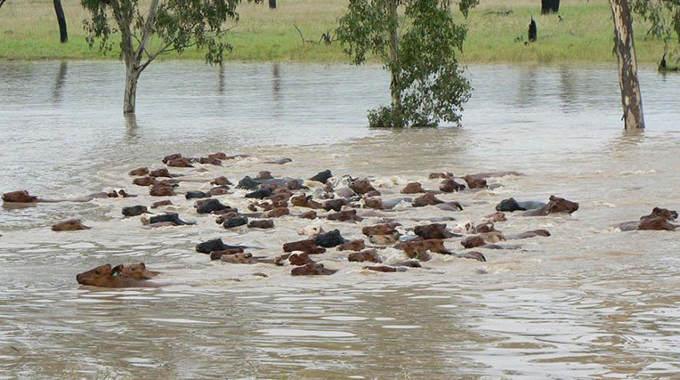 The Sunday News
Mhlupheki Dube
THE past week has seen the country enduring excruciating pain from arguably one of the worst natural disasters.
The destructive Cyclone Idai ravaged through the eastern side of the country with wholesale damages of great proportions. 
Lives and property were lost and the nation is still agonising and counting the losses.
I wish to pass my condolences to those who lost loved ones and empathise with survivors on loss of their loved ones and property. 
The loss of investment for the survivors got me thinking about how farmers especially, can be cushioned from the effects of such a natural disaster and other natural disasters that may occur.
Unverified pictures on social media platforms showed among other losses of property herds of cattle lying dead as a result of the cyclone. In fact, in one district, a complete village was swept away, leaving behind bare ground. 
This tells me that even if maybe there are survivors in that village, all their livestock was washed away, be it cattle, small stock or chickens. Nothing could have survived under such conditions. This brings to the fore the issue of agricultural insurance in general and livestock insurance in particular which seems to fail to get traction within the insurance industry. 
My question is that, is it not possible for players in the insurance industry to design products that can protect farmers in such instances. 
Admittedly, this kind of disaster happens far and wide apart in temporal terms but with the increased presence of the climate change phenomenon, such disasters may become regular.
In drought prone Matabeleland region, once in a while livestock farmers lose animals on a wholesale scale due to drought, can there not be an insurance product which can cover them?
It takes a good number of years to build decent herd and cattle have been one of the most dependable social safety nets for most communal farmers. 
Even a lot of professionals who are employed in urban areas invest in livestock, especially cattle.
When the financial burden becomes heavy, for example when your children are now in boarding schools or colleges and the salary is simply not enough, once in a while you visit your kraal and seek relief.
In other words, livestock is insurance for many families and therefore how can we insure the insurance? 
Imagine you are a villager, possibly a pensioner in Rusitu Valley and you have just lost among other investments of yours a herd of 30 cattle, where do you start? How do you recover and rebuild yourself? Wouldn't it be nice under such a scenario to have an insurance cover that shoulders part of your burden? Something that will bring money, worth say 15 animals and help you jump-start your operations again. 
I think that if the right products are developed and appropriate marketing done livestock insurance can find traction among serious smallholder livestock farmers. Surely insurance provision should be more than the ripping off third party motor vehicle cover or the frequently rejected medical aid covers. 
Admittedly insurance provision is a business in itself but I think beyond being a business it should be about providing safety nets for people in various fields and the livestock sector is one such high investment sector where the people who take a bold decision to venture in must be cushioned against such eventualities as drought or cyclone effects. 
This is a challenge to the players in this industry to put on their thinking caps and design a product for this sector. 
For a long time, those in the banking sector lived by the belief that it was simply too risky and impossible to provide loans to the smallholder farmers until someone decided to take a plunge and today every growth point has a micro-finance institution willing and ready to provide loans to smallholder farmers!
Uyabonga umntaka MaKhumalo.
Feedback [email protected]/ cell 0772851275.