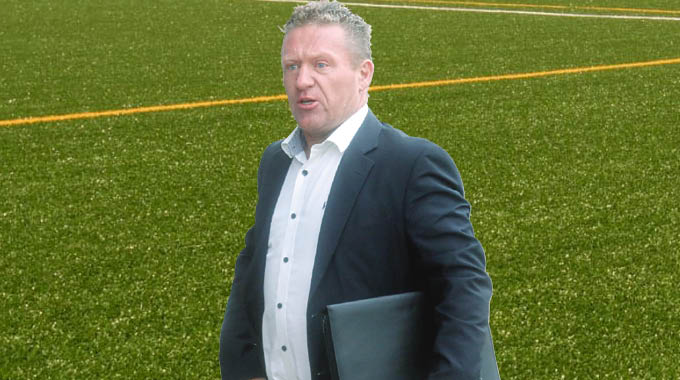 The Sunday News
Ngqwele Dube, Sports Correspondent
HIGHLANDERS players troop into Barbourfields Stadium this afternoon knowing they would be 90 minutes away from making history by taking the club into the Chibuku Super Cup finals for the first time since the introduction of the knockout competition four years ago.
Bosso have struggled to make an impression in the prestigious cup, that is littered with a history of hard-fought duels during it's heyday, since Chibuku Super Cup made a return in 2014.
The best Highlanders have done is reach the semi-finals in 2016 where they were knocked out by Ngezi Platinum but today's battle against ZPC Kariba in the same stage presents the club with the best chance to make an appearance in the final and possibly go on to lift the cup.
Having previously won it four times in its yesteryear version before it was canned, fans have been longing to see the club lift the cup. Bosso are yet to lose in a competitive match since the beginning of September and it is this rich vein of form the club's supporters will be banking on to take them through to the finals.
Coach Hendrik Pieter de Jongh has been enamoured by the club's multitude of followers and believes they are the best in the land in backing their team. De Jongh said while they would be playing at Barbourfields, their home ground although technically they are away, they are not taking any chances with ZPC Kariba.
"Kariba is a good side, they are playing for the title, with a six-point difference between them and log leaders. They also have good players. We have played them just over two weeks ago, I know what they are capable of and their position on the log shows the quality they have. While they have been playing for the title this season, we have been fighting relegation, so we cannot underestimate them.
"There is no way we can underestimate them and think it will be an advantage playing at BF. With cup games anything is possible, one just has to be prepared. I am happy we will be playing on a good pitch and this will allow to express ourselves well on the ground," he said.
De Jongh said the mood is high in camp and players are in good spirits with a lot of confidence.
The return of Prince Dube will certainly bring excitement to Bosso's black and white army who last saw him play a starring role in the Chibuku quarter-finals when Amahlolanyama booted out FC Platinum.
Dube had been suspended for two league matches after seeing red at Nyamhunga against ZPC Kariba and missed the games against Yadah and Dynamos.
De Jongh expressed excitement at Prince's return saying he was one of the influential players in the team and his availability will give him options in terms of their game plan.
He said making it into the finals and lifting the cup is important to Highlanders as it will certainly work as a marketing tool and woo more sponsors to the club.
The Dutchman pleaded for good refereeing in today's match saying they want a fair referee who will allow football to be played fairly.
ZPC Kariba coach Godfrey Tamirepi is hopeful of a positive result despite playing at BF where Highlanders enjoy ferocious home support.
"We are very positive that we will sail through despite Bosso being given home advantage. World over venues are announced well in advance before the teams qualify which is very fair, while here they wait for who qualifies and then announce the venue, which is not fair. A neutral venue would have been ideal for both sides.
"We play a Highlanders side that has been doing well home and away in all competitions. We have also done well, but we have not been good when playing away from home. We will need to be at our best on Sunday if we are to progress to the final.
"We are going to be playing Highlanders at their favourite hunting ground with us being the home team. The good thing I guess is that though we will be home away from home, we will be at home and we have not lost playing at home this season," said Tamirepi.
While Highlanders has a clean bill in terms of injuries, ZPC Kariba will miss the services of Samuel Makawa, goalkeeper Tendai Hove and Ghanaian defender Sylvester Appiah.
Meanwhile, in the first Chibuku Super Cup semi-final at the Baobab stadium, Ngezi Platinum Stars beat Harare City 7-6 on penalties after a 1-1 draw.