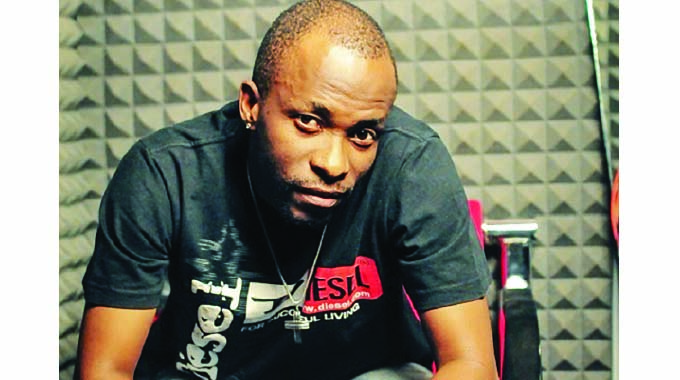 The Sunday News
Bruce Ndlovu, Sunday Life Reporter
ONCE in a while in the world of music, there comes along an individual who not only shapes the sound of the day but also completely changes the trajectory of the industry as a whole.
These are those rare geniuses whose Midas Touch has not only created gold in the studio for listeners' pleasure, but has given birth to careers and, in some instance, entire genres.
Thus, American Rock 'n' Roll lovers ask themselves what the genre would have been if Little Richard had never been born.
In the same way, lovers of the West Coast strain of hip-hop muse about life before Dr Dre and how it changed afterwards.
In Zimbabwe, for the urban grooves genre in particular, Delani Makhalima is also that kind of individual.
There simply cannot be any talk of urban grooves without mention of Makhalima, the man who almost single-handedly provided the soundtrack for Zimbabwean youths at the beginning of the century.
Sure, there were other acts making urban music in the 1990s, but they never became a movement, riding under one banner, like the Makhalima led urban grooves revolution of the early 2000s while in Harare.
"We had Metaphysics. We had Mizchif, we had Dumi Maraire, we had Matonto, we had Fortune Muparutsa and all these other young guys who had done their own thing wherever they were doing them but nobody had put it together," Makhalima told media personality.
So profound in an interview series chronicling his life in the world of music on YouTube.
While the music, the countless hits, are all there for all to hear, few know of the labour pains that Makhalima and his allies felt at the birth of a movement that changed the face of Zimbabwean music.
The beginning
Makhalima, like most prodigies, developed an interest in music when he was very young. In fact, it was when he was only at the age of 14 that the studio became his second home.
"I met Gilbert Muvavavirwa when I was studio hopping.
What happened was that I used to go to everyone in Harare that had a studio. There was no one I didn't know . . .
Gilbert didn't have a studio when I met him.
I was 14 when I met Gilbert and he was building a studio.
He was a marketing director for BAT.
We shared a love of music.
He had a bit of idea about playing instruments and he was in love with the idea of setting up a studio, something I think he sort of got while he was studying in the UK.
So, he thought this could be done. So, Gilbert started advertising the studio because he had bought a computer and a keyboard.
The digital era had kicked in but he was also trying to figure out how to connect all these things . . . I just started developing a relationship with him because he welcomed me into his home alongside his wife.
We started trying to figure these out," he said.
It was while he was tinkering around in Muvavavirwa' studios, which would later become the home of Shamiso Records, that Makhalima met Innocent Tshuma, then one of the few radio jockeys willing to take a chance on local music.
"I started playing around in the studio and while playing around that's when I met Innocent Tshuma.
He just pitches up when I'm making a beat and he's blown away. So, he says to me, "who are you?" He then went and talked to Gilbert outside and then the next thing he said he needed me to come to the radio.
He was at 3FM then and he was playing at midnight. He said I need to tell the world about you because you are what I was hoping we could find: some young producer who is going to help with the music production," he said.
David Chifunyise and Willom Tight
The wordsmith is usually credited as the first urban grooves superstar and this is with good reason.
His song Tauya Naye broke the ground which a lot of future stars in the genre would later walk on. However, it was the rap duo, Iyanai, of the Bophela fame that Makhalima first made a hit with.
"I suppose because maybe we were the very first group that he met with, he was a bit welcoming," recalls one-half of the rap duo, Aya.
"But of course, he always has that bit of scepticism like 'do they have talent these people'.
That's the vibe I got but I don't know if that's the vibe he wants to give off. So, he was like okay fine, let us see what can you do.
We decided to do what had worked before and not reinvent the will. We did the chaos rap and he was like yeah, we are going with this," he said.
It was after his work with Iyanai that Makhalima met Chifunyise.
"At the same time David had come in.
He would come with his guitar and I said I need something which is nostalgic.
I need something that takes us back to our parents but connects us to where we are now.
Do you know or have something in mind? He gave me a couple of ideas and I think after a couple of days he came back and said: "You know what, there is an old wedding classic called Tauya Naye . . . do you know it?" I didn't know it at the time.
He came and he sang it for me," Makhalima said.
Alongside Chifunyise, Willom Tight was supposed to be Shamiso Records' other great local hope.
"When I came across Willom Tight, I already had reverence for him from the Mateo days.
I'm no longer dealing with an unknown.
This is a guy who has recorded and has been on TV. Gilbert brought Willom Tight and that time I was working on an instrumental which you now know Ndinoda Wangu.
So, I was just working on an instrumental, just as a tune, making a beat, and Willom walks in, I didn't even hear him, and he starts singing. He continues and he starts penning this thing to the beat that I'm doing.
I wasn't doing the beat for himself. Then Gilbert introduces him and he says this is Willom I want to build him up as a Shamiso artiste," he said.
Plaxedes Wenyika and Roy & Royce
Makhalima would soon leave Shamiso records, with only $16 in his pocket, after financial disagreements with Muvavavirwa.
Instead of snuffing the flame of a genre that had set the local music scene ablaze, the split between the two got the urban grooves flame burning even brighter and hotter.
"I had two artistes in mind. I met Plaxedes during the time when I was still at Shamiso and I sort kept her as a little secret because I met her towards the end of my time there.
I put her on the David Chifunyise record Kwayedza. She came to me as a rapper. She walked in the studio and said, 'Hey, I'm studying an Economic degree at the UZ and I want to rap'.
So, she rapped for me and then I asked her to sing for me and I could hear the huskiness of her voice but very untrained. I said do you mind me teaching you how to sing and how to use your voice better.
"So, she became my pet project. We went to Tony Adonis and I didn't have studio time. Innocent Tshuma took money from his pocket to pick up Plaxedes because she stayed in the Westgate area.
So, every day at night we used Tony Adonis studio. I had Handirege playing on radio and I also had Tisaparadzane playing on radio and everyone was beginning to like it. I was now in a scenario where I needed to make a product.
I had promised Plaxedes to release her first because I had been with her for a year. She had been waiting since Kwayedza in 2001. But it didn't work out that way," he said.
According to Makhalima, after banker Elimon Taundi heard Roy and Royce's song Handirege being played by Tshuma, he decided to bankroll their album release.
"Elimon says I want Roy and Royce.
He says call me in the afternoon.
I went to the bank and he gave me the money and we did a thousand cassettes of Roy and Royce.
I sit down with our queen and I say Ms Wenyika unfortunately we have to switch our strategy.
She was very gracious and accepted it. We made the first 1 000 cassettes for Roy and Royce and they were sold in an hour.
We took the cassettes out of Gramma and put them in a boot and the flea market guys asked what music we had in our boot. They clamoured around the car and bought all copies in an hour.
"We took the same money and went back to Gramma, mind you, I had the Plaxedes master in my car, and gave them money to make another 1 000 for Roy and Royce.
Mr Murombo, who was the CEO of Gramma looked at me and said what happened to the 1 000 I gave you. I told him they were sold out. I asked him to make another 1  000 and 500 for Plaxedes and then gave him the master copy . . . that became the ripple effect.
Roy and Royce's money was used to finance Plaxedes, Plaxedes' money was used to finance Shame and Nathan, Shame and Nathan financed Decibel, Decibel financed Major Players and Major Players financed Sani and so forth," he said.