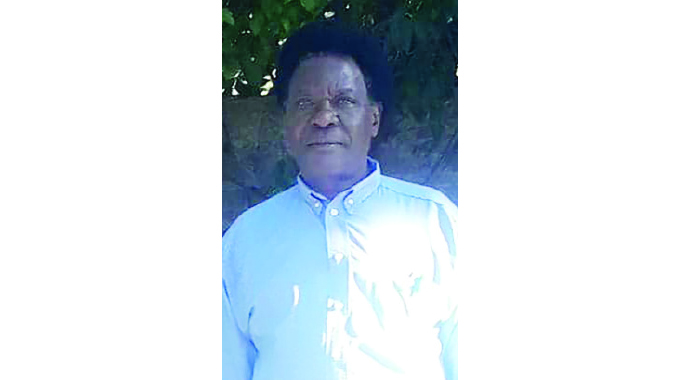 The Sunday News
Robin Muchetu, Senior Reporter
"Entrepreneurs are those who simply understand that there is little difference between obstacle and opportunity and are able to turn them both to their advantage" — Victor Kiam.
After serving in the Zimbabwe Republic Police (ZRP) for a good 40 years and calling it a day in 2019, Mr Gibbss Makhulu Mabheka did not take retirement to be a time of rest and reflection like others. 
His retirement pronounced a new journey of self-discovery and employment creation where he decided to take a business venture that proved his aptitude in an entrepreneurially-dominated economy. Inspired by his years of service as an enforcer of the law in the police service, he identified a gap that he could capitalise on and started a security firm. 
Mr Mabheka believes businesses have no "appropriate" time to be born saying in most cases it is a result of preparation meeting opportunity. 
He says when the time is ripe circumstances cannot even stand in the way, adding that he succeeded in his entrepreneurship journey in the thick of the Covid-19 pandemic when nobody dared open a business. He is a stroke survivor but has never allowed his health circumstances to deter him from making not only a living for his family after he retired but creating a legacy as well.
"I had three things in mind when I retired from the police force, I wanted to venture into agriculture, poultry, and security. When I left it did not take me time despite the fact that I was not financially balanced but I said to my wife, 'let's venture into security first.' It did not take me long, maybe 30 days and our papers were ready, honestly, we had absolutely nothing financially but we pushed ourselves to start and we opened the company, Gipa Gemston Security with just two security guards at a mine in Inyathi," said Mr Mabheka.
Mr Mabheka said he took up the idea of starting a security company which was conceptualised while he was in the police force as he realised that the best way of arresting crime was through enhancing security within the communities where people live by strategically stationing guards at road entry and exit points at night. Like many other                                                                                                            Small and Medium Enterprises (SMEs), the company directors said they have had their fair share of operational challenges, mainly financial. 
Mr Mabheka is running the company with his wife, Mrs Patrine Mabheka who gave credit to a resident's WhatsApp group that birthed the initiative making his security service company a little different from others that are overly contracted by companies and individual businesspeople.
"We joined the resident's WhatsApp group in 2020 where we live and we saw the many concerns that were being raised around security in that area and we quickly moved in to market our products. We just gave it a shot and told them about us and luckily, we were approached and we told them what we could offer and they agreed," she said.
After getting their first residential security deal, their numbers grew and they now provide security in Morningside, Nkulumane, Matsheumhlophe, Greenhill, Riverside, North End, Montrose, Industrial sites, and the City Centre. 
Mrs Mabheka said the road patrols served as an eye-opener to them that community comes first.
"We realised that community comes first when you have a business venture, they are usually your first customers, so we have given back by offering affordable security services as seen by the referrals we get regularly. We realised the communities we serve desperately needed services but could not afford the costs charged by established firms. So, we gave them manageable rates and they welcomed us into their spaces while we also grew as a company," she said.
They have also employed locals from the community.
"We have created jobs for youths from our community. We realised there were several young men and women who were idle and we offered them employment, it keeps them away from a life of crime, drugs and other vices that they are exposed to. We also have orphans above the age of majority who had no one and nothing to look up to that we employed and it has changed their lives and that of their siblings," said Mrs Mabheka.
The security company has also ensured their workers have access to financial products like loans via the financial institutions that he associates with. Following their commencing residential road patrols, they have since secured contracts with the commercial division and offer security services at shops in the Central Building District, industrial areas, and mines. Mrs Mabheka urged SMEs to have a determined spirit so that they weather all storms as the terrain was not smooth.
"You will never satisfy everyone's expectations in business, some will always have something retrogressive to say but in the midst of that storm you do not have to stop, you must never be discouraged. As a growing company, we are learning a lot. The mistakes we have made since 2020 have made us even better in terms of executing our business."
The directors encouraged communities to secure their properties.
"When you have a property, you need secure it. Looking at crimes that are being reported in the country, the need for security has grown even greater than before. And I am glad that we, the African community, have warmed up to accessing security services at our homes and businesses. Before, we never had this, there were few people requesting security," said Mr Mabheka.
He also encouraged SMEs to register their businesses in order to secure contracts and also to comply with the Government's requirements. He said operating without the requisite documents was disadvantageous as one cannot access loans. 
They cannot also insure persons and property. – @NyembeziMu