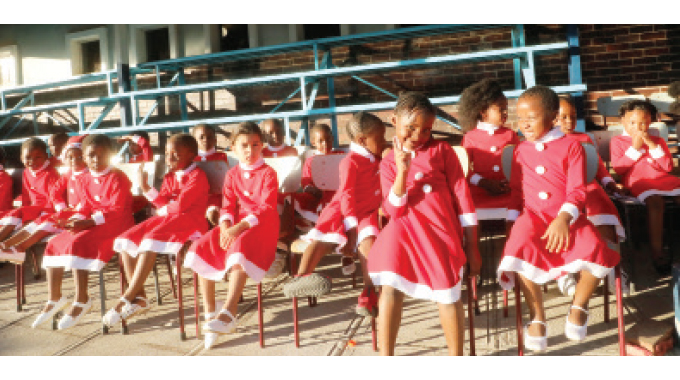 The Sunday News
Clementine Phulu, Sunday News Reporter
Dominican Convent Primary School in Bulawayo hosted a two-day Christmas Carols by Candlelight in celebration of the festive season in an English style from 1 December up to 2 December.
A good evening of singing carols and angelic voices got people into the festive season mode as parents sang along with learners. There was also an overwhelming attendance in all the events and school authorities had a torrid time creating more space for everyone to fit in. The schoolchildren were showcasing the birth of Jesus Christ from the annunciation to the time when the pings come in, compared to last year's celebrations which had a touch of an African background.
Dominican Convent Primary School Principal Sister Ireen Makovere said their theme was prayer and carols were actually the highlight of their ceremonies as the Dominican Convent because they are a Christian school.
"Actually carols are the highlights of our ceremonies at the Dominican Convent because we are a Christian school basically, and with our founders in Dominic who believed in truth, and our theme is prayer and our pillars as a convent school are community, prayer, service and study. That is why we have this evening," she said. Sister Makovere said they do not just do Christmas carols for fun, but it is a way of praying and they are yet to join other schools where they will be doing carols for elderly people and orphaned children.
"For us these carols we just don't do them for fun, it's a way of praying. We are going on 7 December to join other schools at the Amphitheatre where we will be doing the carols for elderly people and for the orphaned children so that they know about Christmas, also OK Mart invited us for carols so our children to go there and they once again do carols as a way of saying we are a Christian school and this is one of our school ethos," she said. She added that Dominican Convent parents are very supportive of their children as they come in numbers to support their children, which is something good for the children.
The festivities kicked off with a session for Early Child Development up to Grade 2 learners on Thursday evening. The learners staged a play of the birth of Jesus and sung carols with so much aplomb. On Friday, it was the turn for Grade 3s to Grade 7, who also serenaded hordes of parents in attendance with a powerful play of the birth of Jesus and carols.