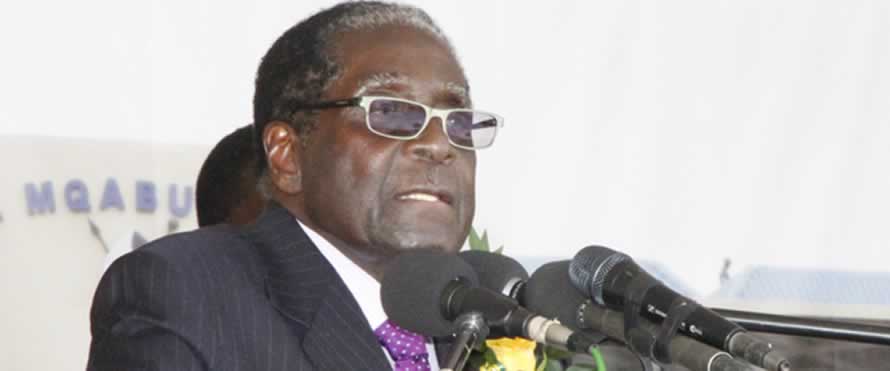 The Sunday News
PEOPLE pushing for either one of the country's two Vice-Presidents to become Zimbabwe's next leader are creating another "Gamatox" phenomenon and must cease such divisive activities, President Mugabe has said.
In his first remarks on succession post-Zanu-PF's landmark 2014 National Congress, President Mugabe said he had received reports that party organs were polarising around VPs Emmerson Mnangagwa and Phelekezela Mphoko.
"Gamatox" refers to the factional putschist cabal fronted by disgraced former VP Dr Joice Mujuru who last year was kicked out of Government and Zanu-PF for plotting to unseat President Mugabe by any means.
That plot has seen scores of officials being expelled and suspended from Zanu-PF, with many losing Government positions and Parliamentary seats after their roles in the scheme were exposed.
And in a briefing with the ruling party's Youth League at Zanu-PF headquarters in Harare yesterday, President Mugabe said forming alliances around VPs Mnangagwa and Mphoko was futile as ultimately, ordinary people would decide who the next leader was.
He made the remarks in response to a proposal by some Youth League leaders to "forgive and rehabilitate" certain characters linked to "Gamatox".
President Mugabe said: "If you are choosing between my two Vice-Presidents, you are beginning your own Gamatox. They (the VPs) occupy equal sphere. If you say you want this one to succeed, you are already bringing division within the people and this so soon after our election.
"The people will choose when the time comes, and you will be part of that process, but don't get divided by that question now."
Zanu-PF's December 2014 structural realignment followed an attempt by Dr Mujuru to unseat the President in both Government and the party, and install herself in his stead.
It emerged then that she had – through party provincial chairpersons – created factional structures to swing the pendulum in her favour come Zanu-PF's 6th National People's Congress.
The ex-VP is said to have enjoyed the support of regime change elements in the West, who wanted to create a power base around her and opposition figures.
The plot unravelled when First Lady Dr Grace Mugabe revealed how Dr Mujuru abused her office, propagated corruption and planned to topple President Mugabe ahead of that congress.
The structural realignment swept away Dr Mujuru, her chief lieutenants Messrs Didymus Mutasa (secretary for administration), Rugare Gumbo (spokesperson), Ray Kaukonde (Mashonaland East provincial chair), and several other senior party officials.
A subsequent Cabinet shake-up also hit Messrs Webster Shamu, Munacho Mutezo, Simbaneuta Mudarikwa, Francis Nhema, Dzikamai Mavhaire and Nicholas Goche, and Dr Olivia Muchena among other ministers and deputy ministers.