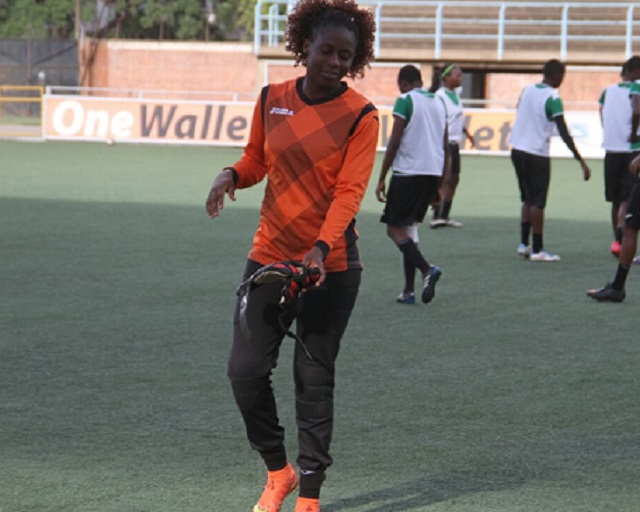 The Sunday News
Ngqwele Dube, Sports Correspondent
#rasmthembo
STARTING off her football career as a striker, Mighty Warriors goalkeeper Chido Dzingirai was forced in between goals by her team during a league match leading to a permanent change in position.
It was a hot Saturday afternoon and her team Mbare Queens were receiving a drubbing from Mufakose Queens. The scoreline stood at 5-0 and with things getting worse Dzingirai, who was playing as a striker, decided to pick up the gloves as the goalkeeper deserted the sticks in frustration.
After impressing as a stand-in goalkeeper, Chichie as she is known in football circles, was entrusted with guarding the goal for Mbare Queens for the rest of the season.
"Ever since that time I have not changed positions. I became comfortable as a goalie and I was the team's only goalkeeper for the rest of that year so I really had no choice but I think it made me improve ensuring I become one of the best in the country," she said.
Growing up in Mbare she had no dream of playing football professionally and her entry into the game began when, during her teen years, she was frequently invited to play street soccer as a pastime by her male friends but after joining her school team at Nharira Primary School, she was spotted by Mbare Queens officials who enlisted her to the club.
Although she never imagined herself in Mighty Warriors colours, Chichie started developing a serious interest in the game realising she could play it professionally.
In football, one has their best matches and forgettable ones and for Dzingirai losing to Nigeria in the Under-20 2012 Fifa Women's World Cup 6-0 aggregate was the worst qualifying loss in her career.
But she was not deterred as she picked herself up and told herself that she can do better.
"It is obviously demoralising having six goals pumped past you as the goalkeeper, you would always want to lose by a respectable margin but the Nigerians were too good and we couldn't find a way of containing them,'' said Dzingirai.
"However, like all mistakes, difficulties and poor performances you simply have to learn from them and move on, I believe I simply did that and I am happy with the way things have turned out after that forgettable episode."
Chichie said she will forever cherish the final match on their way to qualifying for the 2016 Rio Olympics when Zimbabwe beat their much fancied opponents Cameroon 1-0 at Rufaro in what turned out to be a history-making feat.
She said they knew their West African opponents were good having qualified for the previous Olympics and also beat them 2-1 in the first leg but they came prepared.
Dzingirai said she knew they had an appointment with destiny and would not let anything deter them.
"It was my most memorable game because I rose to the occasion and made a lot of saves to keep a clean sheet and we managed to starve them off and qualify for Rio which was a momentous achievement for me, us as a team and a country," she said.
Dzingirari's career has seen her also playing for Cyclone Stars, the team she moved to in 2008 from Mbare Queens (which by that time had changes its name to Hunters) and in 2011 she was lured to the Zimbabwe Prison Services' female football side, Flame Lily and she has been part of the team to date after being offered a job as a prison officer.
Chichie was first called up to the Mighty Warriors in 2008 and she has blossomed to become the number one shot stopper in the land.
She said she is looking forward to impressing at the Rio Olympics and catching the attention of scouts and she still nurtures dreams of playing abroad, something which will bring fulfilment to her career.
Chichie said the Mighty Warriors were going to Rio to compete and will do their best to raise the country's flag in a competition where there are no easy opponents.
Born on 25 October 1991, Dzingirai attended Nharai Primary and George Stark High in Mbare and currently resides at Mabvuku with her seven-year-old daughter.
Her two siblings, Takudzwa (17) and Simbarashe (15) who are both at Chitangazuva School in Mutoko, have followed in the footsteps of their older sister into football, the former playing as a goalkeeper while the latter is a striker.