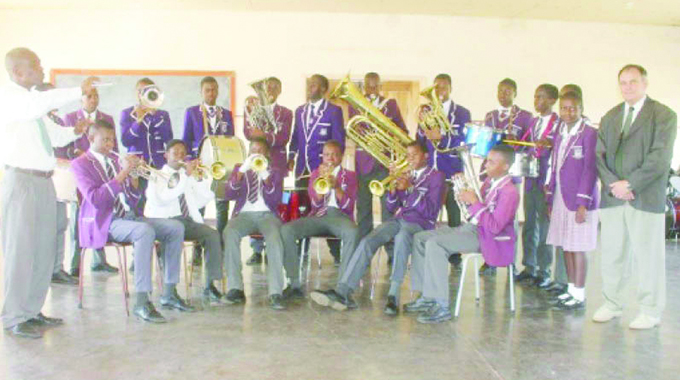 The Sunday News
Sunday Life Reporter
Legendary physicist — Albert Einstein once said "if I were not a physicist, I would probably be a musician. I often think in music. I live my daydreams in music. I see my life in terms of music".
His sentiments confirm the indispensable value of creative works of musicians that are inextricably linked to people's joyous and sorrowful affairs. In spite of the powerful and influential creative works of musicians, it remains a wonder why generally most of them are often stigmatised as dim-witted social misfits.
Several education research findings have revealed that the solution to treating music as a respectable vocation lies on the degree of prominence that the subject is given in the school curricular.  Eastview High School is one of the few schools in the Bulawayo Metropolitan Province taking music as one of its revered practical subjects.
In its quest to produce reputable musicians, the school has set up a vibrant Brass Band outfit that has taken several functions in Bulawayo and beyond by storm. Since 2014, the young crooners have been practising and playing melodious renditions, mostly of religious origin and inclination since they are groomed under a Christian aligned school. This solemn music has kept their audiences asking for more encores.
The band has galvanised the school's choral music department into a firebrand group by providing a scintillating instrumental flavour that livens school functions. It has since turned professional as its music teachers have moulded it to uphold the values of discipline, responsibility, creativity and probity with a view of circumventing the challenges faced by most performing artistes in the glamour world.
Locally, the band has graced important ceremonies, among them the inauguration of junior councillors at the Bulawayo City Hall. In carnival style they have electrified the streets of Bulawayo by playing for the St John's Ambulance, the National Blood services and "16 days of Activism Against Gender Violence" street processions.
In 2014, The Ministry of Primary and Secondary Education invited the band to perform at Imbizo District Resource Center programme at Selborne Park. In 2016, Eastview High School officials travelled with its brass band to provide the much needed tonic to uplift the Spirits of School Learners who were victims of the Tsholotsho flood disaster. During the outreach programme stationery and clothing were donated to the needy.
In 2017, the outfit entertained a large crowd during the commemoration Ceremony of the World Aids Day at White City Stadium.  Nationally, the budding stars were honoured to participate in the Ministry of Primary and Secondary Education's-National Annual, Sports, Science and Arts Festival (N.A.S.S.A.F) competitions held in Harare where they competed against powerhouses in the likes of Mazoe, Churchill, Prince Edwards, Mutendi  High School. They were adjudged the second best brass band after Mutendi High School came up as the overall winner.
In 2018, the Zimbabwe Republic Police band invited the school band to perform during the funeral tribute of one of their departed band member.  The school band success story reached epic proportions when the Minister  of Primary and Secondary Education, Dr Paul Mavima invited it to perform at King George School during an officiation ceremony to donate E-learning equipment and stationery from Korea  and Sweden.
The school band's instructor Mr Denis Sidambe  said "the band is working on producing its debut album. This move is in line with the concept of education with production. The band generates school revenue by participating in school functions like Speech and Prize Giving ceremonies, wedding ceremonies among others. I am confident that from this band, music superstars will rise and claim their position among the greatest music artistes in Zimbabwe and abroad. Music lessons are important to be imparted to the young so that they make a decent vocation out of it."
Zimbabwe's new Education curricular seeks to address the deficiencies of the old curricular that is largely blamed for churning out academic learners who are inclined to be students who are  employment seekers instead of employment creators. The new curricular emphasises on scientific research, Technical-Vocational skills, innovation, heritage studies and creativity.