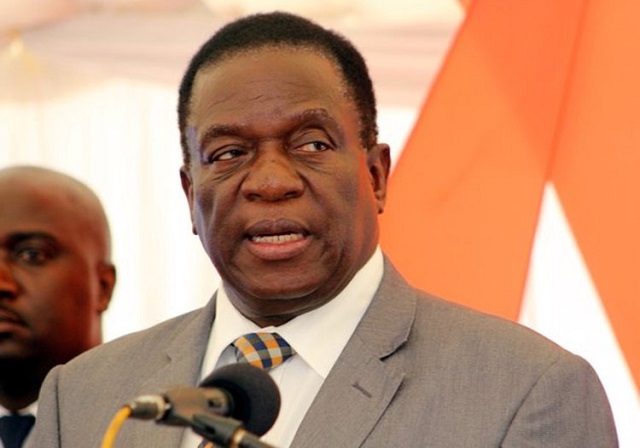 The Sunday News
Limukani Ncube
He believes political rhetoric and sloganeering should make way for economic debate and policy implementation, yet on such occasions that he is called upon to rally Zanu-PF troops into some euphoria to breathe into life a sense of oneness, he does that with the eloquence of a poet.
Never before has a nation felt at ease in talking to and about its President than now, and never before has a nation looked up to one man to demystify "wushefu/abadala", a system of governance that had protected bad apples in Government and under-performing public office bearers.
Now that His Excellency, President Emmerson Mnangagwa has been given a deserved mandate at the helm of the country and the ruling party Zanu-PF winning a two-thirds majority in Parliament, Zimbabweans are looking to the future with glee, celebrating the dawn of the Second Republic that is pregnant with hope.
The 60 000 National Sports Stadium was overflowing on the occasion to crown ed as the Head of State and Commander in Chief of the Zimbabwe Defence Forces last Sunday. Millions followed the proceedings from television in and outside the country, and when the occasion came for His Excellency to deliver his speech, he did not disappoint.
Believe me, he is no demagogue, but speaks to each and every Zimbabwean. And he does so in a language so simple and gentle that gets the message home. A message that every patriotic man and woman wants to hear; a message of love, peace, unity and above all, a message of hope.
The message resonates with the young and the old. It rallies everyone to put their differences aside. The clarion call is for everyone to put Zimbabwe first and make sure that every shoulder is behind the wheel so that wheels of production in the industries start to move once more, ploughs begin to do what they were designed for in the fields and ultimately, so that there is food on the table for each and every household in the country.
Since ascending to the number one job in the country after the resignation of Robert Mugabe last November, President ed has breathed a new sense of nationalism in the country.
Right through the election period, he remained grounded on the national interest story, telling the world that "Zimbabwe is open for business" and reminded everyone that there is a role for everyone to play. He preached political tolerance, and promised to continue in the trajectory of economic recovery, a mission that is too dear to him, a mission that he is so much determined to accomplish and the nation is rallying behind him.
At his inauguration, he reiterated his desire of a new Zimbabwe in the Second Republic which is underpinned on servant leadership where corruption and unnecessary bureaucracy in service delivery will not be tolerated. In the new Zimbabwe, all citizens are equal before the law and prosecution of corrupt cases will be done without fear or favour, he said.
"I am your listening President, a servant leader . . .  in this vein, those who will occupy public office at any level, under my Government will be required to exercise servant leadership in the execution of their duties and to be humble and responsive in their interactions and dealings with the citizenry.
"Equally, the bureaucracy in the Second Republic will be expected to be development oriented, responsive to the people's needs as well as exhibit high principles of professional ethics and integrity. My administration will therefore expect public sector officials to deliver quality and timely services to the people as well as facilitate business, trade and investment.
Bureaucratic bottlenecks, unnecessary delays, lethargic and corrupt activities will not be tolerated.
"We must, as a society, encourage and inculcate the culture of hard honest work. The prosecution of perpetrators of corruption will be carried out without fear or favour. In the Second Republic, no person or entity will be allowed to steal, loot or pocket that which belongs to the people of Zimbabwe. No one is above the law. This is a new Zimbabwe, the Zimbabwe we all want."
President Mnangagwa continued: "As per our pledge during the campaign trail, my Government will be implementing the constitutional provisions with regards the devolution of Government powers and responsibilities. Provinces will now be expected to plan and grow their provincial economies.
"Economic development at every level is the ultimate goal. I therefore challenge local authorities in the Second Republic, to be the engines of local economic development and growth.
My Government will not stand by and watch people suffer due to dereliction of duty, corruption or incompetence within our local authorities. It will not be easy, but as the Holy Bible teaches us: 'For you have need of endurance, so that when you have done the will of God, you may receive what was promised.'
"We have indeed endured; we have toiled; and now as we walk in unity the path that lies ahead, we will reap a better and more prosperous future . . . as I have repeatedly said in the past months, real change does not happen overnight. However, inspired by our national anthem, we must work together, nothing is beyond our reach. With love and unity, we will reach the promised land, we will build the Zimbabwe we all want, brick upon brick, stone upon stone . . ."
The Second Republic is here. It speaks of a systematic structural departure from a preceding political dispensation. Embrace it!