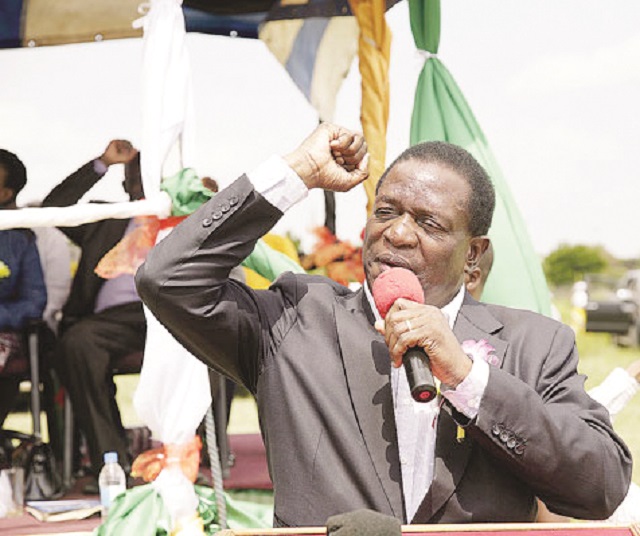 The Sunday News
ONE of the biggest expectations from a Head of State and Government in modern day is not only to give political leadership, but to go further and play the captain's role in economic policy formulation and execution.
While technocrats also have a role to play, the big say should come from the executive so that whatever policy is crafted, it is implemented to its fullest with all stakeholders falling into line and playing their assigned roles.
With just about a week in office, President Emmerson Dambudzo Mnangagwa has demonstrated to all and sundry that he is a man who walks the talk and is keen to see the transformation of the country's economic fortunes to the better.
He has already charmed the nation with his statement of intent; that he wants economic revival, end of corruption, professional conduct from Government officials and civil servants, unity among Zimbabweans and team work from everyone who calls Zimbabwe home.
Moreover, he invited the international community to come join Zimbabwe in the journey to economic recovery. And truth be told, the world has been charmed.
The Zimbabwe Business Forum-South Africa, a grouping of Zimbabwean business people based in South Africa, has declared readiness and willingness to set up new businesses and help revive ailing ones in response to President Mnangagwa's call for them to invest back home.
Forum chair, Mr Marshal Rufura Ndlela, also known as General Sankara, said their members were all along reluctant to invest in Zimbabwe because of political uncertainty.
"It has been our plan to invest home but there was uncertainty with respect to investment policies, liquidity, corporate governance and generally the economy. But we have been persuaded by the corrective measures taken by the army, Zanu-PF, the people of Zimbabwe and the inauguration speech given by President Mnangagwa.
"The assurance that all investments will be safe and his keenness to engage the diaspora who are in business in other countries has triggered our interest.
"Our organisation has been in existence for some time now but we had no zeal because of what was happening in Zimbabwe. But the resignation of Cde Mugabe and the coming in of President Mnangagwa was seen by us as an opportunity to support a system that is pro-economic development and investment friendly. We now have renewed energy and we are motivated."
Mr Ndlela was speaking during a forum which ran under the theme "investing in a new Zimbabwe".
The international community has also shown eagerness to engage the Government for mutually beneficial assignments that will also uplift the lives of ordinary Zimbabweans. President Mnangagwa and the Zanu-PF party leadership has already demonstrated the need to cut on expenditure by reducing the budget for the party Congress set for Harare next week.
At Government level, the President has already announced  a leaner Cabinet that will not tolerate bureaucratic sloth as an excuse for stalling service delivery to citizens and investors. The new Cabinet, as President Mnangagwa said, would see the merging of some ministries to avoid duplications and contain unnecessary expenditures to improve productivity.
Addressing his first meeting with Permanent Secretaries in his capacity as the Head of State and Government and Commander-in-Chief of the Zimbabwe Defence Forces at his Munhumutapa offices last week, President Mnangagwa said rebuilding of the national economy required urgent attention from the new Government.
"I am currently in the process of putting together a new Government structure, which should be essentially leaner. This, of course, will entail merging of some line ministries in order to remove functional duplications, as well as contain unnecessary expenditures, so as to enhance productivity and efficient delivery of service. I want to assure you that no one will be laid off, except those who have reached retirement age.
"Those whose ministerial posts will be abolished will be re-skilled and reassigned to other areas in the public service. I am sure you appreciate that the rebuilding of our national economy and improvement of the livelihoods of all our citizens is both urgent and imperative."
Another issue that has excited even the ordinary man in the street is that the President has granted a three-month moratorium within which individuals and corporates that externalised money and assets are expected to bring them back.
The amnesty will stretch from December 1 to February 28, 2018. During the period, Government will neither ask questions nor prefer charges against those that will be repatriating back the money or assets. Non-compliant individuals and companies will be arrested and prosecuted in terms of the country's laws.
Our sister paper, The Herald reported that central bank statistics indicate that an estimated $3 billion was externalised between 2015 and 2017 to countries such as Mauritius, in the Far East and Botswana, although the figure could be far much higher.
It is believed that of the $3 billion, about $1,8 billion was spirited away illegally, while the balance was expatriated through management fees, service fees, technical fees and royalties.
The apex bank also estimates that the country lost on average $150 million monthly in 2015 to illicit financial flows.